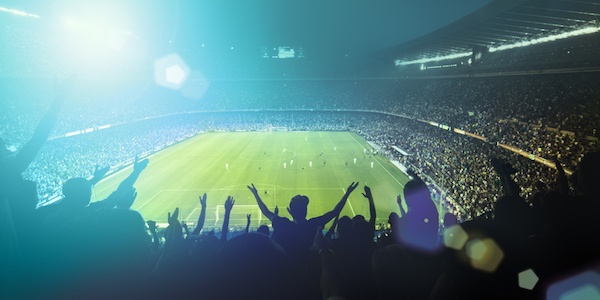 An influential recent survey indicating that interest in sport is declining amongst the young Millennials has sent shockwaves through the industry, but even so the quote in the title is surprising when you realise it comes from Sky's Group CEO, Jeremy Darroch. Is this the end of the sporting era?
First, it is worth looking at the survey, which was conducted by Ampere Analysis and was the result of interviews conducted with nearly 32,000 consumers in the USA and Europe over the course of the last year. What it suggests is that sport is 'under-indexing' amongst young millennials in the 18+24 age bracket.
It's not a calamity yet, but it is interesting. Overall, out of those 32,000 people 10% chose sport as their favourite genre. 13.5% of the population sample was aged 18-24, but they only accounted for 11% of those indicating a preference for sport. Or, if you crunch the numbers, Ampere would have expected 432 young millennials in their figures and, instead, they only got 352. Meanwhile, at the other end of the age range, 46% of those who identified sports as their favourite genre were aged 45 and over, compared to 43% of the surveyed sample, meaning it is over-indexing amongst an older demographic.
"The shift in perception of sport among younger consumers should ring alarm bells for traditional media companies reliant on high value — and increasingly high cost — sports rights," said Ampere Analysis director, Richard Broughton. "Younger consumers are turning off sport in favour of scripted and social video content including comedy, sci-fi, romance and action & adventure. Clearly a 'one-size fits all' content strategy will not last as a pan-generational plan."
Sports Viewing Figures Decline
Under-indexing is, of course, not a disaster but, as Broadband TV News reports, this is also part of a wider picture of erosion in viewing figures. Across the first four weeks of the 2016 NFL season seasons in the US, NBC's Sunday night games have been down 13% year-on-year, ESPN Monday night games down 17%, and CBS Thursday night games down by 15%. Fox and CBS Sunday nights were the best performers out of the broadcasters, but even they were down 3%.
"In the UK, meanwhile, assessing September viewing of a basket of sports channels, including Sky Sports, BT Sport and Eurosport channels, reveals 2016 average weekly viewing is down by 9% compared to 2010," writes the website.
And then, of course, there rather famously were NBC's Olympic figures, which averaged 24.5m viewers over their two weeks in contrast to the 31.1m of the far less primetime friendly London Olympiad of 2012 (though this decline was mitigated by a huge rise in online viewing).
The View from Sky
So what of Jeremy Darroch's comments? UK Pay-TV giant Sky, of course, built its initial business by aggressively perusing sports rights for soccer in particular and has played a major part in their inflation over recent decades. Indeed, in concert with rival BT Sport, it agreed to pay a record £5.14 billion for three seasons of rights to the EPL, starting with the current 2016-2017 campaign.
Darroch's words seem to indicate that negotiations (which will probably start next year) might be less inflationary.
As reported in Advanced Television News, speaking at a Morgan Stanley investor conference in Barcelona, he said: "Sport is very important, obviously football is very important, but relatively, every day it is less important than it was and that allows us to make more choices about how much we spend, where we invest and where we choose not to."
Sky has spent considerable sums recently on both producing original series and carrying content from the likes of HBO in a bid to diversify its offering way from a sports-centric focus and has been keen to highlight the fact to investors. For an idea on precisely how it will shape its future investment, we will probably have to wait until next year and the next major auction of European sports rights, Serie A in Italy. Inflation on that package last time was 14%, but with the Bundesliga and the EPL both achieving over 80% inflation in their last contract negotiations, the pressure is already intense
Future Sports Scenarios
Only last week, the EPL signed what is reputed to be its biggest ever overseas rights sale, a $233m a year contract with Chinese video streaming service PPTV. That it was not with a broadcaster is perhaps indicative of one way the future of sports rights could play out.
There are, of course, all sorts of scenarios, ranging from business as usual (unlikely) to utter calamity and a complete bursting of the rights bubble (also unlikely). A recent PwC report, At the Gate & Beyond, suggested that rights inflation in North America at least though could weaken from 14% to closer to 5.5%.
What will be key here is the way that the young millennial audience reacts. We've written before about how observed behaviour in that demographic can alter as it ages, how the 18 – 34 group has very different media consumption patterns depending on what stage they are in their lives, and how "the Millennials that desert [the living room] in their youth might return once again when they have custody of their own remote control."
Sport consumption might well follow the same pattern and be something that becomes part of life again once having a young family makes binge watching on Netflix a bit more difficult, for example. Nevertheless, those 80 young millennials in the Ampere survey that failed to say that sport was their favourite genre have shaken up a lot of people.
Ampere issued a clarion call to action following its research. "Failure to engage younger consumers in sport means being trapped in an unsustainable scenario of escalating rights costs against a backdrop of a declining or stagnating audience base," Broughton said.
To find out how VO can help you reach out to that younger audience, read about our Virtual Reality solutions for sports and more here.