It is nearly eight years since the first season of Game of Thrones debuted, and the TV landscape is very different now to how it was in 2011. These are the main changes we have identified (and yes, some of them were probably caused by Thrones itself).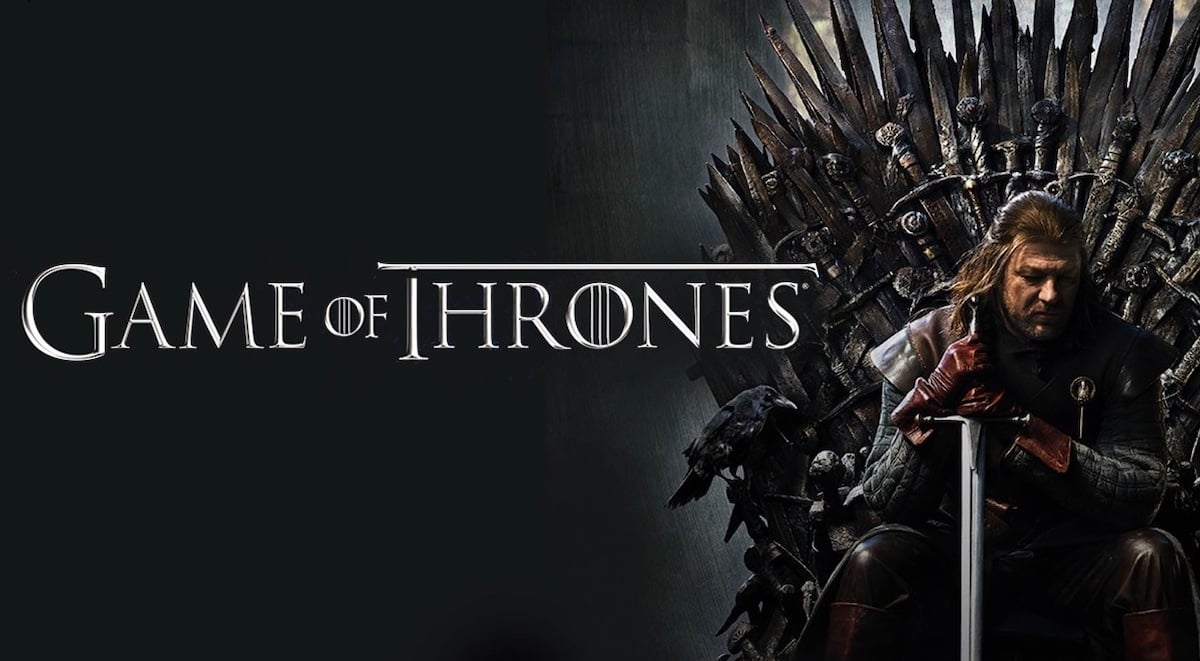 Winter is coming…
On 17 April, 2011, the first episode based on George R.R. Martin's best-best-selling fantasy series 'A Song of Ice and Fire' debuted. Named after the first book in Martin's still-uncompleted series, it has since gone on to be probably the most significant small screen program of its age. While HBO hoped that this would be come a long running series, it could not have predicted how it became a cultural phenomenon and hugely successful series that has rewritten a good few of the rules regarding how to produce a successful TV show.
For the industry it has been a journey almost as turbulent as it has been for the viewers - many of whom will look at the simple picture of Ned Stark sitting on the Iron Throne above and have whole scenes, if not entire series, unfold in their heads. By the time it concludes in May 2019, its 73 episodes will have screened at a time of great change for the industry. Some of those changes it has caused itself, others it has managed to ride out simply by being so successful; 'Winter is coming' is a phrase you can imagine many a TV exec muttering under their breath while looking at the arrival of a suddenly globalized Netflix in their country.
So, what are the ways the industry has evolved since the world — and Thrones is a definite global phenomenon — was first plunged into the events in Westeros and beyond The Wall? These are the most significant changes we have noted since 2011; some caused by Thrones itself, others by additional forces.
The Rise of OTT
In 2011, Netflix was in crisis. You can read the full story here in this C|Net feature, but the title tells the gist of the story: 'Netflix's lost year: The inside story of the price-hike train wreck'.
It is an interesting one to read from a 2019 perspective. Essentially, seeing that streaming was the future of the company, CEO Reed Hastings decided to jettison its still popular DVD by mail business. The first move in the process was to separate it out, so the subscription price changed from $9.99 all-in to $7.99 for streaming and $7.99 for DVDs, or a 60% price hike for consumers who (?) wanted both services.
This, to put it mildly, wasn't popular. Followed by a series of PR gaffes and Starz declining to renew a crucial streaming deal that brought a slate of recent Disney and Sony movies to the table, Netflix stock a year later was down 73%. Perhaps more significantly, in the quarter following the price hike it lost 800,000 subscribers, shrinking its audience to 23.8 million people.
By way of contrast, it now has 139 million global subscribers and its current share price (at time of writing) is 20% above what it was the day before the 2011 announcement.
Much has changed since. Towards the end of the C|Net feature is the line "The company continues to invest in original and exclusive content, such as the upcoming series 'House of Cards'…" and, of course, that landmark 13-episode release in February 2013 was a pivotal point for the company and properly ushered in the streaming age.
It is estimated that global OTT subscriptions now number 765 million people, or just over 10% of the world's population. And rising.
Of course, some of the big losers in the same period have been the very Pay-TV companies that are the natural home to Game of Thrones broadcaster HBO. Cord-cutting has accelerated in the US market in particular, leading to a fall from just over 100 million subscribers in 2011 to around 90 million by the end of 2018. Meanwhile, as a good indication of how complex the landscape has become in the past eight years, HBO's own OTT service, HBO Now, currently has around 5 million US subscribers of its own (possibly as many as 8 million now), thanks in part to being offered by Amazon Channels.
If all this feels like trying to keep up with the bloody political machinations of the Lannisters, Starks et al, there is one further twist in the plot to come. HBO is, of course, owned by AT&T's WarnerMedia, which is planning to launch its own streaming service by the end of this year. And while all the initial noises are that it will be complementary to HBO, there is no guarantee that the new Thrones prequel series, whose pilot starts filming in Northern Ireland this summer, will not end up being a streaming first release.
The change in piracy
For several of its early seasons, Game of Thrones almost single-handedly defined the scale of video piracy.
Here's a graphic we created back in 2015 when we first looked at the scale of the problem just after the end of Season Four. One thing to note: by 2014 its 8.1 million downloads were running at 12% over and above the initial US viewing figures of 7.2 million.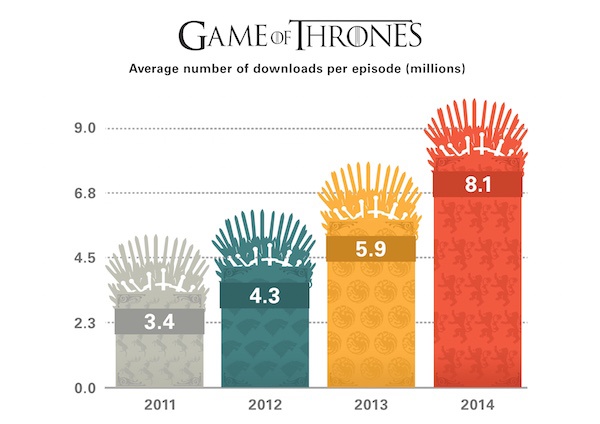 The final 2015 figure for Series Five, which came later in the year was a huge jump at 14.4 million downloads per episode. And that, interestingly enough, like one of George R.R. Martin's endless and convoluted subplots, is where that particular story ends.
The reason is that all those figures were supplied by TorrentFreak and involved the monitoring of bit-torrent streams and swarms. By the end of 2016, apart from saying that it was the most pirated show of the year, the site declined to give any absolute numbers, stating that due to various changes in the torrent index/tracker landscape it was becoming more difficult to monitor downloads.
"This doesn't necessarily mean that there's no growth in piracy," it commented. "A lot of people have made the switch from torrents to streaming sites over the past months, which likely had an impact on the numbers."
In fact, the pivot towards streaming over bittorrent had taken place just after the end of Season 5 Between the first half of the year, which contained GoT and the second half, visits to torrent sites fell 19%. This though hasn't lessened the amount of piracy; in fact the ease with which streaming sites can be accessed has massively increased it. The figures are sometimes disputed, but there are suggestions that when you combine the numbers for streaming (85%), downloading (6%), and torrenting (9%), Season Seven of Game of Thrones was illegally accessed an astonishing 1.03 billion times.
All of which proves that Game of Thrones still defines the scale of piracy. What's more, that piracy has now moved onto a live streaming footing that requires realtime and rapidly-effective tools to combat it and is now more of a problem than ever.
HBO has put a massive effort into trying to reduce piracy's scope in recent years, and there has been substantive action taken against Kodi boxes in particular, which were rife when Season Seven screened in 2017. But few people would want to place money on those figures not being revised upwards once more when the first illegal copies start hitting servers around the world.
Winter is coming...
Main pic: HBO