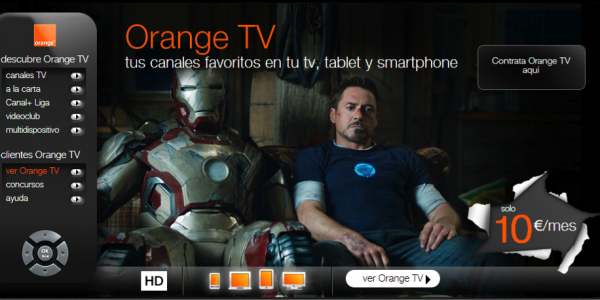 Orange Spain Launches TV Everywhere Service and Enters the TV Market Battle Well-Equipped
The expectations of viewers these days have changed (and continue to change) dramatically due to innovations in TV Everywhere and Multiscreen technologies, as well as consumer behavior in other sectors and markets. Content service providers must adjust to meet these changing expectations if they are to stay relevant and retain if not increase their number of subscribers. However, this task often proves tricky for the Pay TV industry.
Let the Games Begin
Pure OTT players with a wide portfolio of services have a way of swooping in and eroding customer loyalty. Take Netflix for example, which, together with similar services, are expanding around the world. Netflix made its debut in the Netherlands just in time for IBC 2013 exhibition, which created a frenzy among Dutch broadcasters and Pay TV providers to ramp up their VOD offers.
It's therefore crucial that content service providers both develop strategies for combatting the competition and provide viewers with what they are expecting, just as companies like Netflix are doing. Netflix has proven to be a market leader, with approximately 40 million streaming subscribers in 40 countries around the world. Their stock price has shot up 222% as they outperformed several major cable providers. Good for them, right? Well, it's worrisome for many Pay TV operators around the globe, who have been impacted by these moves.
Netflix was inking deals around Europe lately, such as the Netherlands launch last month, the ComHem Sweden deal, followed by an agreement with Nokia in the United Kingdom. Netflix did not reach Spain and many other countries yet, but some say it's only a matter of time. In Spain, for example, in July 2013 the number of Pay TV subscribers dropped by 500,000 from previous year. Revenues from Pay TV services have proven to be even more volatile, reaching only €425.82 million in Q2. That's down from €440.77 million in the preceding quarter. Let's have a look at how Orange Spain is playing its card right in this TV market battle: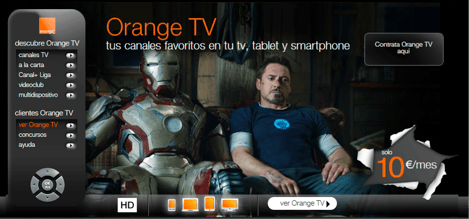 The Good Guys Begin to Surface
Orange Spain recently launched a new TV on Demand service offering more than 25 HD channels, 600 DVD movie titles, and many more goodies. The service enables subscribers to view programming within 7 to15 days after its live broadcast. And of course, content can be enjoyed on TV with a Set-top-Box, on any smartphone (iOs and Android based), on tablets and PCs. And another great thing – it costs only 10 euros per month.

Orange Spain selected VO's TV Everywhere solution to enter this battle, which is one of VO's first TV Everywhere deployments. This follows the deployment of VO's technology by Orange France in 2011, Orange Polska in 2012 and by Orange Romania this past June.
Orange selected VO's end-to-end solution, which includes a unified service platform incorporating key core components such as: RiGHTv Service Delivery Platform, Connected Sentinel DRM solution, and COMPASS content discovery and recommendation platform. Together with Orange, VO is working to enhance all aspects of the viewing experience for subscribers even further: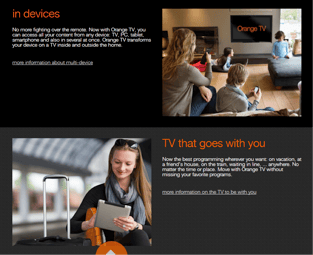 "We are now able to provide customers throughout the Orange footprint with a high quality TV experience by offering premium content across every IP-enabled platform using a highly scalable and fully convergent TV system integrated around Viaccess-Orca's core components," said Philippe Rozes, VP of Multiscreen Services at Orange. "This successful deployment promises to be yet another important milestone in the collaboration between Orange and Viaccess-Orca as we continue to move forward with our TV Everywhere solution in other countries."
Needless to say, we're pleased to see the buzz about Orange Spain's new VOD multiscreen service, since it caters to the TV Everywhere demands of subscribers and aligns with their expectations such as a competitive price, simple user experience, good quality of service and excellent premium content. Bear in mind, TV Everywhere means more than watching programs on a non-TV device. It is also about synchronized viewing experiences, greater personalization, and of course, higher revenue for content service providers from more engaged audiences.
It wasn't too long ago when the TV industry only dreamt about TV Everywhere and multiscreen technologies. It's amazing to watch and participate in implementing these solutions, thereby supplying content service providers with powerful ammunition to fight the competition, excel in Video Services and conquer the market.
Click here to learn more about how VO's TV Everywhere solution is powering Orange Spain's new multiscreen service and download the TV Everywhere brochure.