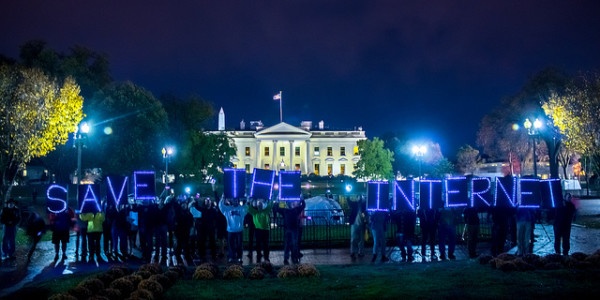 Releasing a statement to Wired might not be the traditional way of indicating a change in policy, but after a year of fevered speculation that was how FCC Commission Chairman, Tom Wheeler, decided to indicate that the US regulator was listening to public -- and White House! -- opinion and backing the net neutrality lobby.
A quick recap: the debate was over whether the internet should stick to its current single one-size-fits all-model, or, whether a new, premium fast lane needs to be developed for video streaming services such as catch-up players and OTT providers. Net neutrality principle is namely that all data should be treated equally, whether it's a handful of bytes that make up an email or a torrent of them that make up a movie. In other words, regulating broadband in a similar way to the traditional phone companies is regulated.
"The internet must be fast, fair and open," wrote Wheeler. "That is the message I've heard from consumers and innovators across this nation. That is the principle that has enabled the internet to become an unprecedented platform for innovation and human expression. And that is the lesson I learned heading a tech startup at the dawn of the internet age. The proposal I present to the commission will ensure the internet remains open, now and in the future, for all Americans."
And thus, by extension, for the rest of the world too. While the principle will not automatically get enforced around the world — America influences rather than legislates — it is a good bet that without the US championing net neutrality not many other countries would bother too much themselves.
The centrepiece of Wheeler's plan is to reclassify ISPs as common carriers under Title II of the Telecommunications Act, thus bringing them under FCC authority and meaning that such actions as prioritisation of services and blocking and throttling of lawful content and services will be banned. Of course, Netflix and other content providers have already signed deals for enhanced carriage provision, but they will be delighted to see these lapse and go back to the level playing surface we sort of had before this all blew up in early 2014.
Of course, this will all end up having to navigate its way through a tortuous round of internecine warfare, Congressional outrage and court actions as the ISPs that were against the whole concept of a plain vanilla internet mount legal challenges to the FCC. And it seems that they will be joined in the battle too, the FCC furthermore planning to treat mobile broadband in exactly the same way as tethered broadband, thus aggravating the increasingly powerful mobile telecoms providers too.
This is a contentious but potentially huge move, and a likely game changer for the future of OTT in particular as it frees mobile consumers from the increasingly complex labyrinth of arbitrarily blocked services and data caps that has bedevilled the US industry. With 5G waiting in the wings it even raises the question that tethered broadband providers may only have a limited window of opportunity in the marketplace. And it also gives the TV Everywhere model a further boost and means that it is even more important than ever that content providers build the back end required to ensure their content is available on all platforms and at all times.
In 2014, video accounted for 55% of all mobile traffic, and the projections were that that would rise to 72% by 2019[1]. Those figures might have to be revised if the FCC's recommendations are signed into law.


[1] Cisco VNI Global Mobile Data Traffic Forecast, 2014 - 2019
Photo credit: joseph.gruber / Foter / CC BY-NC-ND