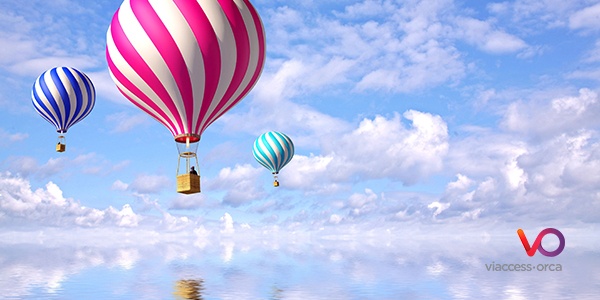 The broadcast industry had to adapt to many changes in recent years as it has increasingly embraced IT technologies, but only few had the degree of impact that the cloud is currently having.
This is the word 'change' written in neon capital letters a mile high; a fundamental change at all levels of business, production and distribution that enables Netflix CEO, Reed Hastings, to extend the company's service to 130 countries — including India with its billion plus people — while making a speech at CES.
Of course, the structural shift that the cloud is bringing is not limited to broadcast, and the wider figures are fairly astonishing. In 2015, 33% of organisations delivered 60% or more of their technology via the cloud. By next year that will be more than 62% of them. And in the same period the combined Software as a Service and Infrastructure as a Service markets will have risen from a $72bn worth to one of $111bn.
But the impact of the cloud has a special resonance in our industry. For pay-TV operators and the wider broadcast market, leveraging its power (and being able to scale quickly and at minimal cost in particular) helps square several current circles that would otherwise demand significant investment to remain competitive in a shifting marketplace.
Accenture has listed three of the current issues facing the industry as follows:
Consumers are demanding more choice, which in turn requires more computing power and resources than traditional broadcasting has ever had to manage.
An accelerating proliferation of devices and channels necessitates more flexible business models to serve a changing media landscape.
There are more Time to Market pressures as consumers demand rapid evolution of services and expansion of choice.
All this, of course, leads to increased cost pressures on technology sourcing and operations. In another report from the company, The Future of Broadcasting V: The Search for Fundamental Growth, accenture says that: "The widening gap between future value and current value makes the search for fundamental growth increasingly pressing for broadcasters."
Time is increasingly of the essence. Fortunately, time is one of the factors most in the cloud's favour.
The Growing Importance of Time to Market
Time to Market (TTM) varies across industries and, within them, depending on the nature of the product being developed. New pharmaceutical drugs, for example, can have a TTM measured in decades once rigorous testing is factored in, while producing a totally new car from scratch is much slower than introducing an iterative model that builds on previous technologies.
The key is measuring an organisation's TTM in relation to its direct competitors, and it is here where a combination of the cloud and the rise of OTT and TV Everywhere have completely rewritten the rules of the game for broadcasters.
Things are already getting faster. Last year, VO worked with seven other vendors to build and launch 'Telekom TV', a new IPTV and OTT multiscreen service for Telekom Romania that included live, VOD and Network Recording. Working as Systems Integrator on the project and with much of our technology at the heart of it, we completed it in five months.
This is a world record we broke for an on-premise IPTV/OTT deployment. We look forward to see how the cloud can make that even faster.
In a competitive landscape set against a backdrop of cord-cutting and high churn levels accelerated TTM is highly significant. One of the main opportunities for growth for broadcasters that accenture identifies is service differentiation, stating that "broadcasters need to develop a multitude of heavily tailored offerings to meet customers' needs and their willingness to pay."
And if your rivals can bring a new service to market in under half a year, that means that the genie is out of the bottle and there is effectively a new arms race underway, with TTM one of the most significant factors in a successful deployment.
Moments from IBC 2015
The cloud enables operators to launch new services quickly and easily. So what if many of the ins and outs of the process could be boiled down to simply uploading your content and then letting a third party do all the heavy lifting in the cloud. What if you could manage everything about your new channel, content, services, customers, devices and recommendations, from a single pane of glass? What if you could genuinely build and launch new services in a few clicks?
Soon you will be able to do just that. As the saying goes: watch this space.