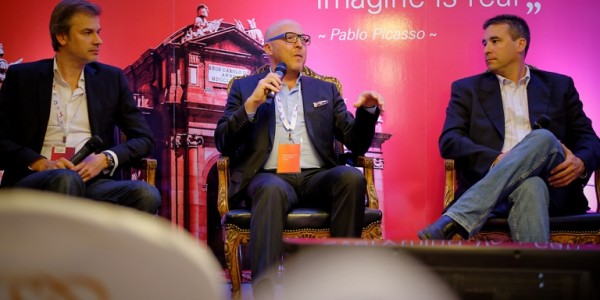 In the run-up to this year's TV Leaders Summit (TVLS) in Madrid, scheduled for May 15-17, we are interviewing key speakers on significant industry issues. In the third of these pre-TVLS features, we speak to Antonio Russo, Director of Innovation for TV Products & International TV at Deutsche Telekom, who will take part in a panel discussion on user experience – which has become a key differentiator and a point of focus for any company offering a content-related service. The panel session will explore success factors for a "good" user experience, innovations that impact the user experience, and how changes in user experience can affect the business of video services.
What is the biggest challenge that your company is facing right now. How will you overcome it?
"We are building a next generation TV platform and products. I can say that the focus is on providing the best user experience and top-quality content. The market is now making it possible to aggregate content and value-added services, enriching the user experience with discovery and recommendations."
What is "contextual mashup" and how do you see this topic evolve?
"'Contextual mashup' is the internet applied to the living room: a simple, non-intrusive, powerful experience, where applications provide context for whatever programmes are showing on TV. The idea is to give service providers a set of tools that allows them to add value to TV programmes. So, for instance, it might be possible to build a new personalised content playlist that flows seamlessly like a linear channel, or make advertisements less disruptive."
How much emphasis does your business give to the final user experience? How could you improve it?
"TV is about enjoying movies and shows. Today, at the back of every TV there is huge technological capacity to enhance user experience. We aim to use it to good effect, without getting distracted by unnecessary complexity. TV zapping may undermine the user experience, but its unmatched simplicity should be inspiring. A minimal interface that maintains a focus on TV programmes, and at the same time enriching how media is consumed, is something that everyone working in TV is looking for."
What is the most significant change in users' content consumption and how are you addressing the change in viewing habits?
"People watch TV on several devices, and use more than one device at a time – the tablet, for example, is often the favoured second screen in the living room. But even though today's broadband and protocols are facilitating much better quality than 10 years ago, there are varying quality expectations depending on the playback media and the context. So, consumers who watch videos on a PC will have far fewer complaints about quality than those viewing a feature on the big screen. Knowing consumers different quality expectations and spending power makes it possible to design services and products that can entertain everywhere and at any time."
What one device could you not do without? And which best enhance content consumption?
"A visual electronic programme guide – since TV is all about moving images, menus are not welcome. The tablet or mobile can improve the way content is consumed."
About Antonio Russo:
With more than 20 years experience on technology innovation in video: he is customer and business oriented, with high solution skills. Antonio has consolidated his experience as head of TV solutions for world's most important Vendors like Huawei and Ericsson and he pioneered TV over fibre optics and UMTS for Fastweb and H3G, respectively. With more than 14 years experience in IPTV worldwide, Antonio has solid solution approach, communication capabilities, reputation and credibility.
In the last 5 years he was leading migration solution teams, from existing IPTV platform to next-generation TV systems; most recently he focused his work on cloud TV, social TV and, more generically, Over The Top ecosystem for television. By having the privilege to work for both Operators and Vendors, Antonio can understand their very different issues, targets and ways to measure results, approaching with confidence the challenges of the next generation television deployment.
Photo credit: Yuri Yu. Samoilov / Foter / Creative Commons Attribution 2.0 Generic (CC BY 2.0)