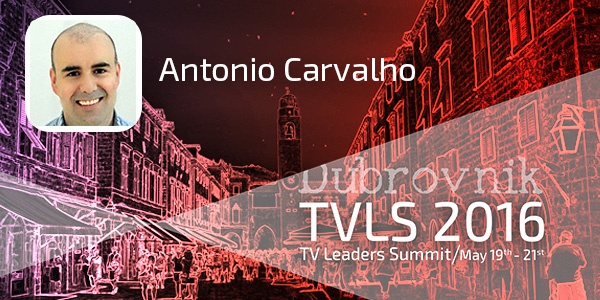 Antonio Carvalho is Vice President for Programming Research and Insight at Liberty Global, leading Audience Research, Viewership Analytics and Audience Measurement across the group.
Prior to joining Liberty Global, Antonio was Chief Research Officer at Kantar Media, responsible for Audience Research and Data Sciences across over 50 markets where Kantar Media operates. His teams had particular focus on Return Path data, working with platform operators across the world in extracting value and insights from big data and in application of advanced algorithms and data science to data integration (bringing census and panel data together).
At TVLS 2016 he will be providing the Big Data Keynote: What is Happening Out There? The proliferation of connected devices – and better use of set-top box data – is changing the picture of how consumers are accessing and consuming services. But what data is the most important and what can it tell us? How do you create the best subscriber profile for your business?
What are you most looking forward to about TVLS 2016?
The opportunity to attend this conference for the first time and get to know a really interesting group of people.
It is widely thought that television has lagged behind in the implementation of big data. Do you think it has finally caught up with other industries or is there work still to do?
I think that there is now in the industry the understanding of the value of the data, how it can help improve processes and help decision making. There is also now a clear perception that those companies that don't invest in data, in BI and Analytics, will be at a serious disadvantage. And this is a fundamental step to allow the appropriate allocation of budgets, that will in turn allow the industry to make significant progress and hopefully get up to speed with other industries.
What is the most important data to mine in relation to TV services?
Clearly what viewers are doing, using and viewing, across all devices. There is an incredible opportunity to understand behaviour, trends, weaknesses in offer and spot opportunities, and that data is key to that process.
Data cannot work in a vacuum. What technology needs to work in concert with data analytics to really take things to the next level?
I think there are two important areas to consider. One is that data by itself does not mean much. Having more data is only useful if one is using that data effectively, extracting insights and leveraging the knowledge to make better decisions. So, capabilities in the areas on data insights and data sciences are fundamental. The second area is the speed of response. Data will only become part of the daily business vocabulary is we are able to extract meaningful insights and answer business questions quickly and effectively. So, technologies that help that process are really valuable – and increasingly so as some areas move to realtime.
Several industry commentators have suggested we will soon see the rise of the canny consumer: ones who know exactly how valuable their information is and demand a price for sharing it. Do you genuinely see this happening and, if so, when?
That is hard to predict. But I think above the perceived value of data what consumers want is that their data is protected, their privacy is protected, and if their data is used that it will benefit them in terms of their experience as consumers – from better recommendations, to a reduced (but more targeted and relevant ) ad load, to meaningful offers. So, I think there is a real opportunity to move the needle forward in that topic.
An associated issue is privacy. What safeguards does the consumer have that all this knowledge about them will be used in a benign manner?
This is clearly an area of concern for the industry and for consumers. At Liberty Global, our relationship with our subscribers is at the core and above everything else. So, for us, it is about always keeping that in mind. We look at it in a simple way – we don't ever compromise that relationship with our customers, and what we do is with a view to provide a better experience to those customers, whilst making absolutely sure their privacy is not compromised and giving those customers the option to opt out of data collection if that is their wish.
What are the limitations? Is big data a cure for all industry ills?
Data is an area that is growing in importance and that provides incredible opportunities to those that can use it well. It will not solve all the problems, of course, but it has and will open up a number of opportunities in the TV business, and those that don't take advantage of power of data are likely to stay behind. We live in an increasingly complicated environment, where the pace of change is significant, and information allows us to make sense of those changes, to understand what consumers are doing, to adjust accordingly, to make better business decision. So from that perspective, I think data is one of the key pillars for the industry.