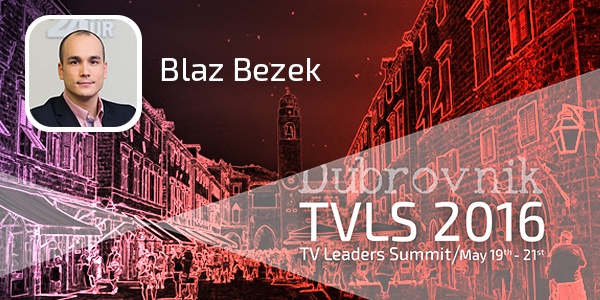 Blaž Bezek is Head of Program Development, S-VoD service VOYO, at the leading Media company in Slovenia, Pro Plus. Since joining the company in 2010, Blaž has been leading and developing its Pay TV and OTT projects, first launching a pay-TV package in 2011 and then working on VOYO in 2013.
He is currently focused on the company's TV content development and services, and, at TVLS 2016, is speaking in the interactive session: OTT and the Rise of the Empowered Consumer.
What are you most looking forward to about TVLS 2016?
The TV Leaders' Summit brings together executives from the entertainment business, so valuable experience and projections will be shared and new connections formed. I am looking forward to hearing views from different business stakeholders on the fast-changing pace of the TV industry.
How would you say consumer behaviour has changed over recent years?
The change of pace in everyday consumer life has led to the development of different types of technologies and services in the end that satisfy consumers' need to watch their favourite content whenever and wherever. Global competition is reaching every corner and traditional players such as distributors, broadcasters and operators are adapting to this situation by searching for their competitive advantages and distinctive offerings. At the end it is all about how to consume one's favourite content in the most comfortable, seamless way.
Are these changes truly global or are there regional variations?
I believe changes are definitely global since novelties, innovation and trends spread throughout the global community we live in; however, of course the speed of implementation varies from market-to-market, depending on its development stage. Regions, specific markets on the other hand have certain specifics, where local or regional players have their leverage based on vast experience and know-how.
Cord-cutting or cord-shaving: are these threats as significant to established players as the industry has made out?
Recent studies from Global Consulting Group have reported that non-linear viewing will double by 2018, accounting for 40% of all viewing in the U.S. Whether OTT services are cord-shavers, cord-cutters or even cord-boosters in my opinion at least depends upon:
Consumers' content needs and viewing habits in a specific market
Which player(s)/platform(s) on the market is the best provider or aggregator of this content
Development stage of the market: technologically and legally.
Who is winning out there? Who are the dominant players in the market who can call the shots?
The global TV market is growing, at this stage I believe everybody is winning, consumers have more content than ever, available wherever and whenever on different platforms. Global players are expanding into new markets and local/regional players are growing and developing their services, offerings and content.
Global players definitely call the shots in terms of trends and development, whereas local/regional players have their leverage in the market local specifics that drive local offerings, local content, its distribution and consumption. VR and 360 developments by global players show even more power in their hands for the future that will dictate new consumer needs and change their habits.
So, how do you first attract and then retain consumers?
With our exclusivity: local content, local content, local content.
How will the empowered consumer evolve from here? What services will operators have to launch to keep up?
The platform/player that aggregates the best content, in the easiest and most reliable way, for the best price performance, will win over the consumer.