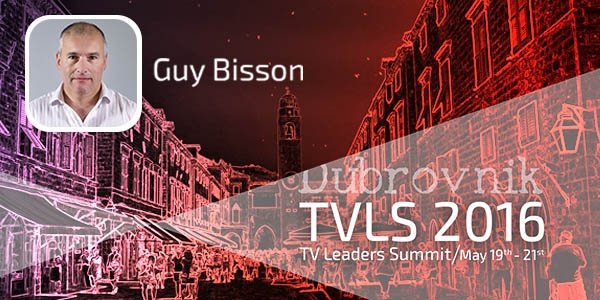 Guy Bisson has more than 22 years' experience as a leading entertainment market analyst with a specialisation in the global television business. He is a regular speaker and moderator at many of the world's leading entertainment business conferences, a frequent media commentator and author of numerous reports and research articles on the business and strategy of the television industry.
At TVLS 2016 he will be giving a presentation on The State of the Market. You can read more about this unique, private event which brings industry leaders together to discuss the hottest, most thought-provoking, inspirational topics affecting today's TV world here. In the meantime though, here are his thoughts on the major industry issues he will touch on ahead of the Summit.
Your presentation is titled 'State of the Market'. What are the headlines we will be able to take from it?
That while no one is saying traditional TV is dead, there is now strong evidence that a fundamental change in the way a significant segment of the population is engaging with and consuming TV has occurred. The trick now is to evolve the business in a way that targets this segment. Linear broadcast TV is not going anywhere anytime soon but there is a real risk that those who do not move now to embrace certain key changes will be left standing.
Some of the survey data from out of the US in particular often seems contradictory. What would you say the current overall picture is of the OTT, pay-TV and traditional TV players?
I don't think it's contradictory. It's very clear that cord-cutting has hit the US hard. It's true that there is some evidence that the initial flood is slowing. It's also true that there were specific reasons why it was the US that was hit. But cord-cutting simply couldn't continue at the rate we saw in some quarters last year. Eventually it will bottom out, and as operators get better at addressing the needs of today's viewer and targeting their content and service offerings, we may even see it start to reverse. The existing players are still in a very strong position to remain the major providers of multichannel TV. But I do believe that some are not moving as quickly as they could. We are also seeing cord-cutting (that is a net decline in pay TV), spread outside the US. In many cases this is driven by economic or wider geo-political factors. But I think we are also able to see strong evidence that SVoD and OTT are at least contributing factors in many markets.
How much of a hindrance is broadband infrastructure (or the lack thereof) to the success of OTT as we move to a 4K HDR future?
Certainly it's key. But it also partly depends on how quickly compression technologies evolve and also on the type of content that is being distributed (sport is a very different beast from animation in a streaming environment). One interesting point that's come out of our research is that several 'emerging' markets in Central Europe, Asia and Latin America start to look like strong prospects for 4K streaming based on their broadband infrastructure.
You've spent 22 years as an analyst in this industry. What are the biggest changes you have seen in that time?
Well, the first was really the transition to digital TV starting in the mid-90s. That led to such an explosion of channels and content as well as a fundamental change in the competitive dynamics of the industry. It's easy to forget how big an impact that had on the TV business as a whole. Concurrent with that was the emergence of the Internet as a mass medium and a lot of noise around the convergence of TV and Web and PC and TV. A lot of the thinking back then was premature and a lot of serious players lost an awful lot of money placing the wrong bets. Looking back, the general direction that many predicted the business would head in was about right, but the speed at which it would evolve was way off. That's a classic forecaster's mistake, of course. Now we have a new maze to navigate and predict in the form of OTT and SVoD and the same risk of allowing hysteria to lead us down the wrong path. That's why it's so important to both recognize the early signs of a directional shift in the industry and properly quantify its impact. I think I know the answer to both, but you'll have to come to my presentation to find out.
What does the consumer really want from a television service in 2016?
Again, depends on which consumer. There are still plenty of people more than happy with linear free-to-air TV. They don't care about devices, connectivity, multiscreen or apps. There's a whole lot more who care some about those things, but are happy as long as they get their sport (live and linear). But it's not those people we need to worry about, it's the consumer segment we call the 'Content Connoisseur' who is rapidly changing his relationship with TV and who is pointing to the future. And don't think these behaviours are confined to kids and young millennials. A good portion of Content Connoisseurs are in their 30s and already starting to put together their own entertainment packages because many operators are not moving quickly enough to give them what they want. So while the old lines about 'anytime, anywhere, any device' still ring true for this group, it's also about the actual content and the content bundle in particular. The days of using blockbuster movies and sports as the battering rams to drive TV services into the home are over. The content offer needs to be so much richer now and that's why we are seeing so much investment in original drama, high-end documentary and factual content.
What would you say the single biggest disruptor the industry has yet to face is?
It's an evolution of where we are today to add genuine Direct-to-Consumer services into the service mix. Actually, it's kind of funny that I don't really see that as disruptive, although many will read it as such and react as if it is. What we are seeing is a natural and rather gradual evolution of the linear channel business that I think should be embraced and absorbed. Much of the skill in navigating the next years of TV's development will be in avoiding knee-jerk reactions to some the changes taking place.