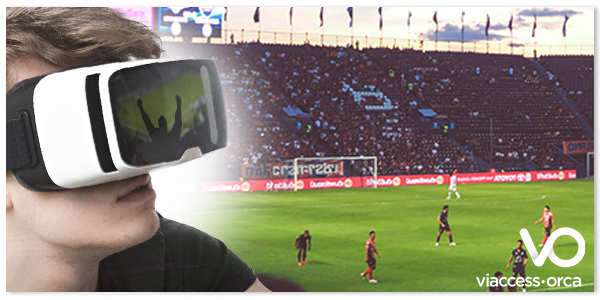 One of the most significant developments in the future history of Virtual Reality, at least as far as the broadcast aspects of it go, has been the confirmation from Olympic Broadcast Services (OBS) that it will be deploying camera rigs for 360 degree video at the Rio 2016 Summer Olympiad when it starts in August.
The 360-degree VR tests follow successful trials of 180-degree content earlier this year at the Lillehammer 2016 Winter Youth Olympic Games, and are part of a steadily increasing wave of VR sports content making its way to the headset-equipped public. And, apart from the format itself, what is rather radical and new about it all is that this is an OTT-led revolution and has thus been able to be spun up very quickly.
This leads us to the rather unexpected position that there will be a lot more VR content distributed from Rio 2016 — the opening and closing ceremonies, plus what OBS promises will be one key event per day — than there will be in 4K. In fact, a recent NBC announcement indicates that, in conjunction with Samsung, all in all 85 hours of VR content will be available from the Games via its NBC Sports app. In contrast, as far as anyone is aware, there will be no Ultra HD broadcast from Rio at all: OBS consistently saying that the demand for 4K isn't there yet from the rights holders.
(It seems that what there is of 4K is being produced from the down-rezzed 8K production tests being mounted by TV Globo and NHK and is destined for post Games highlight package sales.)
So, as far as the end-consumer watching this year's Olympics is concerned then, VR has leap-frogged 4K as the next big thing quite impressively. And it's not just in Rio either: there is activity all over the sector. FOX Sports and NextVR have signed a five-year deal to develop virtual reality offerings, the NBA has partnered with Samsung to make 360-degree coverage of games available on the Milk VR platform, in the UK Sky launched a production studio with two videos filmed with the Williams F1 team, Atticus Digital produced a 360-degree video for the BBC from the Six Nations rugby tournament (only the national anthems of one game admittedly, but its MD has already talked of putting a 360-degree camera on a referee), and, of course, in conjunction with Harmonic and the rest of our best-of-breed ecosystem partners we enabled the world's first live streaming of a sports event in 4K and 360-degree to a VR headset for French broadcaster TF1.
In fact, you can combine an impressively long list of sporting federation initials with the letters VR on Google and come up with results. NHL, NFL, UEFA, FIFA, EPL, ECB…the list goes on.
VR Sales to Slow Then Accelerate… Massively!
All is not routinely rosy, of course. There has been a lot of hyperbole about VR sales and some of the very latest projections have lowered their estimates, SuperData Research for one lowering their projection of hardware and software sales by 22% between early March and mid-April to reach a global total of $2.86bn this year. However, it seems that that's down to supply shortages of headsets rather than a lack of demand, and the company expects the market to catch up with its initial forecasts rapidly, reaching $22.86bn by 2019 and $40.26bn by 2020.
That's a 1400% jump in four years.
In four years' time, of course, we will be preparing for Tokyo 2020 and the industry landscape could be different in very many ways (not least due to NHK's evangelism over 8K). What is certain though is that we will have learned a lot more about VR, starting with the experiments coming up in Rio. As OBS' CTO, Sotiris Salamouris, has said "The language for VR is under development," and much will be learned at the Games regarding the coverage of different sports: speeds, fields of play, number of participants…there are a huge number of variables and what works well with one, might not work so well with another.
Either way, at the selected events in Rio, OBS will be deploying four eight-camera rigs and viewers will be able to choose between three 360-degree live streams and one curated one.
And if that feels a bit revolutionary that's because it is. How VR will fare in the long run is, of course, unknown. But unlike Stereo 3D, for instance, which had to wait for dedicated channels and significant consumer buy-in before it could gain traction in the market, VR is here already; you can watch it on your smartphone right now if you have a headset, and it will be being broadcast live from Rio on the internet and elsewhere.
For our money though, the real potential of the whole technology becomes obvious when the two future formats combine and when VR is combined with UHD. 360 live streaming is impressive now, but it's when you make the step up to Ultra HD quality that you have truly immersive 360-degree video that sees everything — some of these sports feature balls that are hard to follow! — and can make the viewer genuinely feel as if they are there.
Rio is a good starter, but the future is looking even better.
Come and see what we are talking about. Don't miss our VR demo in IBC 2016! Make an appointment to see us - stand 1.A51.