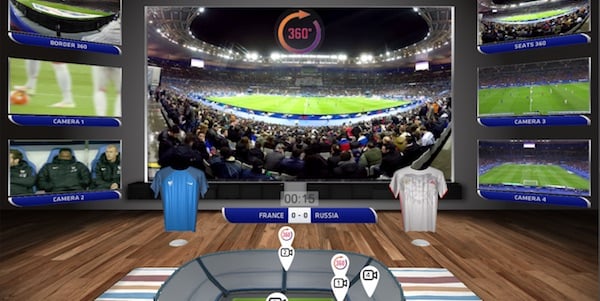 In the companion article to this piece, we've charted how VR is breaking through to the mass market this year, with sales of head-mounted displays in particular forecast to suppress even the more optimistic projections from earlier this year. With the potentially game-changing PlayStation VR due out in October, just in time to hit the holiday season gift-buying sweet spot, there is even the potential for further acceleration too.
What the embryonic VR market needs though is content, lots of it, and it is precisely here that sports comes in to the equation. From our initial world's first presentation of a live VR sporting event earlier this year to the 85 hours of VR content transmitted from Rio 2016, progress in live streaming 360-degree video content has been astonishingly rapid.
And, unlike the failed Stereo 3D technology, VR is being driven in part by audience response. According to a recent Nielsen study conducted in the US using eye-tracking technology, people watching virtual reality videos recalled the brands mentioned 28 times more than in traditional commercials. In fact, recall of 360-degree content in general was eight times higher than the baseline, and consumers were also found to be three times as likely to buy after seeing an ad in the VR format. The broadcast industry tends to take notice of figures like these. And a wider, more traditional online survey conducted by the company at the same time of 8,000 consumers, suggested that 24% of people between 18 and 54 say that they "might" purchase VR technology in the next year.
At first glance this seems perhaps less impressive, but the starting level of consumer penetration, and the fact that that number can be extrapolated out to somewhere in the region of 40m engaged consumers in the US alone, puts it into a slightly more positive perspective.
Unsurprisingly, there is a lot of activity in the sector. VR start-up NextVR raised $80m in a Series B funding round over the summer, and already has an impressive clutch of major sporting events under its belt, including the US Open and the Masters Tournament, the Kentucky Derby, the DAYTONA 500, and soccer's International Champions Cup (ICC). Partner broadcasters include FOX Sports, Live Nation, NBC Sports, HBO/Golden Boy, Turner Sports, and CNN.
The UK's Sky, which has made significant investments ($1bn +) in VR capture specialists Jaunt, is launching a dedicated VR app 'imminently', has established a specialist VR Studio, and has been hard at work capturing content from Formula One to road cycling. Fox has also partnered with LiveLike to show American College Football amongst other things, the company paying close attention to ensuring the VR experience can also be a social one.
And while there is still much to learn, especially when it comes to the visual language that will engage the viewers, the technology can now be considered production proven, with four to six camera deployments typically being assigned to stadia sports.
VR represents a golden opportunity for rights holders to open up new revenue streams and position their sports for an exciting new era, and at VO we are proud to be one of the companies driving the technology forward and making it easy for broadcasters and operators to move into the field. Not next year, not the year after, but now.
Our Virtual Arena is a turnkey, end-to-end solution composed of best of breed components provided by us and our partners that enables rights holders to deliver live and on-demand 360-degree content to viewers with immediate effect. From the capture of the initial 360-degree video through to its secure distribution to multiple devices and sophisticated content management and monetisation, Virtual Arena includes augmented statistics aimed at the sports market and can mix live, VOD, 2D or 360-degree content, and more on the fly to create a truly immersive and high quality experience that is ready to engage audiences now.
Click here to find out more and read in detail about our leading solution for producing, distributing and monetising Virtual Reality sports content, or make an appointment to come and see us on Stand A28 at Sportel.