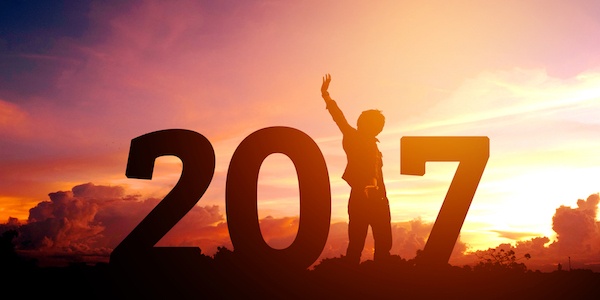 While 2016 has been a tumultuous year on the world stage, for operators it's been one of positive change. Our CEO, Paul Molinier, looks at the developments in key technologies we can expect to make an impact in 2017.
The past year has seen some significant changes in the pay-TV industry as the growing importance of the cloud, the increasing adoption of mobile video, and the emergence of ever-more sophisticated data analytics techniques has reshaped the business.
These technologies have been transformative for the industry, and have played a significant part in helping operators better monetise their offerings and provide a more personalised user experience. They have allowed businesses to attract and engage more viewers, to keep up with the demand for new services, and to be agile enough to have confidence that they can cope with forthcoming technological change and emergent consumer behaviour.
And if you could forecast one underlying trend for 2017 it's that all this will only accelerate further.
2017: The Main Themes

Over the past handful of years the cloud has grown from a technology not on anyone's radar to a Top 5 Technology Project priority for the majority of broadcasters.
It's easy to understand why: once the industry had its quite reasonable security fears allayed, the cloud is almost the definition of a 'no-brainer' project. Cloud-based TV Everywhere platforms, such as our own TVaaS, allow operators to manage all aspects of the content preparation and distribution workflow, often from a single screen. This covers everything from transcoding to packaging, encryption, publishing, recommendations, and delivery, and is all based on an OPEX-cost model.
Not only does that mean that no specific on-premises infrastructure is required, obviating the capital expenditure of buying, training staff, hosting and running that equipment, but it also dramatically increases flexibility and significantly speeds up Time-To-Market. It also allows operators to make iterative, incremental changes to services, rather than being dependent on system-wide, monolithic change, allowing them to adapt to changing consumer demand almost in realtime.
Next year, we anticipate that an increasing number of operators will deploy cloud-based TV Everywhere platforms such as TVaaS. The advantages really do speak for themselves.
Another trend that we are very interested in and can only see accelerating through the course of 2017 is the increase mobile content consumption. Consumers are now watching video on second screens as much as they are on the traditional TV, in some events and in some cases even more, and mobile devices are becoming just as important as STBs.
As we wrote recently, the figures are quite astounding. The weekly share of time spent watching TV and video on mobile devices has grown by 85% in the last six years, and average viewing times on mobile devices has increased by more than 200 hours a year since 2012.
What's interesting is that this seems to not be the either/or scenario that people forecast several years ago, as the big screen TV in the living room still seems to be of vital importance, especially to family life. Keep an eye on the VO blog, because we'll have more on that soon.
Of course, probably the biggest technology story from 2016 was the mass market adoption of VR. Goldman Sachs reports that $3.5 billion was invested in VR/AR technologies over the last two years, a significant amount given that content is still fairly limited. In April 2016, we teamed up with French TV channel TF1 to broadcast the world's first live stream of a football match in 360 degrees and Ultra HD, showcasing the type of premium television experience that can be achieved with VR technologies. Expect to see more instances of VR streaming in 2017, especially for live sports, and especially that YouTube — one of the key enablers for broadcasting VR content — now supports live streaming in 4K for both standard and 360-degree video.
2017: Analytics Changes the Game
The industry has been talking about Big Data for a while now, but 2017 looks set to be the year that data analytics really comes into its own in the broadcast environment and becomes a game-changer, particularly in the OTT space. Utilising data related to the television subscriber profile, operators can provide contextually relevant content, increase satisfaction with the service, boost content efficiency, and prevent piracy.
At IBC we introduced new analytics capabilities to TVaaS, with the aim of providing operators with intelligent data about each phase of the OTT multiscreen workflow — from delivery to recommendations and personalisation, client apps, and devices. Our TV business analytics service features a variety of out-of-the-box dashboards, covering areas such as revenue, service usage, content, customers, product and services, and devices. And a discovery, insights, and prediction tool gives multidimensional visibility into the TV business KPIs and drivers so that operators can identify trends and strategise successful business practices.
We see data analytics very much as the way of the future in the pay-TV world, with addressable TV advertising likely to be the biggest business opportunity for using data as 2017 unfolds. Granular data with advanced segmentation capabilities is capable of providing considerable value to TV networks (and ad agencies) coping with the limitations of traditional panel-based rating systems. Such advanced capabilities have already been proven to be successful by online players such as Facebook.
There are plenty of challenges ahead. There are technical issues with the forecast growth in the volume, velocity and variety of data points, which could see all metrics increasing by orders of magnitude; there are business challenges with the emergence of distribution models that may disintermediate them; and there are legal hurdles in the context of a growing sensitivity and changing regulations with regards to privacy and personal data protection.
It's smarter, it's safer, it's VO
As a growing number of consumers view live and on-demand content on mobile devices there becomes a critical need for content security. Over the last year, Viaccess-Orca has ramped up its development efforts in this area and introduced a new generation of fully integrated environments for all types of mobile devices. As a result, we believe our Connected Sentinel Player offers an unparalleled level of security and user experience and, as it supports all common video formats and streaming protocols, including MPEG-DASH, Microsoft Smooth Streaming and HLS, it is swift and easy to deploy too.
With video content an increasingly large part of our digital lives — overall TV and video viewing is up by 1.5 hours a week since 2012 — the real challenge waiting for pay-TV operators and distributors in 2017 is how to further enable and monetize premium video experiences in the face of ever-increasing competition. As we've said, the industry is changing rapidly, however we at Viaccess-Orca firmly believe that content protection and data analytics have to be the key components of any successful future monetisation strategy, which is why we chose a new tagline for our company in 2016: "It's smarter, it's safer, it's VO."
In 2017 we except being both smart and safe to become more important than ever.