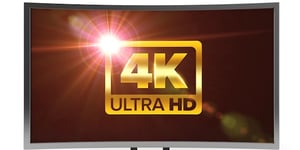 We have long argued that Ultra HD is essential to true immersive experiences in VR and 360-degree video, and the good news is that the volume of new Ultra HD products and services being released in 2017 seems to mark a new tipping point for 4K TV.We have long argued that Ultra HD is essential to true immersive experiences in VR and 360-degree video, and the good news is that the volume of new Ultra HD products and services being released in 2017 seems to mark a new tipping point for 4K TV.
As is often the case, the marking of the tipping point has something to do with Apple. The technology giant looks set to finally release a new version of its Apple TV streaming device in mid-September which will support 4K content. And 'finally' is the operative word here. When the fourth generation device was launched in October 2015, there was disappointment at the lack of 4K support. In the two years since Apple has seen its TV streaming market share eroded.
As the following graph shows, in the US Roku is the reigning market leader with a 37% share, Amazon has increased its penetration in the market from 16% in Q1 2016 to 24% in Q1 2017, which is an extremely impressive performance by anyone's measure. Apple, however, seems to have reversed that journey and has fallen dramatically down to 15%.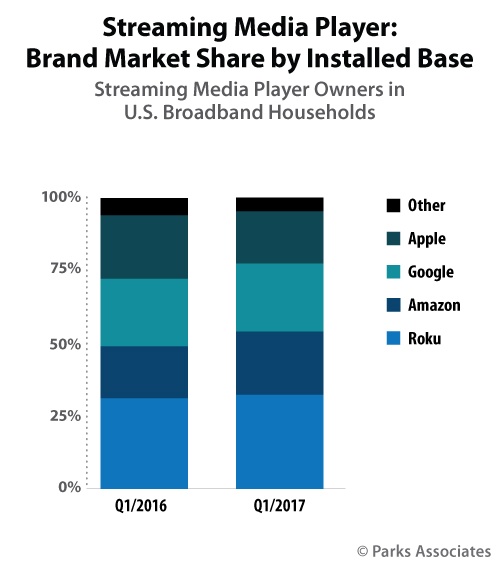 Of course, it's not fair to lay all of Apple's loss of headway on the lack of 4K, especially when you consider one is comparing a $149 device with Roku's entry level of $30. But 4K is a factor and it is a desirable thing to have, as witnessed by Apple's summer of hard negotiation with Hollywood.
Read about how Apple's choice of HEVC/H.265 in iOS 11 could have major implications for the industry here.
Apple wants to charge $19.99 for 4K movie downloads, in line with what it already charges for new HD releases. Hollywood wants to add an extra $5 or even $10 premium. Indeed, that is the current model, with prices for forthcoming 4K releases of major titles such as Guardians of the Galaxy Vol 2 and Wonder Woman currently listed between $30 and $35.
Apple's normal business plan away from its own hardware is to sell at lower prices and rely on volume; it has done this with all the media it has added to its download and streaming services to date. But a weaker position in the market doesn't give it a strong negotiating stance with the film studios. Nor does the rumor that the long-awaited and 4K-supporting Amazon Prime Video app might also not be ready by launch date.
4K TV about to hit the mass market
Parks Associates reckons that one-third of US households, around 45 million of them, now own a streaming media player. Which makes it a lucrative market. It also makes it a large one for 4K which has come to dominate the premium content of the OTT providers. Netflix, for instance, might only have 122 titles in its 4K library at the moment out of a total of 5513, but that number includes a disproportionate amount of Netflix Originals and what most would consider to be the OTT provider's highest-rated content.
Indeed, Apple is planning on spending $1 billion on content over the next 12 months, and you can't image that any of that is going to be captured at a lesser resolution.
The question is: how many sets are out there? It's probably easier to answer that by looking at trends. In the US, the CTA expects 16.7 million sets to be sold this year, a 59% increase on 2016 and making it one of the industry's fastest growing segments. Figures from Dataxis for Europe, meanwhile, suggest an even more impressive growth rate, the number of sets sold rising from 6 million in 2015 to 12 million in 2016 — 22% of 53 million sets sold — and a projected 17 million this year.
The numbers from China dwarf even that. More than 25 million 4K TVs were sold in China in 2016 and Dataxis estimates that 40% of TV shipments were 4K for the first quarter of 2017 against 33% for year 2016.
"Some compare the shift to 4K to the shift to HD, but this transition is actually faster and more robust than the switch to HD," said CTA President, Gary Shapiro last year. "At year four of the transition to HD, we only sold 2.9 million units. But now, [with 4K], we're moving 15 million units. More than five times as many units. Our population did not grow that much in the last 15 or 20 years."
Learn more about 4K content protection here.
And it is very much companies such as Netflix that are driving the acceleration. The HD rollout occurred within an ecosystem controlled by broadcasters, but the drive towards 4K TV has been pioneered by the disruptors in that marketplace; the manufacturers of streaming media player devices and the OTT services that power them, all of whom are seeking to differentiate their services from what has gone before.
4K TV does just that. As HDR becomes more commonplace that is only accelerating the change further. And Apple very much wants to be part of that. 4K capability and Amazon content will only bring the fifth generation Apple TV up to parity, but if it can change the market dynamics enough to offer 4K content at what are effectively HD prices, then the pedal will be pushed even harder.