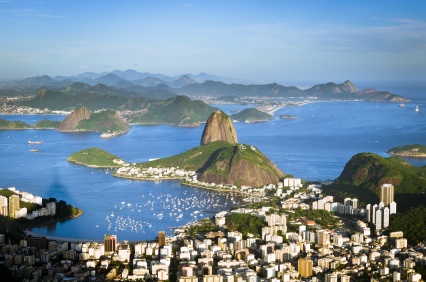 With amazing beaches and beautiful landscapes, Brazil is the perfect place to bring people together: Film & TV distributors, Pay-TV and telecommunications operators, suppliers of network and distribution equipment, and suppliers of conditional access, billing and customer care systems all come together for ABTA 2012.
The first ABTA event was held twenty years ago in 1992, when the main appeal of Pay-TV was picture quality and a few extra channels in addition to the free-to-air offerings of broadcasters.
Borrrrrrrrrrring.
Over the years, the event has changed to meet the times, showcasing the first TV operations with digital transmission, launched in 1995, the first demonstrations of broadband in Brazil (in 1996), and the forerunners of what were to become convergent technologies.
In recent years, the ABTA event has been an arena for the launching of innovative IP telephony technologies, media centers, video-on-demand and over-the-top services, ultra broadband, dozens of high-definition channels and integrated triple-play and quadruple-play platforms.
Now we're talking!

This year, over 9,500 attendees are expected -- industry and thought leaders, coming together to learn and share insights in a beautiful setting.
Check it:
Brazil is not just a beautiful place hosting a dynamic conference. There are some really impressive numbers about Latin America's advanced TV market:*
By the end of this year (2012), the PayTV sector will have already reached 53.1 million homes, with Brazil leading the market at 23.7 million (out of 45 million total TV homes in Brazil), and Mexico coming in second with 16.5 million PayTV homes (out of a total of 26.2 million TV homes there), followed by Argentina (8 million) and Colombia (5.5 million).
By 2015, DTH will represent 54% of all Pay-TV homes (33.5 million) while cable will fall to just 42.5% (26.3 million) in 2015 from where it is today at 54%.
But the really impressive facts revolve around Average Revenue Per User (ARPU) which, when combined with the growing subscribers base, makes Latin America the biggest global opportunity for Pay-TV businesses – larger in financial terms (i.e., new subscribers multiplied by ARPU), than India and China put together. Numbers indicate that subscribers in Latin America are worth five times their counterparts in Asia. (India and China)
Wow.
In other words, Brazil – which is part of LATAM -- is a poignant nexus point between natural beauty and innovative technology. And we are so excited about participating at ABTA 2012. This is why we would love to see you at our booth at the ABTA 2012 event, at stand E1, where we will present a variety of our innovative solutions:
End-to-end TV Everywhere solution which includes a unified backend, with a suite of multi-screen applications for smartphones, tablets, PCs and TVs. We present a consistent service for both IP and broadcast markets, secure and personalized to the viewer's taste.
New broadcast embedded (cardless) Conditional Access solution which simplifies the digitization operation while protecting the revenue and increasing the ARPU for operators.
HbbTV solution for Hybrid broadcast/OTT operators which enables easy delivery of interactive TV experience to subscribers. Based on proven technologies and open standards, our HbbTV solution protects and delivers content to multiple devices while offering a rich toolbox of interactive services.
In addition to presenting these solutions at ABTA 2012, Viaccess-Orca's EVP of Corporate Strategy, Mr. Noureddine Hamdane, will be taking part in a panel discussion, talking about "Combating piracy: strategies and approaches" (2.8.2012, 11am).
And... by the way, Brazil -- (um, did we mention how beautiful it is?) -- is the home of our Viaccess-Orca's new offices! You are welcome to contact us:

Phone: +55-1127876392, Mail: Brazil@viaccess-orca.com
Official press release can be found here: English, Portuguese, Spanish
*(Based on Re Think Research's "Latin America. Land of pay TV opportunity" findings from 2012).