Industry insights: Should we be offering older viewers their own individualized profiles, the BBC brings BBC3 back to linear TV, Disney+ and Netflix expand in APAC, and more.
Do older viewers need a different UX?
Fierce Video has provided an interesting summary of a discussion that looked at how older viewers interact with content during the Stream TV Growth Summit last month. It's rather pertinent too, as growth in the OTT sector has largely stabilized among younger demographics but is showing increasing acceleration amongst older audiences.
The largest single demographic amongst binge-watchers in the US, for instance, is now the over 55s.
This leads to the question: do older viewers need a UI more specifically designed for their needs?
The answer seems to be no, but not a definitive no. As Esther Ahn, head of user experience at YouTube TV said at the Summit it's difficult to base design decisions on demographics since there are always more adventurous consumers across all age groups. That said she did say she sees value in presenting something new in the context of something familiar.
"It's really thinking about how we can preserve aspects of traditional TV watching but build upon that in ways that introduce innovation that doesn't require re-learning the experience," she told the conference.
Gary Schanman, president and founder of advisory firm GB Monday, addressed the fact that every so often UX and UI designers try and get rid of the traditional channel grid when building a live TV app.
"It never works, and the reason why is because it's really important to understand the point the entry and the point of perspective. For an older base, they are oriented around live TV and lean back. Incorporating navigation from that perspective is the way you get them in," he said.
It does all raise the question that it is perfectly possible to do age-specific services though. We have kids' specific profiles as part of the everyday OTT UI, why not create specific profiles for older viewers? (Though how you market that without seeming patronizing would take some delicacy.)
Either way, Tim Mulligan, research director and lead video analyst at MIDiA Research, concluded with an interesting piece of insight regarding older viewer behavior, and that lay more in the way they are interacting with services. He suggested that following their discovery of binge, they would rapidly progress along the streaming adoption curve and soon start the strategic subscribing/unsubscribing we have already seen from younger cohorts.
The best way to combat that? Recreating the channel bundle via aggregation.
"Failure to do so risks undermining market growth, and the winners will be services that can deploy either group or third-party assets to solve the currently siloed user experience," he said.
BBC returns BBC 3 to linear TV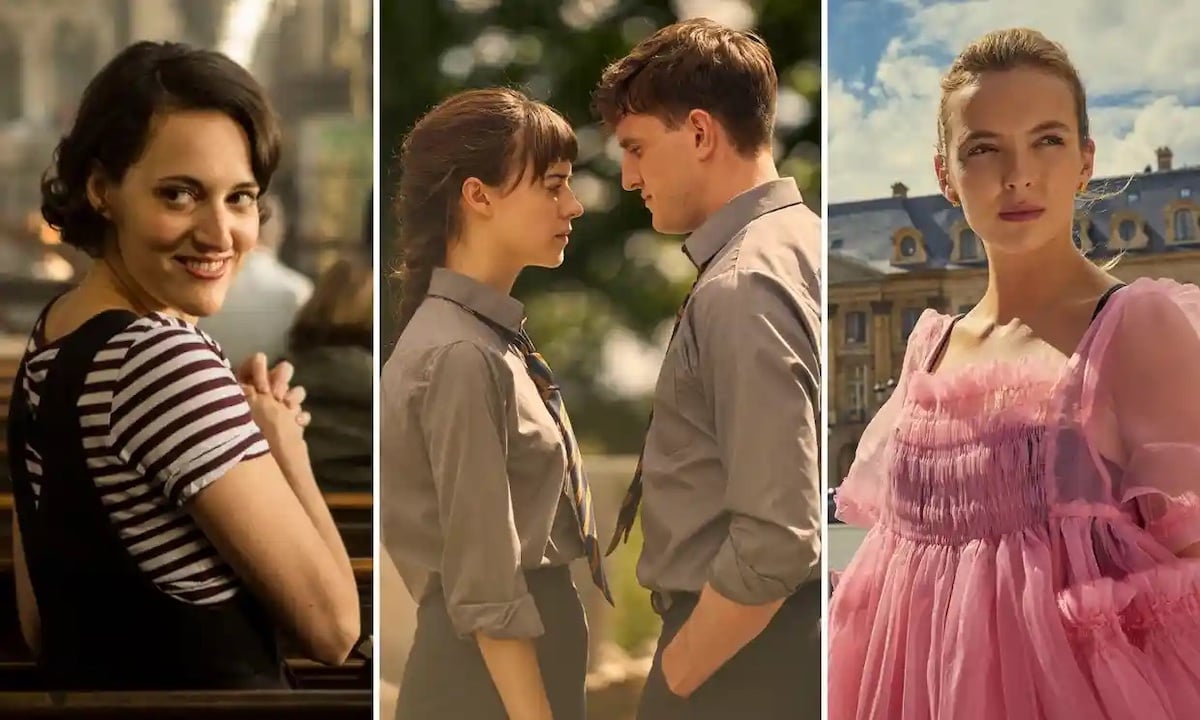 At the other end of the demographic scale, BBC3 was the storied UK public broadcaster's dedicated youth channel aimed at 16 - 34-year-olds which it first created as part of its move to digital TV. Famously it moved it online only in 2016, citing the need to save costs — around £30m a year — and the fact that its audience was all watching online anyway so what need was there for a broadcast channel?
This was very much taken as a sign of the times and an indication of which way the wind was blowing for even major national broadcasters. OTT was the future; linear TV was the past etc etc.
So, what are we to make of the fact that BBC has announced that BBC3 will return as a broadcast channel in 2022?
It seems that while on average young adults spend more time with the BBC than any other media brand, according to the broadcaster "our research identified a significant group of younger viewers who maintain a strong linear TV habit but are currently light users of the BBC. We want to change that."
It also aims to target diverse, underserved audiences who often have less access to on-demand services.
Of course, any story about the BBC has to acknowledge that it is unusual in world terms and operates as a publicly funded free-to air-broadcaster. This isn't advertising money it's chasing, but relevance in the face of increasing hostility from the political class in the UK.
The Guardian reckons that the move will be seen as a sign of the strength of programming produced by the channel "and recognition that the previous decision may have been a mistake. Recent hits including Killing Eve, Fleabag, and Normal People have all been broadcast on the corporation's existing mainstream channels and been sold around the world."
And for those that read our post Six Reasons Why Linear TV is Not Dead there is now a seventh: because the BBC doesn't think so.
Disney+, Netflix to grow in APAC
While both SVOD services are set to collectively reach close to 100 million subs and generate around $5 billion in revenues, Disney+ and Netflix are set to show very different growth profiles across APAC in 2021 according to research from Media Partners Asia reported in Rapid TV News.
North Asia will drive momentum for Netflix with Japan set to emerge as its largest revenue-generating market and its largest market by subscribers, overtaking Australia. Korea will remain Netflix's third-largest market in APAC by revenues, while Australia will retain its position as Netflix's most mature market, with over 60% household penetration.
The company's content costs on local originals and acquisitions are expected to reach $1 billion, with a concentration on broadening both depth and appeal in Japan, Korea, and India.
Interestingly, MPA warns that Netflix faces several regulatory headwinds, notably content censorship and regulatory scrutiny in India and Indonesia, while network cost issues could grow in Korea.
While Netflix's growth slows slightly, Disney's is accelerating, though the analyst points out the bifurcation in the company. India is going to be a huge growth engine, but the Indian mass market service Disney+ Hotstar (also establishing/soon to establish itself in Indonesia, Malaysia, the Philippines, and Thailand) – is forecast to have a blended monthly ARPU of ~US$1 and total paying subs of 59 million in 2021.
"By contrast, Disney+ in the ANZ region, Japan, Korea, Singapore, Hong Kong, and Taiwan is projected to have a blended monthly ARPU of $8.5 in 2021 with total subs of 7.5 million."
In other words, Disney+ Hotstar has the numbers; Disney+ has the revenue, and it will be interesting to see how Disney manages the division between the two companies throughout its primary expansion phase over the next few years.
The rising importance of Smart TVs for watching online video
[Ampere Analysis, Times of India]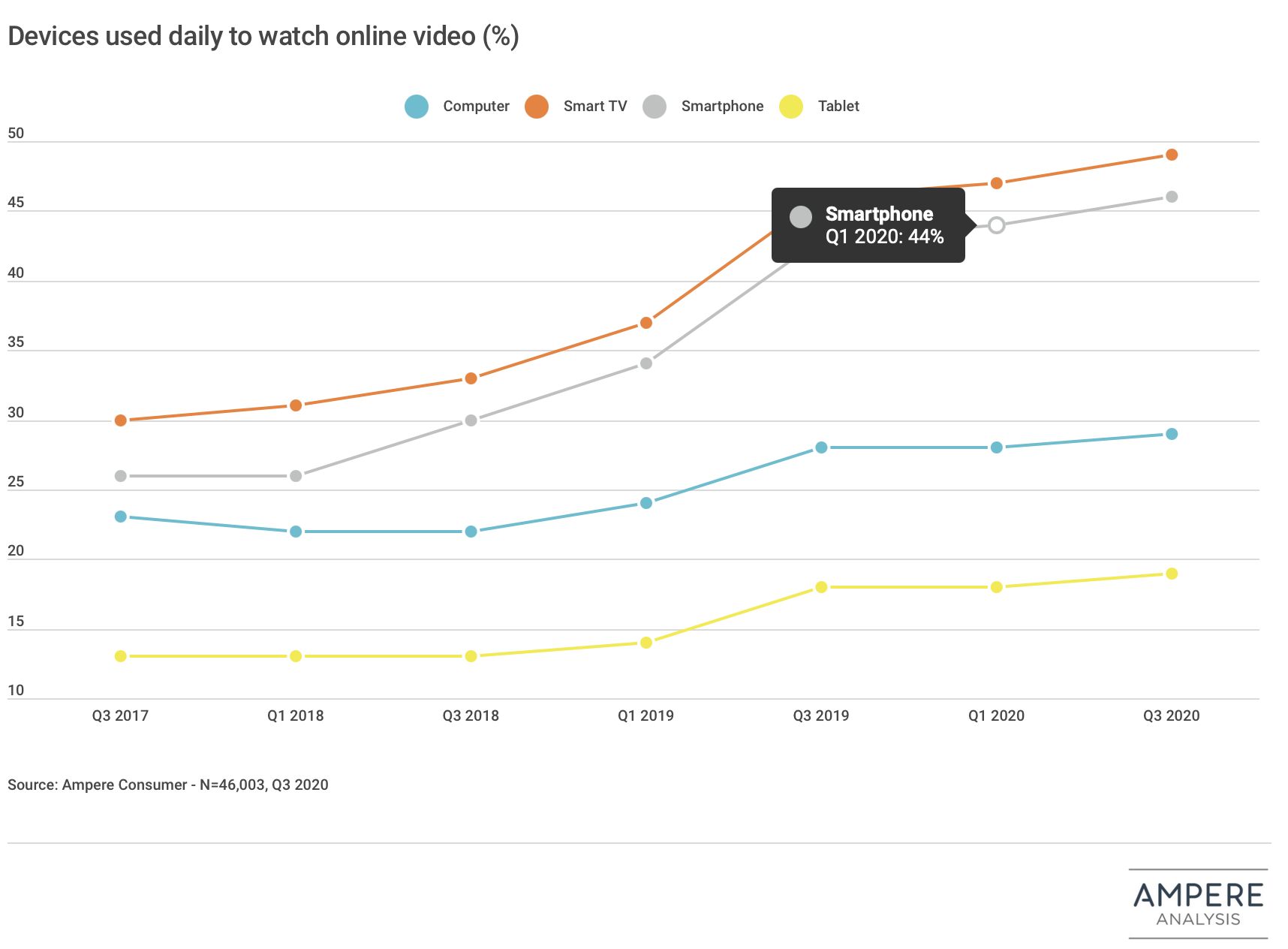 Ampere Analysis has been crunching the numbers and concluded that the biggest screen and the smallest screen are virtually tied when it comes to watching online video. Worldwide, 48% of internet users watch smart TVs daily, compared to 46% who use smartphones every day.
"There are geographical differences with this," analyst Monal Modha writes. "In mature markets, consumers are turning to smart TVs to watch the bulk of their online video content. This is highest in the US where 53% report using these devices every day, while half of consumers in Spain also view at this frequency. However, in emerging markets, there is a much higher daily use of smartphones due to low fixed-broadband penetration and high smartphone penetration. Usage is highest in China and India, where nearly three-quarters of internet users watch online video on their smartphones every day."
Localized distribution strategies are key here. Netflix has had a mobile-only plan in India since 2019 which comes in at roughly one-third of the price of its standard offering in the country at $2.71 a month, and Amazon Prime launched its own version in January this year in a tie-in with local telco Bharti Airtel. Both are likely to roll this strategy out in other countries where mobile viewerships of online content are high.