A few recent changes in release strategies from the big players point to a possible change in how major TV shows are distributed to viewers.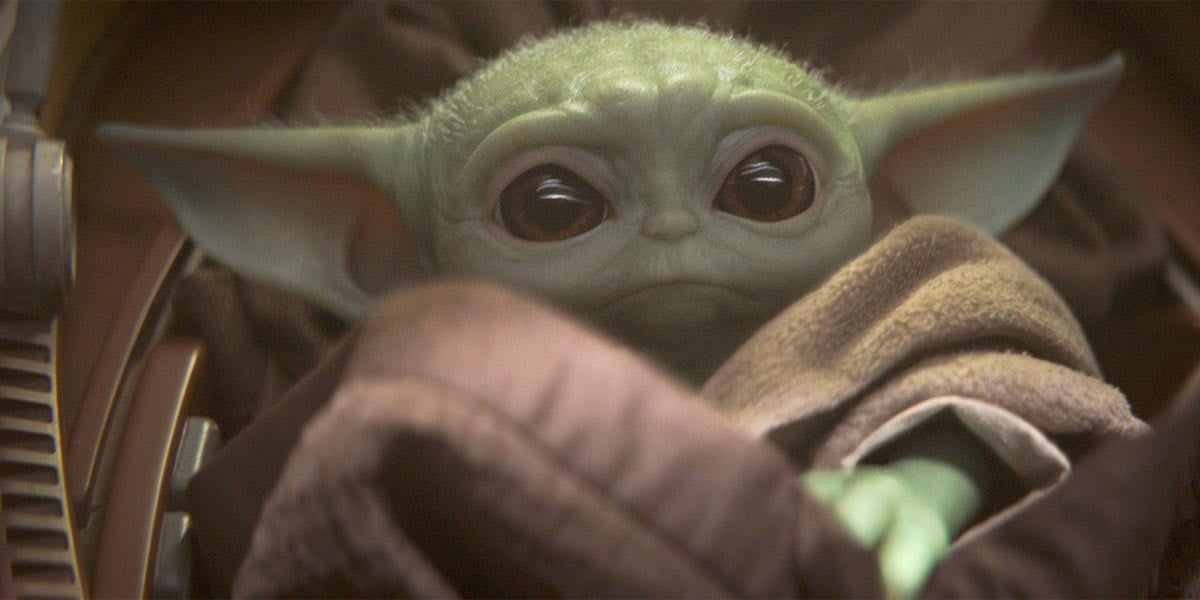 Once in a while the industry experiences a single show that changes the landscape entirely. Back in 2013, Netflix released all thirteen episodes of its remake of the BBC's House of Cards at once and single-handedly introduced the concept of the binge watch. It has been the expected and accepted format for OTT ever since, with even established broadcasters experimenting with releasing entire series online via their various catch-up services.
Over six years later, however, subscribers to the new Disney+ OTT service found they were only able to access a single episode of the hotly anticipated The Mandalorian, and Disney stuck to a weekly release schedule throughout its eight episode run. Apple TV+, meanwhile, has largely adopted a hybrid strategy since launch; dropping three episodes in a clump and then releasing the rest of a series weekly.
What's going on? Why the different release schedules? And, with more high profile services launching this year, including those from WarnerMedia and NBCUniversal, what are the implications for OTT service providers worldwide?
The Case for a Weekly Release
As with all paid TV services, the prime motivation is to grow and maintain subscriber numbers. A weekly release schedule certainly allows companies to do this, keeping an audience engaged and paying over time. The typical ten episode run of an OTT series can be easily extended over a period that would require three paying months with a little finessing here and there. This is an important consideration for many operators given the lack of contracts and penalty-free switching costs that dominate the current market.
Then there's buzz. Even though a great deal of the world has yet to see an episode of The Mandalorian due to Disney+'s so far limited rollout, the fact that it made such an impact over its 8-week run in the US means that it certainly knows all about it. Admittedly, not every show can launch with the pre-sealed popularity of a Star Wars, have a major film tie in halfway through its run, and feature probably the most meme-friendly and social media dominating character yet conceived in Baby Yoda, but if a show can dominate an initial conversation than that conversation can be extended thought its run.
It's interesting to contemplate how different the reception of the eighth series of Game of Thrones would have been if viewers had been able to race to the (widely considered disappointing) end on the first day of its release. As it is, it utterly dominates Nielsen's Social Content Ratings for 2019, with an average 5.3 million social interactions per episode.
HBO Max will follow the same weekly strategy when it launches later this year. "We like the idea that people watch weekly and look forward to the next episode and talk about it," Robert Greenblatt, chairman of WarnerMedia Entertainment and the company's direct-to-consumer business, told Reuters. "Newspapers write about the storylines. There is a sense of a shared experience."
It's worth pointing out that this approach also eases the logistics of making the programmes in the first place, allowing post production schedules to run on while the first episodes start to screen.
Binge-Watching Still Popular
Of course, just because the release schedules might be under examination, that doesn't mean that viewers are necessarily going to change their binge-watching habits overnight. It is still an incredibly popular past-time, albeit with variations around the world. Ampere Analysis data, for instance, suggests that 69% of US viewers frequently watch several episodes of a show back to back. 66% do the same in Britain, 65% in France, but only 46% in Germany.
It's not just the viewers that are resistant to the thought of an end to binge cuklture, Netflix has pushed back against it as well. In an earnings webcast in October 2019, Chief Content Officer, Ted Sarandos, highlighted differences between 35 shows that are released all-at-once in some territories and weekly in others due to licensing issues.
"We actually get more viewing and cumulatively more social media buzz, more tweets, more activity on social media, around these shows for the all-at-once model," he said.
Where it varies most though seems to be with age, as illustrated by the poll below undertaken on behalf of The Hollywood Reporter, with the necessary caveat being that it predates the launch of Disney+ and Apple TV+.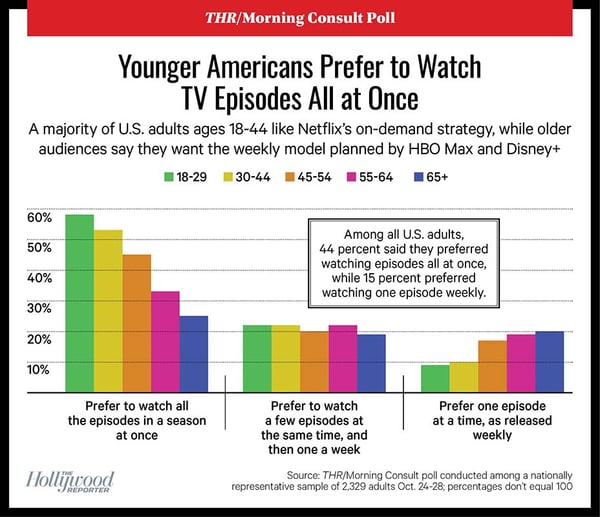 Indeed, this chart seems to illustrate the way that many of the streaming services are thinking. As THR details, Apple went for the hybrid approach for most of its tentpole releases (this is probably based on influential Netflix research from 2015 that it takes an average of three episodes for viewers to get hooked on a new series), but dropped all the episodes of the younger-skewing Dickinson at the same time. Hulu too the same route with Looking for Alaska and several recent high-profile comedies.
No Single Approach
While it will be interesting to sift through the data after all the new major players in the market have launched services — or at least extrapolate, the streaming platforms rarely sharing figures — the truth is that there is probably not a single strategy that works better than another one in the current environment unless a specific demographic is being targeted.
Younger audiences have a definite preference for bingeing, but there is research that points to the end result being the same in the long run for more general interest shows whatever approach is taken. Interest in all-at-once releases spikes and then tapers off, while a weekly release schedule can see interest build as a show goes on. Both level off after close to three months and the end result in terms of overall viewers and interest is largely the same.
The key to the equation there is that one strategy can potentially leave you with more subscribers on board for a further month than another. Certainly it will be interesting to see if Disney+ keeps with the same episodic strategy with The Mandalorian when it rolls out internationally at the end of March or switches to either a binge or a hybrid model to test the waters of a different approach. [Update 24/03/20: with only two episodes available at launch, it seems it is sticking with the episodic strategy for now.]
To binge or not to binge? That is the content provider's strategic question.
Pic: Disney