Industry Insights: 2021 looks like becoming an important year for AVOD services while the importance of maintaining deep libraries and offering 4K content is also being highlighted.
AVOD already reaching 2021 take-off point
[Variety, Ampere Analysis, Rapid TV News]
The start of the year has featured several stories highlighting the growing momentum behind AVOD and how it is seemingly resistant to the global ad downturn precipitated by the Covid crisis.
In what Variety calls 'a classic case of co-opetition', which is an ugly word but gets the sentiment across well, Roku and Amazon have signed a deal to bring Amazon's AVOD-supported streaming service, IMDb TV, to the Roku platform in the US.
This is an interesting one because IMDb TV competes for viewers — and, by extension, ad dollars — with the Roku Channel, which is a similar ad-supported streaming service. It seems that content is still king in this situation, however, and IMDb's mix of original titles (Variety namechecks spy thriller "Alex Rider" and docuseries "Top Class: The Life and Times of the Sierra Canyon Trailblazers") and extensive library are big enough draws for Roku that it's prepared to host the competition.
Roku's standard distribution agreements see the company taking 30% of ad inventory on its partner channels. The exact terms of the deal with IMDb TV have not been disclosed, but the pain of that will be sweetened with the expansion of the service to Roku's 51.2 million acute accounts.
More could be on the way too with AVOD services looking to follow the SVOD pioneers and expand beyond its US heartland. Ampere Analysis reckons that the UK market could be one of the main targets,
"64% of UK internet users had used an AVOD or catch-up service in the past month, exceeding the 42% and 38% reported by French and German respondents respectively," says Ampere. "With the highest engagement with free VoD services among major European markets—and one of the highest tolerances to seeing ads while watching TV in the world—the UK is primed to become a stepping stone for AVoD services' international expansions, particularly into Europe."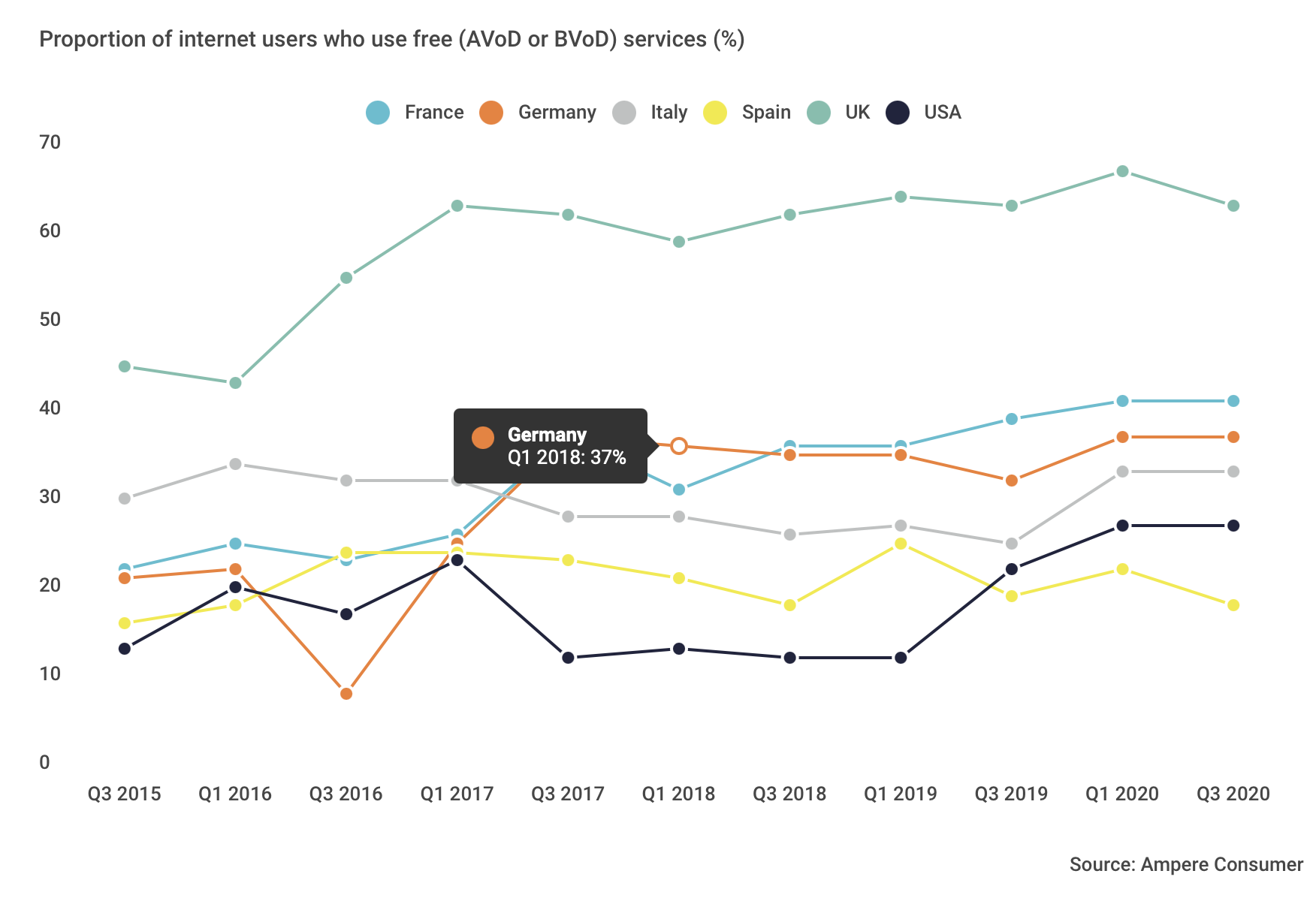 This data has been mirrored elsewhere by research suggesting that 83% of UK consumers are willing to watch ads to gain access to free streaming content.
The UK is, of course, a fairly uniquely shaped TV market. But it's also been something of a trendsetter over recent years and, even post-Brexit features powerful media companies whose reach extends well into the European market and beyond. An increasing AVOD surge in the UK coupled with events such as the launch of Pluto TV in France in February would be a strong indicator that the continent is about to see a similar sort of thing happen as the year progresses.
The importance of the deep library
[Nielsen]
US analyst and measurement firm Nielsen is increasingly convinced that some of the changes that Covid wrought in 2020 have permanently changed the way that people consume and engage with media
The big beneficiary is, unsurprisingly, streaming, with consumers watching a phenomenal amount of content via a growing variety of streaming platforms. What's interesting though is its analysis of what people are watching and how it divides between new, original content and older, familiar material.
Take the following two shows: Ozark and The Office, both on Netflix (at least in 2020). Consumers watched 30.5 billion minutes of Ozark, but 57 billion minutes of The Office. If you break that down per episode, Ozark is way out in front, with an average of just over 1 billion minutes for each of its 30 episodes, according to Nielsen figures. 192 episodes of the US version of The Office, meanwhile, gained 0.3 billion minutes each on average.
The salient point here is that The Office was licensed content. A broadcaster might need more than three of them to get the same amount of viewing minutes as an original series but will have spent a lot less money doing it.
"When looking at the types of content that were successful in 2020, it was original content that sparked cultural phenomenons and shepherded in new subscribers to both established and nascent platforms," writes Nielsen. "However, the most-viewed pieces of content on streaming platforms overall weren't simply the original ones: They were the older shows that first found success on more traditional channels. While original content can generate buzz and draw in audiences, library content is what viewers find comfort in, watch casually and often return to. Simply put, they're known quantities."
Is 4K Ultra HD finally a must-have feature?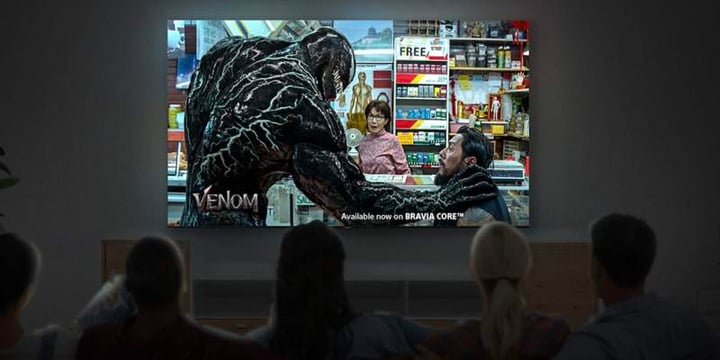 Compared to the decade-plus it took for the HD rollout to take place, the 4K one has been comparatively quick. It has seemed to stall in recent years, however, to the extent that while the majority of new sets being sold are 4K capable, enthusiasm for the services — and for paying a premium to access them — has been lukewarm.
That though could be changing. Data from Parks Associates suggests that 63% of consumers think that 4K picture quality is an important new feature when it comes to selecting a new Smart TV set. And there even seems to be a groundswell of interest in 8K, with around 50% saying it was an important factor.
Between those two formats in descending order you have the desired Operating System, voice remote, exclusive video services, and the ability to cast or mirror content.
This all came out in its analysis of a new Sony Bravia set that was released at this year's virtual CES, which is in itself an interesting development. The new Bravia Core service (pictured above) is a TVOD streamer available exclusively on Sony's new line of 2021 BRAVIA XR TVs and carrying around 300 of the media giant's titles.
It uses what Sony has dubbed Pure Stream technology to deliver an up to 80Mbps stream for a lossless 4K picture that is purported to rival Blu-ray discs, though reading the small print you're going to need 115Mbps to make it happen and a lot of users may well be connecting at closer to its minimum spec of 30Mbps.
Connectivity issues and poor picture quality are some of the biggest complaints about streaming services among audiences, and with theatres still closed around the world, Sony is making much of being able to provide a cinema-like experience at home. Certainly for those with the bandwidth to spare it means that streaming picture quality is being raised to new, and dare we say, in the future 8K capable height.