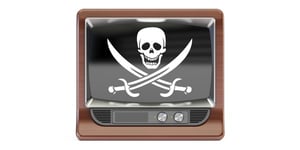 A recent survey concluded that one in three US consumers watch pirated content, despite 69% of them recognizing that data piracy is illegal. It is becoming more urgent than ever that content owners take action to protect their content as the pirates seek new routes to market.
It seems odd to talk about something as mainstream and business-oriented as 'routes to market' when it comes to video piracy, but that's very much what modern piracy has become: a business. As far back as 2014, the Digital Citizens' Alliance influential report Good Money Gone Bad estimated that the largest BitTorrent portal sites were topping $6m in annual income from advertising alone. Even small sites were clearing $100,000.
This is not deliberate and direct advertising, but rather a function of the ad networks that serve advertising on multiple websites. Last year in the UK the Intellectual Property Office published a video which stated that of the Top 500 IP-infringing websites, 294 contained well-known and recognized brands. And while it and other anti-piracy organizations are trying to highlight the damage this causes, the fact that video piracy has become such a normative crime makes the task even tricker.
TV Data Piracy: A Normative Crime
Normative crimes are just that: crimes that become so normal that they disappear into the background and aren't really considered crimes anymore by the people that commit them. Speeding and jaywalking are often cited as examples. The challenge facing the industry is to ensure TV piracy doesn't become more of one than it already is and, if possible, to transition it from acceptable to unacceptable behavior.
In many respects, it seems that this approach is succeeding. If 69% of people know that it is wrong, and only 32% are breaking the law, that is far better than the other way around. But piracy is evolving fast and keeping up with its machinations means fighting a continual battle.
As we've reported before, the likely incidence of piracy of Season 6 of Game of Thrones, for instance, is probably much higher than tracked via BitTorrent. This is due to a tailing off of downloads and an increase in viewers heading to illegal streaming sites as high-speed broadband penetration increases.
New Frontiers in Data Piracy
One of the latest fronts to open up in the fight against video data piracy is via Digital TV and there is growing disquiet about the use of apps installed on Smart TVs or media streaming devices that scrape content from illegal sites and repositories. Partly, as Liz Bales, head of the pro-copyright education body, The Industry Trust for IP Awareness writes in The Huffington Post, this is because they can circumvent the usual checks and balances on age-appropriate content.
"The first ever detailed study of this type of piracy has just been completed and reveals one in ten of those engaging in it have been inadvertently exposed to pornographic or age-inappropriate content," she writes. "While a supporting technical analysis found that one third of advertising served to viewers was of an adult nature."