The US market is about to heat up considerably as Disney+ launches with a $12.99 bundle of streaming services at a very aggressive price point. Is this a threat or opportunity for operators?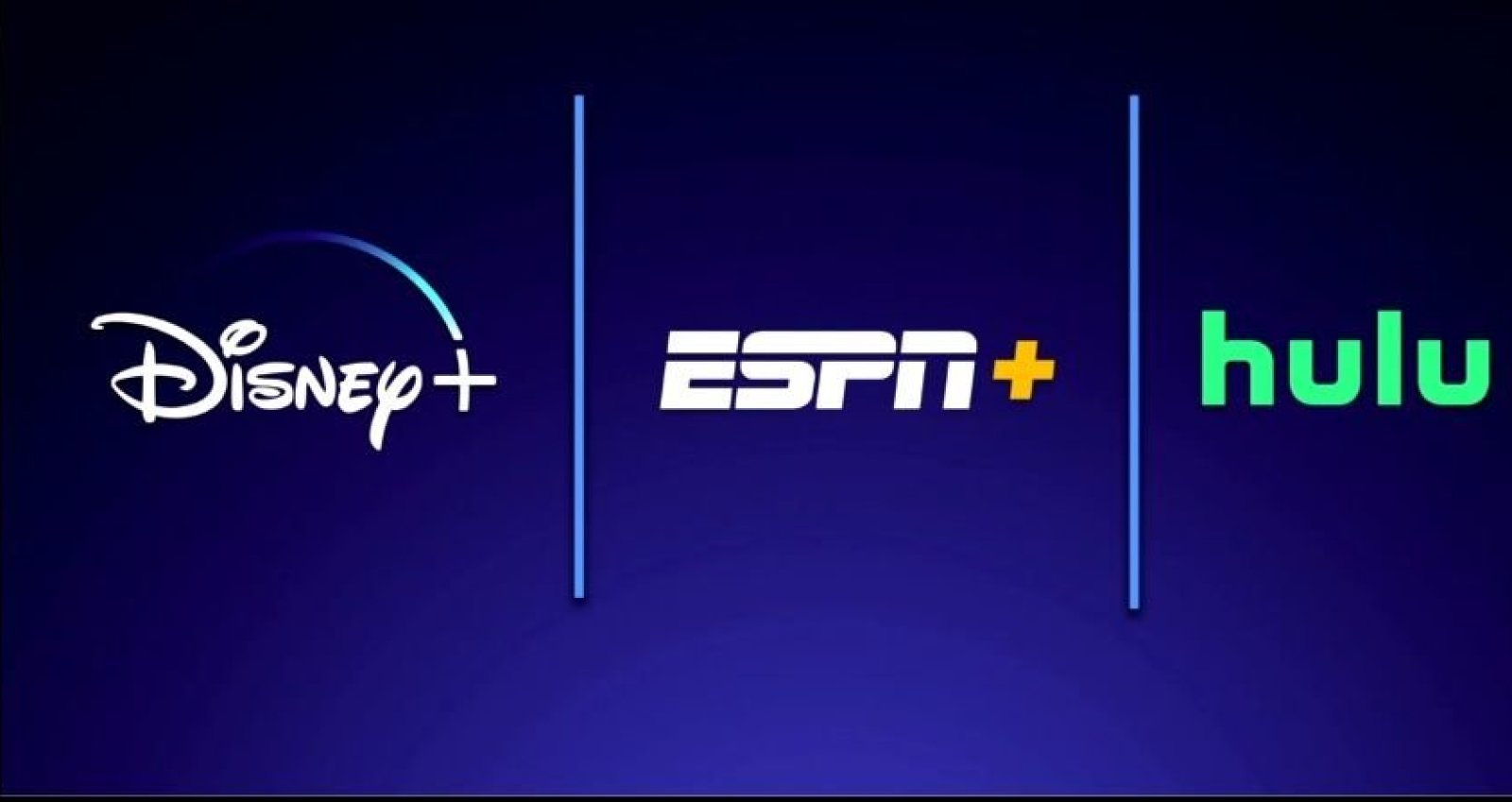 This year was always going to be an extremely interesting one for the OTT industry, particularly in the already crowded US market. Many top players, including big tech companies, are introducing new services. Disney and WarnerMedia are both introducing new SVOD offerings (though WarnerMedia's now looks like being delayed to the spring). And Apple, after making various noises about TV for many years is finally entering the market with Apple TV Plus. But the two announcements we have seen from Disney over the summer regarding the price of its Disney+ offering, which launches in the US in November, have been surprising. It is being very aggressive on its monthly costs as it looks to rapidly build a subscriber base.

First we have to put this in context. The US market leader Netflix has had to raise prices again to cover its increasingly large production costs. These are estimated to reach $15bn this year and there is already much discussion about whether this is sustainable in the long run (our recent feature on AVOD talks about this LINK). Netflix's most popular tier in the US, the Standard Tier, now costs $12.99. And, as you can see from the graph below, the premium tier (including UHD streaming to four devices) is even more expensive.

The Disruptive $12.99 Disney Bundle
Disney+ launches in the US on November 12 at $6.99 (international launch is rumoured to be early in 2020). That is already $1 cheaper than Netflix has ever been. And while it will not have the depth of content that Netflix can boast, it does have many very popular properties with its prospective audience. It has its own Disney library, it owns Star Wars, it owns Marvel (it has been pulling Marvel shows from rival services for a while now), and it owns Pixar.
More than that, it also owns Hulu and ESPN and this is where the big shockwave comes. It has announced that it will be offering a bundle of all three services — Disney+, Hulu, and ESPN+ (which features Tier 2 and many international sports) — for $12.99. That is the same price as Netflix and a big discount over the cost of purchasing them separately, around $18.
We can call it aggressive because research shows people are willing to pay more. A survey of 2,504 US internet consumers aged 16-64 found that 18% of consumers would pay between $10-$20 for the service. As Multichannel concludes: "Disney appears to be pricing Disney+ to get to grow quickly and get to scale fast."
Also worth detailing are the biggest interest generators, according to the survey: Pixar films, with 46% of respondents saying these movies will entice them to subscribe to Disney +; older titles (42%); Marvel content (38%); exclusive TV shows (38% - though this could ramp as pre-launch publicity for the Mandalorian increases); movie remakes (35%).
HBO Max's Different Strategy
It is worth contrasting the launch strategy being followed by Disney with that of the WarnerMedia service. Called HBO Max, this is another multi-faceted offering including content from many AT&T-owned entertainment subsidiaries such as Warner Bros., HBO, Turner and more. It will also have all 236 episodes of Friends after WarnerMedia reclaimed the streaming rights from Netflix. Friends is so popular in the US that it is almost a category of its own; it is rumoured Netflix paid $100m just to extend its streaming deal for the series by one year.
Delayed now until spring 2020, HBO Max's price has yet to be officially set but it is rumoured to be in the region of $16-$17 a month. This is quite high for the price-sensitive US market, particularly with such dominant shows as Game of Thrones now finished. This in turn is increasing speculation that HBO Max will exist at several tiers and the premium service will be coupled with a cheaper service also featuring advertising, perhaps closer to $12 a month.
We will know more soon. But it is fair to say that the Disney+ bundle price will have caused some amount of unwelcome surprise for the company.
We have yet to mention two very major players in the shape of Amazon and Apple. This is because they are very different companies which see video as driving the main business (arguably this could be considered the case with WarnerMedia, as it is owned by AT&T, but that is possibly a stretch for now).
Amazon Prime Video is bundled into the $12.99 Amazon Prime membership giving free 2-day delivery in the US and a number of other benefits, and is also available as a $8.99 standalone option. No one reliably knows how many viewers either of these memberships has, but most analysts tend to suspect that the majority of viewers are on the $12.99 package. The additional benefits that Amazon Prime membership confers render it less price sensitive to movements from other players.
Apple is the real unknown quantity here. The Apple TV Plus streaming service will launch at some point before the end of the year. Unlike both Disney+ and HBO Max it will be available internationally at launch, the app-based service rolling out in 100 countries. As an app it will be available on iOS devices, the dedicated Apple TV hardware, and on some smart TVs. It is a slightly different proposition to the others in that it will have less of an emphasis on original content and more of a concentration on providing subscriptions to other channels. What original content it does have looks to be very high quality.
The big question with Apple TV Plus is price. As yet, no one knows either that, or a specific launch date, though October is often referenced in industry speculation. It has been a long time coming, but given Apple's proven ability to disrupt markets, its arrival is significant.
The OTT Industry and the Importance of the Number 2.8
There is another significant thing to mention here too. That is a number: 2.8.
After several years where it seems the US consumer was happy to stack more and more OTT services on top of each other, it seems the market has reached saturation. Ampere Analysis research suggests that 2.8 is the upper limit per US SVOD household, with that number remaining unchanged from Q3 2017 to Q3 2018 after rising for several years.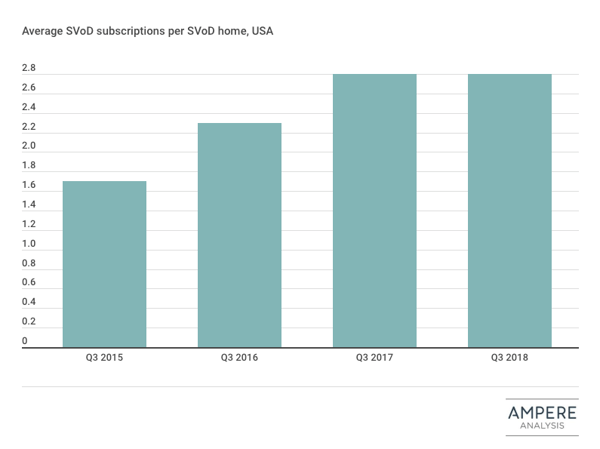 That would seem to suggest that Disney and the others will have trouble gaining traction at launch. However, research also suggests that the new Disney service in particular will be well received.
"27% of respondents are already aware of the fledgling SVOD platform despite minimal promotional activity, with 22% of all respondents indicating that they are likely or highly likely to subscribe to Disney+," writes Digital TV Europe.
We asked what does a $12.99 Disney bundle mean for the OTT industry? It means several things. First competition in the US is going to increase substantially as the major SVOD players compete for a limited amount of viewers. This could lead to price cutting, changes in content strategy, numerous special offers, changes in business model such as the launch of AVOD-driven tiers, and ultimately even consolidation. It changes the landscape in ways we have not seen since 2013 when Netflix first started streaming House of Cards.
Secondly it increases the importance of the international markets. The majority of Netflix's growth, for instance, is already now taking place outside the USA. As business conditions become more difficult in the US, so other territories come into play. Much will depend on how HBO Max and Disney+ roll out on a global basis, especially as, existing content deals can mean that they do not necessarily have the same exclusive breadth of content in every country.
Thirdly it increases opportunity. Any time the status quo at the top end of an established industry is changed, the ripples spread outwards. Disney and WarnerMedia's arrival helps raise awareness of OTT Cloud services in general plus reinforces the concept that the Big Two players of Amazon and Netflix are not the only two in town. As a result the market for localized content in particular that exists worldwide will get boosted.
Disney+'s arrival was always going to have a major effect. Arriving at that $12.99 Disney bundle pricepoint though and as part of an upheaval that also includes the introduction of HBO Max and Apple TV Plus, makes it even more dramatic. Can it help the industry break through the 2.8 services per household barrier? One thing is for certain; these new offerings are sure to shake up the industry – a seismic shift may be on the way