Euro 2020 is the biggest sporting event to be hosted since the pandemic began and a real test for networks and others ahead of the Summer Olympics.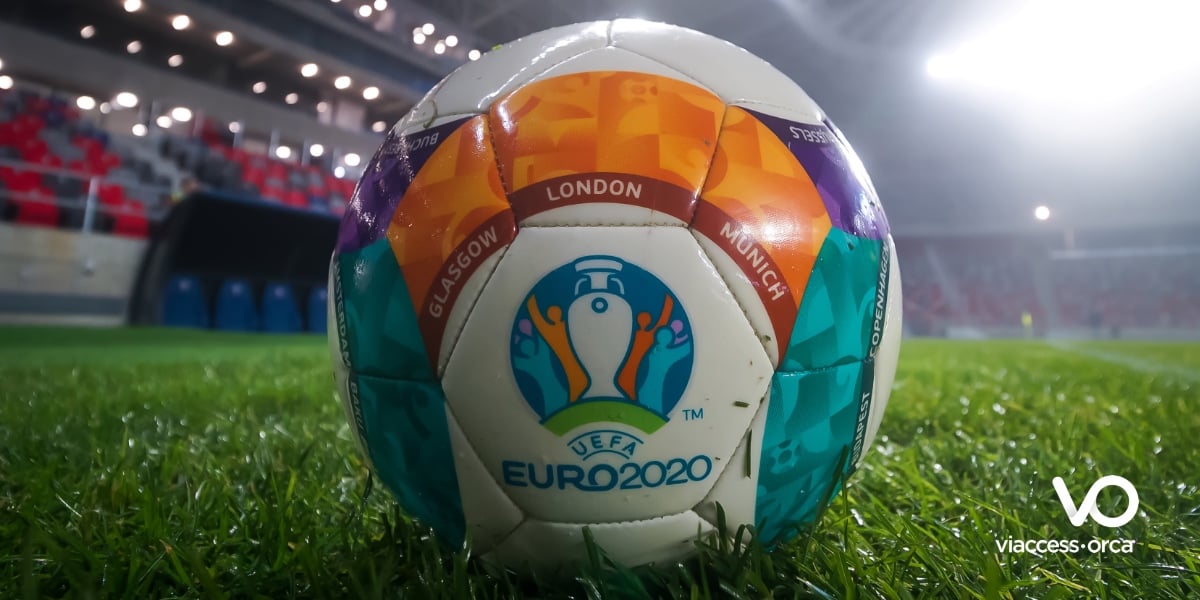 The first of the big, multi-week sporting events to take place since the pandemic, the 2020 UEFA European Football Championship, to give it its full name, is a genuinely massive tournament. Despite being relatively regional in nature, the global penetration of European leagues such as the EPL, Serie A, La Liga, and the Bundesliga, means that there is a genuinely audience for the four-week tournament.
Available in 229 territories via 137 broadcast partners, according to UEFA figures, 1.9 billion people are expected to tune in to its live matches via a mixture of official TV and streaming platforms. The total live event audience projected for the entire competition is up around 4.7 billion.
These are massive numbers with an equally massive broadcast operation swinging into place to fulfil them. And, with more people watching via streaming apps than ever before — often even if they have access to a live broadcast signal as the habit to switch to streaming services has become ingrained — we thought we'd look at two aspects of the tournament's staging and operation: stream quality and piracy.
Keeping quality high and latency low
There are several interlocking aspects to maintaining the quality of the viewing experience when moving to app-based streaming services. Picture quality needs to be high, buffering needs to be minimal, and latency needs to be as low as it is possible to make it given the broadcast chain involved in any one match.
In an era where broadcasters across the continent are forging ahead with offering UHD match coverage, and viewers are even prepared to vent their spleen at broadcasters due to a shadow on the pitch, any lack of quality in the streaming offering is going to be fairly quickly highlighted.
So far the Euros have been free of the major incidents that have attended other high profile streamed sports events, such as the 2021 Super Bowl. Issues so far have been comparatively minor — audio out of sync, and so on — but networks will undoubtedly be put under pressure as we move further towards the planned final at Wembley on 11 July.
Latency is one of the key issues they have to face at any stage of any tournament, however. The problem is that the broadcast signal has been optimised over decades of development to be extremely efficient. Streaming, though, includes a variety of processes including video encoding, packaging, network delay, and decoding into the mix, while also introducing fixed segment lengths and buffer requirements into the mix. The result is that signals arrive with the end user at different times:
Satellite latency: 3.5 - 12 seconds
IPTV latency: 4 - 6 seconds
Terrestrial Cable: 6 - 12 seconds
OTT: 20 - 40 seconds
The OTT value is steadily coming down — a few years ago, it was closer to 30-60 seconds — but given the mixed platform environment that people watch via it can still cause problems. Viewers are dissatisfied with their experience being undermined by the announcement of a goal on Twitter before it has occurred on their stream, while it also has some fairly serious implications for the validity of in-game betting services.
Luckily there is a solution in the shape of CMAF, as deployed in our Secure Video Player and elsewhere. CMAF uses 'chunked encoding' and 'chunked transfer encoding' to break a video signal down into small chunks of a set duration. Rather than with legacy streaming technology where each stage has to be completed before the next one can be started — an encoder waits until it has encoded the last byte of a segment before uploading it; the CDN waits to receive the last byte of a segment before forwarding the first byte; players wait to receive the last segment byte before decoding the first one — broadly speaking content with CMAF can be published as soon as it is encoded and forwarded as soon as received. Delivery takes place in near real-time while later chunks are still being processed.
This is a huge improvement on what has gone before and, with enough of the signal path optimised to support CMAF, sub-broadcast latency figures of around 3 seconds are considered achievable.
You can read more about CMAF and some of the technical detail surrounding it here: How CMAF is a Key Factor in Reducing OTT Latency. Its use is becoming increasingly widespread, and as viewers demand more and more connected experiences such as watch parties, it's becoming quite necessary too.
Keeping the pirates at bay
From a European perspective it's tempting to dismiss problems of piracy with the Euros as the tournament is available free to air in most countries across the continent. However, that would be to ignore the global nature of sports piracy and the global appeal of the tournament. Many of the matches being screened away from its European base are being offered to sports fans on Pay-TV platforms and the pirates have been active.
There are no official figures as yet, but one website followed the old tactic of tracking Google searches and relevant terms such as 'free Euros 2020' and 'watch Euro 2020 free' to see where the level of interest was peaking.
The USA saw the biggest demand, driven no doubt by a polyglot population with European heritages. That saw a massive 300% increase in search uplift for relevant terms associated with Euro 2020 piracy, distancing the second place country of Australia (170%) by quite a long way. Canada and New Zealand saw 100% and 70% increases respectively, while hovering around the 40% mark were several countries including the UAE, South Africa, and Thailand.
These searchers are following through too. Underscoring the scale of the problem, during the group stages of the tournament the 'Euro Strike 2020' initiative in Italy saw over 600 illicit services blocked, all of which were unlawfully streaming Euro 2020 matches.
As Broadband TV News details, UEFA reported a proliferation of portals responsible for illegal streaming close to the start of the competition. Italy's Guardia di Finanza investigators then discovered a system that was being fed from numerous content sources across Europe with the aim of then distributing the content globally. When investigators queried the individual computers the message 'Xtream Codes Reborn' came back which refers to a well-known global pirate platform dismantled in 2019.
600 illegal platforms were blocked all in all. Those connecting to the services in Italy (where, atypically, some of the matches were screened on Pay-TV) saw messages flash up telling them that the site they were trying to access had been impounded and their connection data detected. The pirates, meanwhile, are now looking at possible imprisonment from six months to three years and a fine of up to €15,493. End users are exposed to an administrative fine of up to €1,032.
Next comes the big one
Euro 2020 is a big tournament with a global impact, but it pales into insignificance compared to what comes next. If all goes well, the 2020 Tokyo Summer Olympics will start on 23 July, and there are worries about piracy here too. "We are extremely concerned of the impact that online piracy could create during the next 12 months, which will include extensive broadcast coverage of not only the Olympic and Paralympic Games Tokyo 2020, but also the 2022 Winter Olympics in Beijing," the IOC wrote in a submission to the US government in February.
One thing for certain, though, is that Tokyo 2020 will break all existing streaming records. Starting with Beijing 2008, each Olympics has progressively featured more and more online content. For these games, NBC in the US alone is planning to show 7000 hours of content, 5000 of them streamed on NBColympics.com. Scale that effort up worldwide, and it's easy to see that is going to put an enormous strain on the networks. This will no doubt be exacerbated by the fact that more and more broadcasters have moved to remote production methods, taking the raw feeds from the venues into their own production hubs situated back at base rather than sending big teams on location.
Will the networks cope? The plans have been in place for years and, indeed, were cruelly delayed last year. But the acceleration in demand for streaming services since the pandemic hit has been unprecedented and a lot of viewers that might have watched via conventional broadcast channels are now wedded to the convenience of streaming services. It will be a challenge, especially given that the opening ceremony takes place a mere 12 days after the final of Euro 2020.
2021 looks set to be a summer of sport and a summer of streaming. Here's hoping for success for everyone in both.