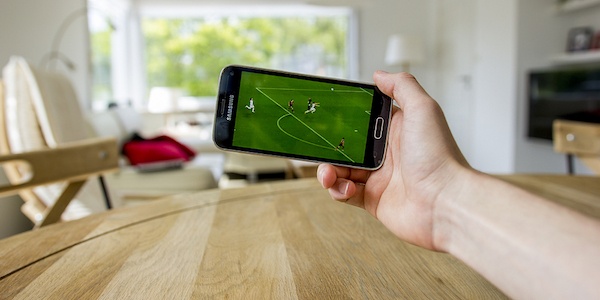 An "enormous and rapid shift" is underway to mobile video consumption according to Ericsson, while consumers seem to rate OTT over pay-TV in a growing number of metrics. And Oculus VR Chief Scientist, Michael Abrash, predicts the next five years of accelerating development for the technology.
Massive move to mobile video [Rapid TV News]
The latest Ericsson ConsumerLab TV & Media Report has identified what it calls "an enormous and rapid shift" in TV and video viewing behaviour towards mobile.
Some of the statistics the survey has unearthed are impressive: the weekly share of time spent watching TV and video on mobile devices has grown by 85% in the last six years; average viewing times on mobile devices has increased by more than 200 hours a year since 2012; and overall TV and video viewing is up by an additional 1.5 hours a week, but fixed screen viewing has declined by 2.5 hours.
VOD is one of the stars of the process. Total viewing time of on-demand content has increased 50% since 2010, while consumer spending on VOD services in the US has increased by over 60% since 2012, from $13 to $20 per month
"Yet despite this significant uptake,' writes Rapid TV News, "the report also highlights the fact that even though both mobile video and VOD TV viewing have soared over the past seven years, content discovery remains a huge frustration for consumers."
The numbers here are equally impressive, though not in such a good way. 44% of US consumers say they can't find anything to watch on linear TV on a daily basis, an increase of 22% compared with 2015. However, it's not so bad in the VOD world. Despite the fact that they spent 45% more time choosing what to watch on VOD services than linear TV, 63% claimed that they were very satisfied with content discovery when it comes to their VOD service as opposed to just over half for linear TV.
VOD must be doing something right. Find out how our COMPASS Content Discovery Platform can help you.
OTT The Best Way To Protect Revenue? [Multichannel News]
We have become almost immune to the 'it's the end of television as we know it' surveys in recent years, but despite constant exposure to all sorts of worrying and market-changing figures, the recent survey conducted by market research firms FocusVision and Zanthus represents something of a high-water mark in alarmism.
The companies surveyed 1000 customers in the US market and found that 41% were planning on cutting back or dropping their pay-TV service. What's more, by contrast only 16% of OTT customers were planning the same actions.
The contrast between the two services continued across multiple other data points too. 62% of OTT subscribers said they were likely to recommend their services opposed to 43% of pay-TV customers; 59% of OTT customers satisfied with value compared with 27% of pay TV customers; 62% were satisfied with customer care compared to 41%.
Indeed, probably the sole good news for the pay-TV industry to emerge from the survey was that pay-TV subscribers watch 18 hours a week compared to the 11 hours for OTT.
Oculus Chief Scientist Predicts the Next 5 Years of VR Technology [Road to VR]
Oculus has rapidly established its Oculus Connect developer event as a yearly tradition and one of the cornerstones of the whole experience is a presentation on the future of VR by its Chief Scientist, Michael Abrash.
Of course, you would expect it to always have a positive spin, but given the way that the market has responded in the first mass consumer year of VR, Abrash was unsurprisingly more bullish than ever.
Road to VR has an excellent summary of the presentation, but here's a summary of the summary in bullet points and how Michael Abrash thinks VR will evolve over the next five years:
Pixels per degree to double to 30, with a widening of field of view to 140-degrees. Resolution per eye will be around 4000 x 4000 and we will see the introduction of variable focus.
Foveatal rendering will target detail directly at the part of the retina that can see significant detail. with the rest of the image at much lower fidelity.
Eye tracking will improve significantly. It will need to to make sure the above can happen
Personalised head-related transfer functions will greatly improve positional audio
Hand-tracking will become standard
Headsets will become lighter and wireless
And if all that seems a tall order, it's worth remembering that it's not even two and half years yet since Facebook bought Oculus VR and kickstarted the whole current interest in the technology. Five years at the current rate of funding is a long time…
Click here to read about how our latest VR solutions are developing to keep up.