The increasing reliability of live streaming technology has meant that sports streaming is becoming a serious consideration for rights holders and broadcasters across the industry.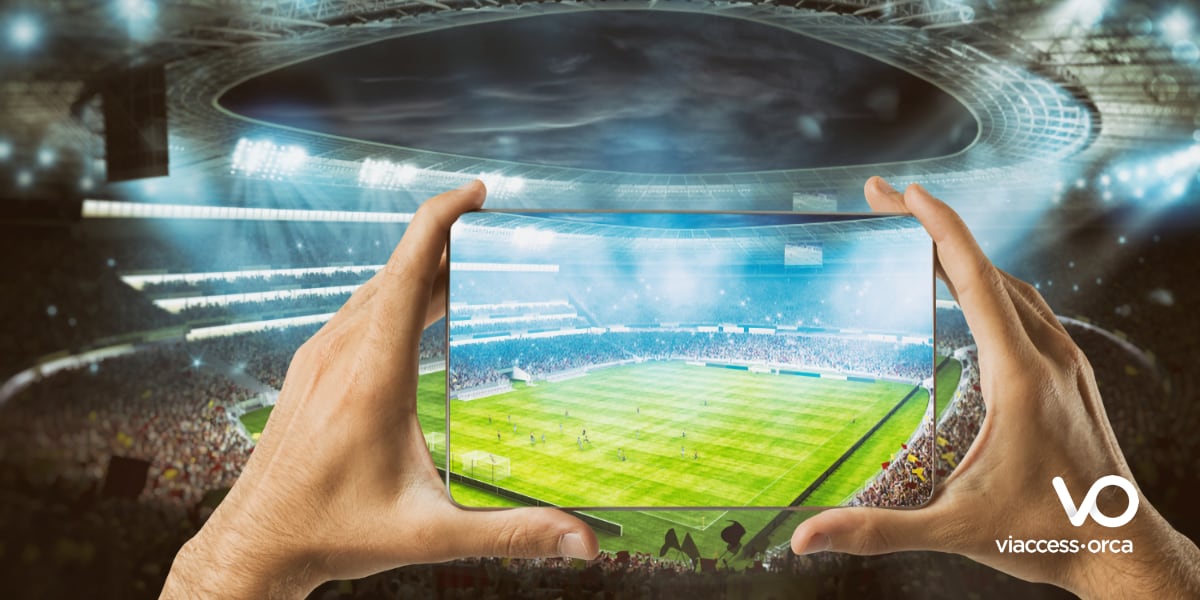 Not so long ago, the live streaming of sport was considered a very niche market perhaps more suited to the burgeoning esports sector. It had several problems ranged against its more widespread adoption. On the technical front that included a lack of reliability, as well as high latency and far too much buffering. In short, the QoE was simply not good enough for the end viewer. Rights were also locked into long-term deals with (typically) pay-TV providers, ensuring that the discussions about deploying it often never even started to take place.
That has all changed in recent years, however. Competition amongst the big streaming services has opened up the market to the extent that Ampere Analysis forecasts that 20% of all sports rights spend this year across Europe's largest markets will be from streaming services alone.
It's an impressive figure, and one that is rising rapidly too. In 2017 the same figure was only 12%
So, what's going on? How is the market evolving and what are some of the drivers behind its impressive growth.
The changing landscape of sports streaming
Streaming has become such a key component of the sports landscape that it is difficult to imagine that the first deal in Europe was signed as recently as 2017 when DAZN sub-licensed a small package of UEFA Champions League rights in Germany. Fast forward five years and that kind of arrangement has become ubiquitous; all of the five top tier domestic soccer leagues in Europe (England, France, Germany, Italy, Spain) now have at least one SVOD partner for a package within their overall rights.
The picture is lumpy, however. According to Ampere's figures, the percentage of streaming sports rights spending per country is as follows.
Italy - 53%
Germany - 32%
Spain - 16%
France - 14%
UK - 2%
The UK is an interesting example that illustrates the still very relevant power of Pay-TV in certain markets and with certain sports. Here, Sky TV has wrapped up a huge number of rights, along with BT and Eurosport/Discovery, with the majority of high profile sporting events now taking place behind paywalls. However it's also worth noting that the there broadcasters also offer OTT services for live sports alongside their usual packages.
Indeed, Sky remains the biggest player in Europe, with a $4bn spend across the five territories, roughly one-third of all spending. Amazon, incidentally, is in tenth place.
In the US the picture is slightly different, the market seemingly having matured slightly earlier and as result being slightly stronger. Seven of the 10 biggest streaming services will air at least one live sporting event in the next two years, and competition between them is starting to have an effect on rights prices.
This is particularly true for what in the US are considered 'minority' sports compared to the big domestic leagues Paramount, for instance, had to outbid Amazon for US rights to the UEFA Champions League, paying $1.5bn for a six year deal. This is 2.5x its previous contract and also doesn't include the potentially lucrative Spanish-language rights.
Indeed, Amazon has been biggest player in sports streaming in the US to date, mirroring DAZN's 2017 start but at a slightly different scale by starting with high profile partial rights to NFL's Thursday Night Football package. This year it sees it expand its spend to encompass full exclusivity of that package in a $1bn a year 11-year deal.
All told, one estimate is that Amazon has spent $15.6bn on sports rights worldwide over the course of five years, covering a wide-ranging portfolio from US Open streaming in the UK to French Ligue 1 domestic rights for 300+ matches to the ATP World Tour to local baseball in the US.
Apple too has been increasingly active, paying a reported $85m to stream Friday Night Baseball from the MLB once a week. It's also highlighting some of the new level of engagement it can bring to sports properties, not to mention new income streams, with a $500k deal with the English Premier League to use EPL archive footage, as well as club kits, badges and likenesses, in its Emmy-winning comedy Ted Lasso.
The choice for rights holders: reach or revenue
For rights holders all this expansion presents an interesting problem that can best be summed up as a choice between reach and revenue. On the one hand they want to keep their long-established TV partners happy, on the other the amounts of cash being spent by streamers (at least to date) are keeping rights costs high even post-pandemic.
There's another facet they have to consider as well, and that is the increasing promise of launching their own D2C offerings, something that new technology and cloud-based platforms are making easier and easier.
All of the major US leagues are pursuing their own strategies on this front, and the picture is increasingly similar worldwide. They are driven not only by the potential for direct revenue but by the chance for direct access to first-party data and to be able to understand exactly who, out of the millions of viewers their events can attract, is watching.
"What they are finding is that, in the world we live in today, it is no longer OK for people to just watch your content; you need to build a relationship with those folks," said David Jurenka, senior VP of NFL Media in The Hollywood Reporter. "Fan behavior or customer behavior is shifting to the direct-to-consumer model, so we are trying to meet fans where they are there."
There are risks to the D2C model. The same article quotes Deloitte research stating that 62% of sports fans are currently frustrated by difficulties in finding content, and more than half had missed an event they wanted to watch because they didn't know where to watch it. Perhaps this helps explain why a new trend of rights holders requesting at least partial access to viewer data as part of rights packages is emerging.
The latest NHL deal with Disney & ESPN presents what many hold as the ideal marriage of data and distribution. The NHL's own streaming service has moved from a standalone, subscription driven streaming offering to being carried on ESPN+ and Hulu, with platform owner Disney not only paying for the privilege but also providing a certain degree of viewing data to the NHL as well.
Sports streaming in the future
Such deals are likely to become more common over the next few years as we move into a very interesting time for the continued evolution of sports streaming. A good amount of the big rights deals currently in play were signed before streaming became a major contender in the industry, back when it was only really considered worthy of smaller packages of specially calved off rights.
Last year's NFL deal moved the goalposts significantly, however, folding in Amazon and ESPN+ to a deal that encompassed five media partners and is set to last for an unprecedented 11 years.
Much attention therefore is on the next big deals coming up, with the current Turner Sports, Disney/ESPN NBA deal in particular expiring in 2025. The last deal was for $24bn over nine years, but rumours are that the NBA is seeking as much as $75bn next time around, which could run over an extended period of time similar to the decade plus approach undertaken by the NFL.
It's a gamble in many ways: 11 years is currently a very long time in the video industry and much in terms of technology and consumption patterns might change in that timeframe. But nobody is seriously thinking that when we get to contract renewals in the 2030s that streaming will be less a part of the discussions. Very likely it will be a good deal more important than it already is.