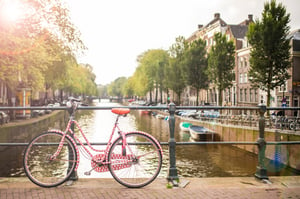 IBC2018 starts on 13 September 2018 in its traditional home of the Amsterdam RAI: Europe's biggest tradeshow in one of Europe's most spectacular cities.
Here's the VO guide to getting the most out of your time in The Netherlands. Traditionally seen as the European counterweight to North America's NAB Show, over five decades IBC has grown from a small meeting of broadcasters and industry parties taking place in Brighton on the UK's south coast to one of the biggest broadcast tradeshows of them all. Now housed in Amsterdam's giant RAI exhibition centre, which in turn has expanded to accommodate the show, it hosts more than 57,000 visitors and 1700 exhibitors from 170 countries, arguably making it the best connected of all the broadcast industry events.

VO will, of course, be there as usual on Stand 1.A51. But while it's too early to talk in detail about our plans for the show this year, we can provide a general guide to the event, make some suggestions on the likely topics that will dominate the agenda in the conference and on the showfloor, and widen the focus to the wonderful city of Amsterdam which once more hosts IBC2018.
IBC2018: What Matters This Year
One of the things that always manages to keep IBC relevant as each year passes is the way that it reinvents itself as it goes along. Some things are fixed — Hall 7 is always the noisiest hall where you find all the post production companies, there is always an Awards ceremony on Sunday night — but other things can change. And monitoring those changes is a good way of seeing what topics are riding high on the industry agenda in any given year
This year, according to the headline in the press release issued by the show organisers, that means AI, blockchain, and VR. As yet it is too early to tell whether these will have special areas on the exhibition showfloor dedicated to vendors working in these spaces, though recent history suggests there is a good chance of that happening,
As anyone who attended the show last year will remember, AI was one of the major talking points in Amsterdam. Indeed, one of our most popular blog posts from last year, How AI is Evolving and Affecting TV Broadcasters, was written in the wake of that, and it will be interesting to see how everything has evolved in the year since when the show opens.
Also intriguing is blockchain. Again, this is something we've talked about here, and seeing how vendors have taken the whole idea of a distributed ledger and are productising it for our industry will be genuinely fascinating. Will it be genuinely transformative as so much written about it suggests? Or will it be one of those technologies that remains forever peripheral to the business of video. IBC2018 is going to be a good place to see which way this particular wind is blowing.
VR's presence in the headline is interesting too. That the technology has failed to ignite the market in the way many people hoped it would a couple of years ago is no secret, but the sense is that this is more of a hiccup caused by expensive kit and a lack of genuine immersive experiences than a wholesale rejection on the part of the consumer.
Indeed, VR is forming a significant part of a new conference track, Cutting-edge Tech Innovators, for this year. And that is by no means the only new conference track on offer as again IBC changes its programme around to reflect wider industry concerns.
A new Global Gamechangers stage promises high-profile interviews with some of the leading executives; NextGen: Interactive & Immersive Experiences gives an insight into developments within the worlds of immersive content; Audiences: Engage. Influence. Grow will drill down on GDPR and machine learning and reveal ways to engage niche and wider audiences; and Advertising: The New Attention Economy will explore new ways of maximising opportunities and revenue in the age of big data and the emergence of blockchain.
As usual there is a good degree of cross-fertilisation between the different tracks, indicating how far-reaching some of these technological changes have become. It's very much a case of: Silos? What silos?
Registration for the show is open now.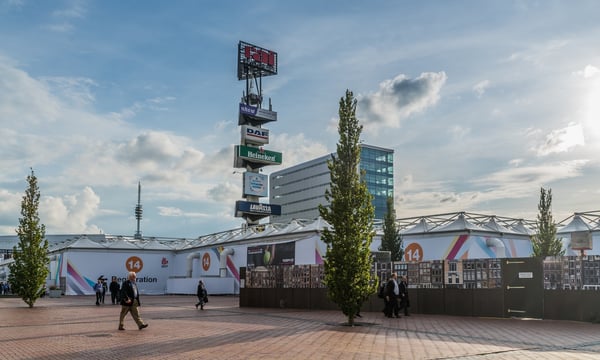 IBC2018: Getting There & Getting Around
One of the reasons IBC has made its home in Amsterdam over the past few decades is that the city is extraordinarily well connected. Amsterdam might be small in European terms, with a population of only around 850,000 people, but its historic position at the centre of many European trade routes means that there is plenty of capacity at nearby Schiphol Airport.
Flying isn't the only way to get there. The same interconnectedness extends to the road and rail network, and there is even now a direct Eurostar train linking London to Amsterdam.
IBC has partnered with Air France and KLM to offer attendees discounts of up to 15% on a wide range of fares on all Air France, KLM and their code-shared flights worldwide. Check out the organisations Travel page for details.
Possible even more useful though are the RAI Amsterdam Hotel Services pages which not only offer discounts but also act as a vast clearing house for hotel accommodation at the show. There are, of course, other options — houseboats via Airbnb and other specialist services are becoming increasingly more common — but the RAI service is probably the first port of call for most people heading to the city.
The most pertinent advice we can give here is to book early. The city's hotels can struggle to house the 57,000 that attend the show every year and it's not uncommon for late bookers to end up at one of the Schiphol Airport hotels or even in another city entirely. The transport network is good (a train journey from Amsterdam RAI to Schiphol costs €4 and takes about 10 minutes) but the trains cease about midnight. Most of the IBC parties — and it is a very sociable show — don't.
As for getting around Amsterdam, all attendees are entitled to a free GVB public transport pass that enables them to just hop on a tram (the Number 4 takes visitors straight there, though beware of the crush on Monday morning) or the Metro. Shuttle buses run various routes between the different hotels, and taxis are also plentiful, though watch out for significant queues leaving the RAI at peak times.
IBC2018: Out & About in Amsterdam
There is so much going on at IBC that it is very easy to fill all the hours of any visit with purely industry stuff. From breakfast meetings to the conference and exhibition itself and on to a seemingly endless round of parties and dinners that stretch far into the night, it can be a frenetic schedule.
If you can make time away from the RAI and its satellite events though, few cities reward exploration as much as Amsterdam. It really has something for everyone, and while many cities demonstrate a similar bipolar nature of high culture and more, shall we say, earthly delights, few do it in as compact a space and with such style as Amsterdam.
One of the best online English language guides to the city is published by Time Out, and covers everything from the Grand Masters whose works adorn the walls of the city's Museum Quarter to The Walletjes, the infamous and still incredibly popular Red Light District area up by the Central Station.
You can fuel your journey with some Indonesian food in the many Rijsttafel that dot the city and are something of a Dutch speciality. At the high end both Tempo Doeloe or Tujuh Maret on Utrechtsestraat have great reputations worthy of their price brackets, while for slightly cheaper eats, Kantjil & De Tijger on Spuistraat has been an IBC favourite for years. Or, if you're simply thirsty, the small chain of Gollem bars is a good place to start investigating the wide range of European beers available in the city. Just check their strength first as one of them can be potent to say the least.
Other sites well worth checking out for some research before you go include the comprehensive, official tourist site Iamsterdam, the TripAdvisor listings, Eating Amsterdam's Foodie Guide, and the New York Times' entertainingly quirky 36 Hours in Amsterdam.
IBC2018 and the Continued Importance of the Trade Show
A couple of years ago, it was fashionable to assume that the tradeshow as a concept was dead and buried. The very technologies that have transformed the industry and unleashed the power of OTT, SVOD and IPTV were also meant to do away with the need for different companies, suppliers, trade bodies, and individuals to physically meet in the same place.
It hasn't worked out like that. With attendances steadily on the rise across the board, tradeshows seem to have become more important than ever. Of course, more information flows between companies, and particularly between vendors and customers, now than ever on an almost 24/7 basis. But whether it's lifting a new camera for the first time, seeing a new technology demo, or meeting a key contact face to face, the importance of actually being there remains.
IBC's two tagline for the conference and exhibition respectively this year are 'Shaping the future together' and 'Where people connect and ideas merge'. And that is exactly why we will be there once more this year on Stand 1.A51. We hope to see you there too.