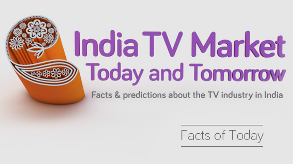 Today, India is home to one of the world's most exciting television markets. With TV sets in 167 million households (second only to China) and a government plan in place to increase the number of internet users from 94 million (out of a population of 1.2 billion) in 2011 to 175 million by 2017 and 600 million by 2020, the prospects for growth are enormous.
Television has become immensely popular in India during the last 20 years, despite strong competition from other forms of entertainment. During the last two decades, India's television distribution capacity and content production have grown, leading to a rise in total television viewing time. By mid-2011, India boasted approximately 600 television channels broadcasting in numerous languages.
"Strategy Analytics" forecasts that the Asia-Pacific market, driven by India and China, will account for 42% of all connected television sales by 2016, with the penetration in India reaching 14%. In addition, pay TV's annual revenues in India are expected to increase from $5.1 billion in 2012 to $8.3 billion in 2016. Similarly, revenues from India's Bollywood film industry, producing close to one thousand movies annually, should rise from $3 billion in 2012 to $4.5 billion in 2016.
These cases help explain the enthusiasm of those interested in the Indian TV market. To highlight the impressive developments in India, we have prepared an infographic presenting some of the outstanding facts and predictions regarding India's TV market.
To learn more visit us at Convergence India exhibition on January 16-18, 2013 at stand C60, Hall 18 and join VO's CEO at the panel discussion "Consuming the Broadcast Content on Different Devices – Current Scenario and Future Possibilities" on January 17, 11:30a.m. Click here to contact us
Click the infographic to enlarge: