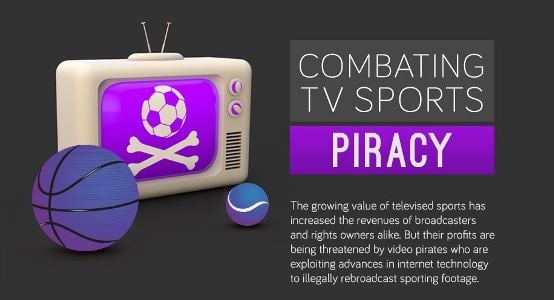 In an ever-more competitive broadcasting landscape, the value of premium rights and premium sports rights in particular, is constantly on the rise. According to research firm Deloitte, global premium sports rights will be worth £17 billion in 2017, a 12% year-on-year increase.
But while these properties have contributed in turn to an equally impressive rise in revenues, these revenues are under increasing threat from video pirates who are leveraging the very latest advances in internet technology to rebroadcast sports content.
The rewards for crime in this area can be substantial. One billion people watched the final match of the 2014 Football Cup earlier this year and 900 million watched the opening ceremony of 2012 Olympics in London. These figures are attractive for those seeking revenues without paying for broadcasting rights. And while a substantial proportion of sports fans are willing to pay to watch sport on TV - live streaming piracy is growing at a fearsome rate.
For example: in 2011 nearly 700 unauthorised websites offering illegal streams of cricket matches were shut down. In 2014 NBC shut down 45,000 illegal video clips of the 2014 Winter Olympic Games.
This is why a solution to online sports piracy, such as VO's Anti Piracy Protection, that tracks, fights and proves piracy, is so crucial. In less than two years it has identified more than 40,000 pirated sports events, and managed to get 35% of illegal streaming links disabled during the 2014 FIFA World Cup.
The time to act is now! Check out our Infographic about TV sports piracy: