Our most recent ebook turned the spotlight on video piracy in Southeast Asia, looking at both the scale of the problem and what is being done about it.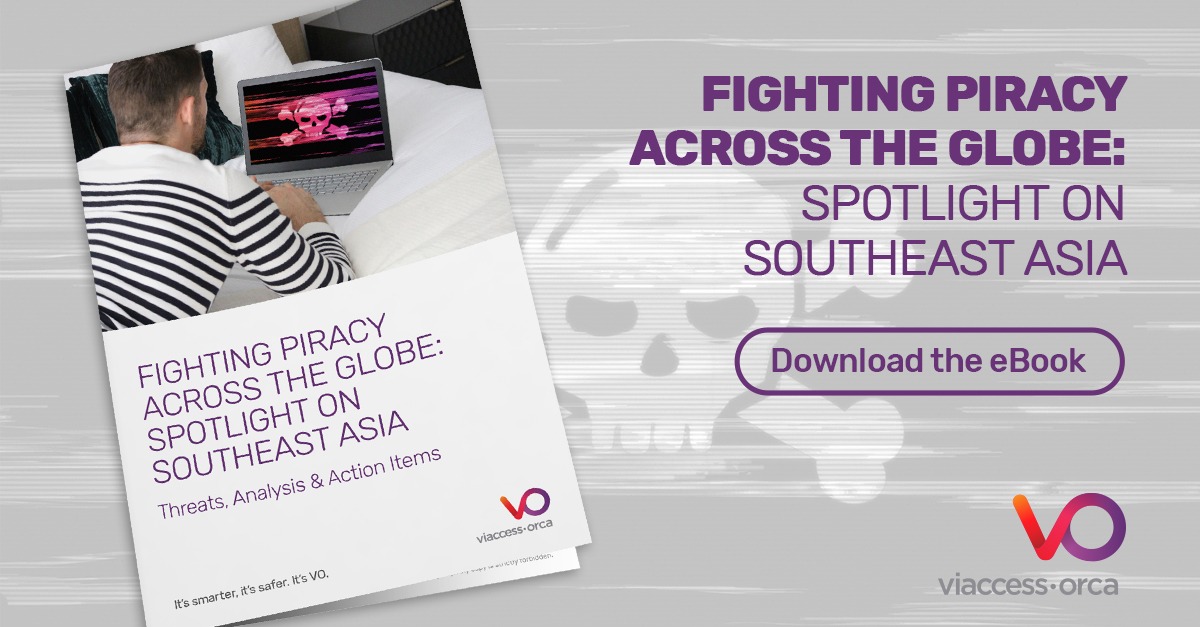 In our series of ebooks over the past year we have looked at the problem of video piracy in both Spain and Eastern Europe, charting the individual circumstances that shape the piracy landscape in those areas and some of the actions that broadcasters and operators can take to mitigate against them.
Our latest book in the series looks at Southeast Asia in detail. Southeast Asia is one of the most significant markets in the global broadcast economy and features a huge amount of geographic, economic, and linguistic diversity. This has led it to evolve a complex picture composed of a series of large national markets featuring powerful regional and local operators.
All of them are affected by piracy. Indeed, aided by the pivot towards app-based television ecosystems and the regional prevalence of ISDs (Illicit Streaming Devices), video piracy can be viewed as a constant threat to the revenues of all operators across Southeast Asia.
Download the eBook Fighting Piracy Across the Globe #3 Spotlight on Southeast Asia now!
Video piracy in Thailand
The report starts by examining the industry and piracy in Southeast Asia in general, before looking at the detail regarding four countries that are at different stages in the battle against the pirates - Indonesia, Vietnam, Thailand, and Malaysia. Each of them has their own unique market and their own unique problem and illustrates a different aspect of the ongoing campaigns, from the successes of Indonesia to the cautionary tales of Vietnam.
For the full analysis, you can download and read the report. But here we thought it worthwhile to share some of the highlights from our examination of Thailand, which is looking to use coordinated measures to change the balance between illegal and legal streaming
45% of consumers in Thailand access content via ISDs. This equates to around 30 million people, or roughly 10 million households give the country's rapidly changing demographics. A recent YouGov consumer survey reported in the AVIA Asia Video Industry Report 2020, suggested that in the region of 30% of ISD users in Thailand have canceled legal subscription services as a result of their illegal subscriptions, which amounts to a loss of 3 million subscribers. Given an ARPU in Thailand of $132, that is a figure approaching $1 billion across three years from ISD usage in one country alone.
Widen that out across Southeast Asia and beyond and the scale of the losses to the industry starts to come into worrying focus.
A landmark study by Asst. Prof Pacharasut Sujarittanonta at the Chulalongkorn University illustrated some of the further societal impacts of video piracy in the country too. He measured the wider economic damage as spiraling up to somewhere between $1.87 billion to $2.96 billion a year in 2017, with between 24,000 and 38,000 jobs lost as a result.
New site-blocking provisions were rolled out by the Department of Intellectual Property (DIP) and Ministry of Digital Economy & Society (DE) in August 2020, which it is hoped will have the same sort of dramatic effect as has been witnessed elsewhere in the region when used as part of a holistic anti-piracy strategy. However, the authorities have a big job on their hands.
The real-world battle
Our ebook gives two anonymized examples of different real-world piracy sites targeting the Thai market. One is a global site with an English language portal that offers in the region of 250 SD and HD channels specifically targeted at Thai audiences, both local content in Thai as well as international channels distributed to the Thai market. It promises 16,000 HD TV channels and 20,000 VOD titles in total to monthly subscribers. The other is a local site in the Thai language, which has fewer but more targeted live channels (around 200 of Thailand's most popular, as well as lots of international soccer) and a similar 20,000 VOD titles.
Both are incredibly polished operations with slick marketing, different bundle offers, support services, discount schemes, and more. Indeed, at times you have to remind yourself that you are looking at the website of an illegal service.
In both these cases, the global and the local, establishing the source of the piracy and taking action against that root remains the best option of closing down the service. It is important to remember though that while successful in many cases highlighted in our report, IP Blocking does not solve all piracy issues by itself. It is dependent on local legislation, pirates can change servers and use multiple mirrors, end-users can use VPNs to circumvent blocking by local ISPs, servers can be hosted behind shared IP addresses used by services that can't be blocked (such as hospital websites), and so on.
You also cannot block piracy on the social networks that are becoming increasingly influential in disseminating pirate services, which is why we recommend that IP blocking is used as a complement to watermarking to identify the source of the leak, and as an addition to a good tracking and notification system to address platforms that cannot be blocked.
Our report contains other detailed recommendations as well and includes an in-depth overview of the Southeast Asian market alongside detailed examinations of some of the countries within it. It also gives details of our free Calculating Revenue Loss service. This produces an accurate projection of how much broadcasters and operators are currently losing per year to piracy in different program categories and in different activities. This can then be compared to the cost of a coordinated anti-piracy strategy which aims to improve the conversion rate of illegal streamer to legal subscriber.
Download the eBook Fighting Piracy Across the Globe #3 Spotlight on Southeast Asia!