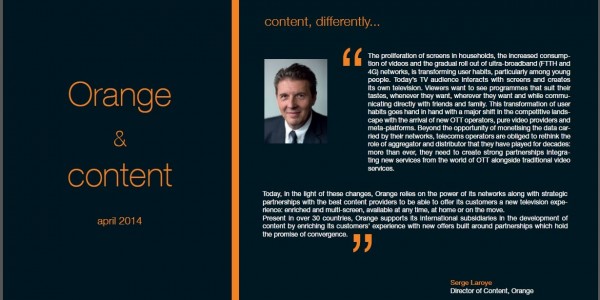 Television viewing habits, particularly among young people, are being transformed by the growth in second screens, multi-screen video consumption and ultra-broadband networks. Viewers want to see programmes they like, whenever and wherever they want, and to communicate with friends and family at the same time.
So says Serge Laroye, Orange's Director of Content, in the introduction to a new "Orange and Content" eBook for 2013-2014. The trends he speaks of are driving ever-growing viewer demand for a more engaged, interactive and immersive television experience, with high-quality content at the heart of it. He speaks of the important role its networks and strategic partnerships play in offering customers a new television experience, "enriched and multi-screen, available at any time, at home or on the move".
Last September Orange Spain launched its first multi-screen offer powered by Viaccess-Orca TV Everywhere solution - Voyage, highlighted in the new "Orange and Content" eBook for 2014 (page 22).
The profile of VO underlines VO's ability to drive the user experience of content services, wherever users are and on any type of device.
At Orange, VO integrates different solutions, such as:
Orange is establishing itself as a major force in the industry and the eBook sets out the how and why.
A summary of the main components of Orange TV includes references to its 160 channels, 30 of which being HD and 37 on demand; catalogue of over 7,000 on demand titles; up to 31 TV bouquets; and the 30 million music titles available with Deezer.
Enumerating Orange's achievements in 2013 and 2014, the eBook notes that in Europe the company rolled out a multi-screen TV service in Romania and Spain - pointing out that countries like France, Poland and Slovakia already have access to Orange TV across all devices.
In addition, the eBook features Orange's new set-top box, Livebox Play, and provides a comprehensive breakdown of Orange TV's innovative functionalities; dedicated applications for smartphones and tablets; range of on-demand content; and channel offerings. There's a particular focus on OCS, a thematic service of channels dedicated to cinema and series (See DEEP's first commercial deployment with OCS' Game of Thrones app).
Commenting on how viewers' burgeoning appetite has driven Orange's growing and diverse offering, Serge Laroye says, " Beyond the opportunity of monetising the data carried by their networks, telecoms operators are obliged to rethink the role of aggregator and distributor they have played for decades. More than ever, they need to create strong partnerships integrating new services from the world of OTT alongside traditional video services."