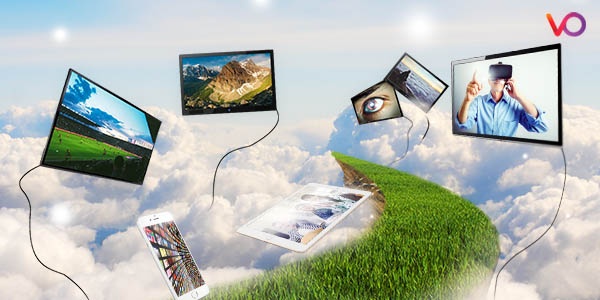 Given the speed with which it has reshaped many industries, including our own media and TV industry, it is fairly astonishing to consider that cloud computing in its modern form is under a decade old. Amazon Web Services announced its Amazon Elastic Compute Cloud (Amazon EC2) in August 2006, thus popularising the term and stating that "Amazon EC2 changes the economics of computing by allowing you to pay only for capacity that you actually use"; Gartner released its influential report Cloud Computing Confusion Leads to Opportunity in June 2008 and said that cloud computing would become as influential as e-business and in the years since we have travelled to the point where, cloud apps will account for 90% of total mobile data traffic by 2019.
It has been a remarkable journey and in many ways it is only just starting. Device virtualisation is seeing the consumer becoming increasingly reliant on services stored in the cloud — media files are perhaps the most obvious examples, PVRs are definitely heading there once the legal ramifications can be worked out (see Daniel Hesselbarth's comments in our report on 'How Time-Shift And On-Demand Is Evolving, And The Challenges And Opportunities That Await').
Meanwhile, for businesses we are seeing the unstoppable rise of "XaaS" - Everything as a Service. That means that whole industries are suddenly finding themselves engaging more intimately with the cloud than ever before, and broadcast is not immuned.
The cloud's impact on broadcast looks set to increase in the near future too as the next wave of progress starts to hit and we see the emergence of Television as a Service, which brings with it the promise of operators being able to run entire broadcast channels in the cloud.
The reasons to manage a TV in the cloud are many - from improved business agility, to reduced Time to Market, to ecosystem adaptability — but as ever with the cloud there are things to consider before moving forward. And with our expertise in the area we've come up with the following list of six things to consider:
1. Delivery
A service needs to be complete. Once content is uploaded to the cloud a TVaaS provider needs to be able to provide everything from transcoding through packaging, to encryption and distribution. As well as utilising adaptive streaming protocols (MPEG-DASH, Microsoft Smooth Streaming and HLS) effectively. Content also needs be available for consumption on as many platforms as possible, via various front end applications.
2. Management
Everything should be in one place, ideally enabling all aspects of content, customer, business management and more to be overseen from a single service. This reduces technical complexity, allowing you to manage your service efficiently and effectively, while maintaining low costs. A TVaaS provider that can offer all relevant technologies from an in-house team rather than via multiple vendors has the advantage here (and also guarantees faster innovation cycles).
3. Engagement
The importance of maximising viewer engagement is well understood in the industry. Effective personalization and content discovery is one of the best ways of achieving this, especially if the solution in question can work across all devices seamlessly and consistently.
4. Monetization
With reduced Time to Market being one of the prime reasons for deploying TV as a Service (TVaaS), off-the-shelf business models that allow you to introduce and launch new services as part of your multi-screen offering in simple, swift steps are crucial. Subscription VOD, new channel packages, catch-up, start over…all these should be available and the service provider should be in a position to continually innovate on its service offerings as the business landscape changes.
5. Security
Content security is often cited as the number one reason for not implementing cloud-based solutions. Any technology looking to distribute content to a mixed media ecology of STBs, tablets, consoles, phones and other connected devices needs to use a suite of responsive, multi-DRM technologies that can combat piracy as it evolves in turn.
6. Real World Testing
Once you move your TV Everywhere service into the cloud you are no longer purchasing a solution but an ongoing service and it's vital to check that it is the correct one for your business. Being able to work on the real backend as it will appear in the final service and see the results on the front end apps — ideally with no obligation in a free trial — gives you 360º visibility over the decision making process and the ways that Television as a Service can fit into your future strategic decisions.
There are other factors to consider too, of course, such as the rather pertinent matter of cost. But, on the whole, any solution that can deliver on all these six points is a compelling one.
To try out the most comprehensive TV as a Service platform, check out www.tvaas.com, and request a free 30-days trial!