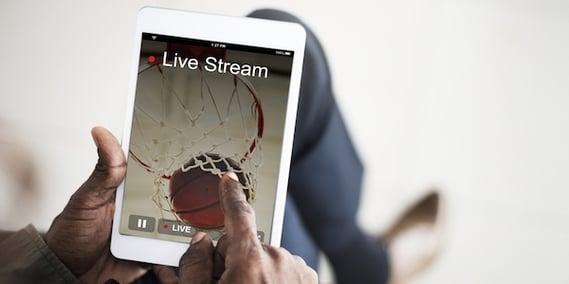 Social media networks, with Facebook and Twitter at the forefront, have been adding video functionality over recent years as part of their continued program of accelerated expansion. Investors like to see constantly growing numbers with their companies pushing past plateau after plateau. As such, it was inevitable that live streaming video content would figure majorly in their plans, and it is currently seen as a win for both sides: the content creators and the social giants themselves.
Over recent months there has been a real explosion of interest in the field, with US sports properties being particularly active in signing deals. As Rapid TV News reports, the NFL will produce a 30-minute live weekday show for Twitter, Thursday Night Football is already streamed via Amazon and boxing is already a feature on Facebook Live. Major League Soccer and Univision Deportes partnered with Facebook in a deal to stream nearly two-dozen matches on the site this season. And recently, Facebook and the MLB confirmed long-standing speculation by unveiling a live-streaming partnership that will show 20 live, regular season games this season.
Find out why YouTube has launched live streaming services.

This all follows a sustained campaign of seeding the ground and generating interest in Facebook Live, with Facebook initially paying a host of high-profile media outlets including The New York Times, Buzzfeed, and Sky News to appear on the service while it was being established.
Social Media Live Streaming: A Win-Win
For sports properties that may be facing declining numbers via linear television, social is an enticing prospect. A Morning Consult survey (see graph below) found that 47% of US adults said they'd be more inclined to watch NFL games if a social media company were to live stream them. And while the numbers fall away for other leagues (37% for MLB, 32% for NBA, 26% for NHL), nevertheless 19% said they had watched live sports on Twitter in the past year, jumping to 32% amongst Millennials.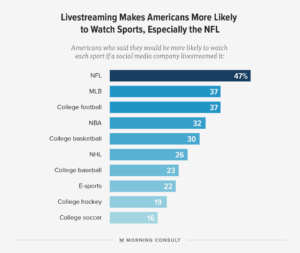 Meanwhile, research undertaken by Forbes suggests that advertising on the core Facebook platform accounts for nearly 70% of the company's valuation. However, growth is slowing as there are only so many places on the main feed where ads can be sited. TV advertising is, therefore, the brave new frontier for the company, especially given its recent experiments with mid-roll ads and the unveiling of the Facebook App. Deploying these as part of its ad weaponry leads Forbes to predict a North American ARPU for the company of $125 by 2023, up from $78 in 2017.
Discover the world's first live streaming of a sports event in 360◦ and Ultra HD.
Live Streaming on Facebook: The End Game
There is a possible sting in the tail, however. Facebook has demonstrated a remarkably cavalier attitude to people who sign up for its developing services. Facebook Instant Access, for example, promised to transform written journalism when it was launched in 2015. It gave publishers the chance to reach the audiences that had deserted their websites inside third-party mobile apps (i.e. on the Facebook news feed).
However, as The Verge reports, it wasn't long after that Facebook tweaked its algorithms to start favoring video over other content, meaning the visibility of Instant Access articles declined markedly. Then it began to deprioritize article links in favor of friends and family news. Recently, it's even added a 'Snapchat-killing' Stories Feed at the top of the news feed on mobile devices, thus adding a further distraction and taking up more prime mobile screen real estate.
The point is that this is Facebook's playground and it makes up its own rules. And with a monthly reach now approaching 2 billion it can, effectively, do what it likes: it is the uber-aggregator of all aggregators. In February it suddenly began prioritizing longer videos and replaced a metric that allowed publishers to see how many videos had been viewed for 30-seconds, with one that only measured 10-seconds.
How it treats video and live streaming in the future will be fascinating to watch. Operators just need to remember that Facebook's main interest is always Facebook itself, following the prime directives of growing ad revenue and its user base. For the moment their content fits the bill nicely. In the future? That may be a different story, especially as it looks increasingly like its own original content, everything from 5-minute shorts to episodics in the same league as House of Cards, will debut on the platform as soon as next month.