As sustainability and the importance of lowering carbon emissions become increasingly critical industry topics, it is time to take the next steps on the journey to implementing green streaming.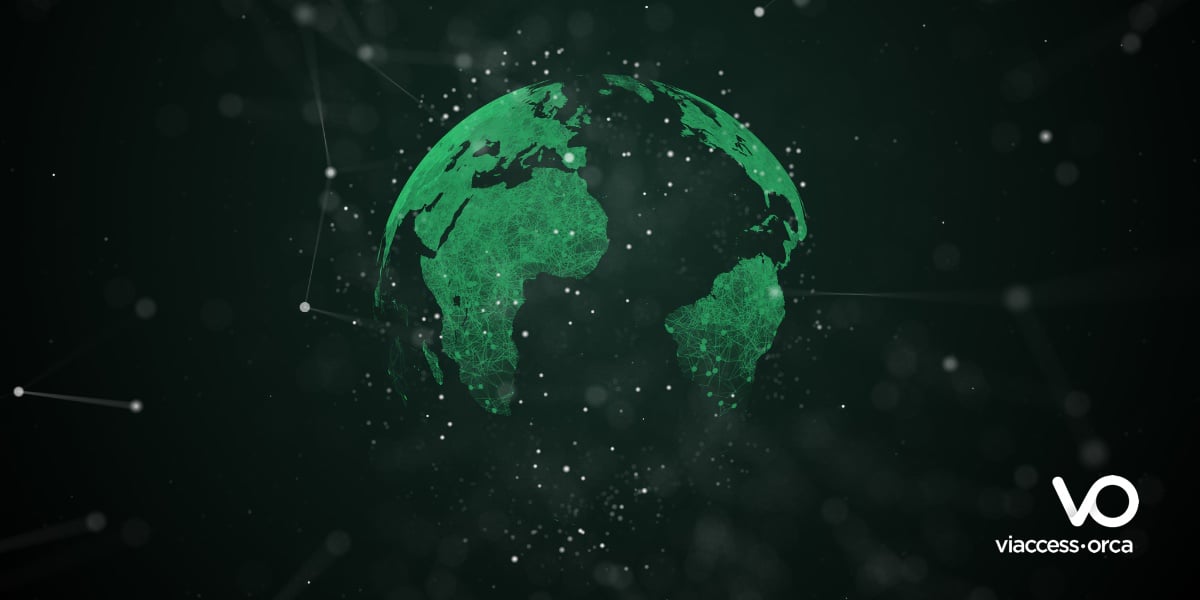 Globally, the Media & Entertainment industry is increasingly embracing principles of sustainability. Following the COP26 conference in late 2021, the realisation is that urgent action is going to be required if we want to lower carbon emissions and keep global warming under control.
The stakes for our sector are huge. As a service industry we are not a large polluter of physical materials, but we are a massive consumer of energy. Video traffic has grown to the point where it represented an estimated 84% of all consumer IP traffic in 2021 according to the Cisco Visual Networking Index. And each time any of those exabytes of data are stored and moved it takes energy.
As a result, the industry is starting to understand that it needs to take proactive steps toward being greener. A number of key global operators have already publicly committed to achieving carbon footprint neutrality in few years' time — including KPN and Telia by 2030, and our own parent company, Orange, by 2040 — but this is only the start of what needs to be done.
Green streaming requires more measurements
It is worth pointing out that the video industry is still in the early stages of implementing sustainability initiatives, and there are many uncertainties about how green streaming will function in the marketplace. Will it be part of a legislative process looking at reducing carbon footprints? Will carbon usage result in an extra cost to consumers? Will they be willing to pay it? What are the implications of geographically diverse approaches?
We have three goals which we can pursue sequentially: Measure, Optimise, Empower.
Until we have the ability to accurately measure carbon footprint we are all operating with one hand tied behind our backs. You cannot optimize something you have not measured. Therefore, our first goal at Viaccess-Orca is to give our customers tools that enable the accurate measurement of their carbon footprint and the flexibility to accommodate a range of different scenarios adapted to their own individual business models and circumstances in the accelerating push towards net zero.
We need to assess the impact of different architecture designs destined to run in data centers and how data is handled across the whole chain in order to present customers with an optimal, sustainable solution. We need to look at the different workflows in different ways — horizontally by layers such as service, transport, and delivery; and vertically (ie head-end vs device) — to build up as comprehensive a picture and understanding of the interactions as possible.
There are complex operational trade-offs involved with greener streaming. The optimisation stage asks whether for a same "perceived" Quality of Experience (QoE), is there a more environmentally friendly way to stream? For example, when we look at video codecs and formats, will the expected gain in network bandwidth usage that we can associate with next-generation codecs (and related reduction in energy consumption as a result) offset the increase in energy consumption used by their more CPU-intensive compression techniques? Or does it just shift the problem from one point in the chain to another?
Another angle is to look at how unicast architectures compare to multicast architectures. We've done some work with that as part of the NESTED collaborative project (New vidEo STandards for Enhanced Delivery — more on that below), that suggests that the use of multicast-broadcast technologies can significantly reduce energy consumption at the endpoint.
The amount of energy being used by individual mobile devices to decode video in, for example, a sports stadium is not usually something that is thought of in the context of decreasing emissions, but if we are going to seriously address the environmental consequences of streaming we have to look at everything. Media companies need to consider the impact of all components in their supply chain.
For example, for 2021 Netflix figures suggest that it had a carbon footprint of 1.5 million tonnes of emissions. Over 90% of these were indirect; emissions from companies that the streamer buys services from. Breaking that down in turn, 58% of that number (approx 780 million tonnes) was generated during the physical process of program production, 37% as a result of corporate activity, with cloud providers streaming the service accounting for a comparatively low 5%.
And beyond all that we want to empower, to enable viewers to be aware of the impact of their consumption and possibly give them the tools that digest all that hard won knowledge and allow them to strike their own balance between QoE / cost / and carbon footprint.
Talk the talk, walk the walk
So, what are we doing ourselves at VO? Being an Orange group affiliate, Viaccess-Orca is also committed to support carbon neutrality, tooling, and methodology, including a net-zero carbon footprint at group level by 2040. We are also fully engaged in Orange's strategic plan dubbed Engage 2025, which aims to reduce CO2 emissions by 30% across the group and have renewable energies represent more than 50% of the group's energy mix by 2025. In addition, 100% of Orange products will feature an eco-design approach by 2025.
As previously mentioned, we are also deeply involved with the NESTED project.
NESTED is a collaborative effort led by Ateme, a key technology partner for VO, and also involving Enensys Technologies, IETR, and Orange. All of the partners engaged in the project are looking to drill down into the subject of using new standards for enhanced video delivery. And we are looking to do so more deeply than has previously been done in the industry, especially when it comes to the topic of green streaming.
At VO we are contributing our Secure Video Player, analytics, and Targeted TV Advertising solution to the NESTED project, and are already starting to see some interesting results emerge from our collaborative efforts.
Partnering with Ateme, and in collaboration with Orange and Enensys Technologies, we've created an end-to-end solution that leverages the latest advances to make video streaming greener. It combines several different technologies together to achieve peak efficiencies at low loads: CMAF chunk sharing to reduce the traffic burden on the CDN, the latest VVC video codec to reduce the bitrate by half, and multicast/unicast convergence to enable peak audience reach.
The initial results are already encouraging. By integrating our Secure Video Player with the OpenVVC software library developed by IETR, we hope to enable operators to deliver the same vitally important quality of experience for video streaming while using half the amount of bandwidth.
This leads to a dramatic reduction in energy consumption, and the next step of the NESTED project is to accurately measure the carbon consumption of the end-to-end solution so that the industry can have an idea of its real world savings in emissions. We hope to be able to talk more about this and other green streaming initiatives during IBC2022 in September.
The green streaming future
This is just the start of what is going to be a long journey towards sustainability that will need much innovation. In the near future we are actively looking to collaborate with other companies in the industry on examining the sustainability of VO's Service Delivery Platform and content security solutions. Those software bricks can be deployed on a private, public, or hybrid cloud to reduce carbon footprint.
In the longer term we are seeking to work together with companies to achieve the goal of net zero and truly ushering in the era of green streaming. This is not going to be an easy task, especially when we factor in the downstream Scope 3 emissions, but that makes it no less of a vital initiative for the industry and, without wishing to sound alarmist, for the planet.
As activist Greta Thunberg put it: "The bigger your carbon footprint - the bigger your moral duty. The bigger your platform - the bigger your responsibility." As an industry we need to remember those words and help contribute to solutions wherever possible.