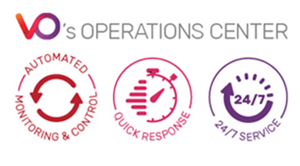 VO's fully hosted and fully managed 'TVaaS' provides much more than just the TV platform. It offers a full ecosystem.
This TV as a Service platform is hosted in the Cloud, managed by a dedicated team accountable for hosting, maintenance, upgrades and monitoring the TV services. This is how it works.
Rony, tell us a bit about yourself:
Rony Gihan: I have been involved with Delivery and Deployment for over 20 years in various roles in the US and EMEA, managing operational processes.
I have run integration centers and managed security within operation centers. In 2005 I joined Orca Interactive, which then merged with Viaccess.
I am now the Executive VP of Customer Delivery for Viaccess-Orca, and am heavily involved in our evolution to agile processes, incorporating DevOps and microservices architect­ures. With all these processes going on internally, I am committed to ensuring that our customers receive the same premium services and quality products as always.
Why did you create the Operation Center?
TV platforms were traditionally hosted in a company's data center. Now, with the cloud, companies are migrating their TV operations, which means that they are offloading the infrastructure, maintenance and upgrades to the hosting environment. Losing the infrastructure is not the only motivation in migrating to the cloud – operators and service providers also benefit from reduced costs as they move from the CAPEX to the OPEX model.
As customers demand fast deployment of TV services, we have developed and launched our TVaaS Operation Center to address this business need and decrease Time to Market (TTM). Fast TTM doesn't just refer to getting the services up and running initally, it also means that ongoing requests for new features and customizations must be deployed quickly.
With TVaaS, VO's fully hosted and fully managed 'TV as a Service' solution, we provide much more than the TV platform; we offer a full ecosystem, hosted in the Cloud. We are now accountable for hosting, maintenance, upgrades and monitoring for the TV services. This means providing full scalability and continuously monitoring performance.

That's why the need for an operation center became acute. To be able to meet our SLAs and ensure that operators can deliver their TV services, we needed to have top-notch, proactive monitoring, maintenance and support. In addition, we want potential customers to know that we stand behind our statement that we provide a fully-managed solution.
What are the Operation Center's responsibilities?
We cover the entire ecosystem:
Services: includes product upgrades and services, backup and restore services for all applications, ecosystem management, service availability, disaster recovery and QoS services
Applications: access to all releases of VO's applications, from major releases through maintenance updates, including all components, infrastructure layers and functional layers
Cloud infrastructure and networking: comprises a fault tolerant and high availability hosting platform with 24/7 monitoring
Service Monitoring: of availability, performance and quality of service to maintain SLA management and compliance over the entire ecosystem
Real time operational analytics: incorporating usage footprint, trends and overtime changes, system behavior and abnormalities, and detection of hacking attempts
Other responsibilities include: security and emergency management, routine utilization and efficiency improvements, upgrades and updates and service configuration and adjustments
An additional feature that our customers' really appreciate is our cost-efficiency management with automated tracking of cloud infrastructure costs, so that they are not surprised when the bill arrives.
What type of support does it provide?
The TVaaS Operation Center includes a 24/7 manned Service Operation Center (SOC) with back office support of Engineering Levels 1.5-2 and R&D Level 3. This support includes monitoring of all systems and performance, engineers on call, and provision of customized reports.
How do you ensure that you are SLA compliant?
We are using Salesforce's ticketing system to automatically control and track issues to ensure that we are consistently meeting our SLAs. So far, our results are positive, showing quick response times and efficient restoration.
What is the Operation Center data telling you?
TV operators have always looked at performance data – after all, just a few minutes of downtime can be devastating to the bottom line. VO's Operation Center is constantly monitoring system behavior, including availability and performance. Real-time monitoring identifies abnormalities and breaches of SLAs to provide alerts and notifications, should something fishy be detected.
In addition, the usage footprint is monitored to enable autoscaling as demand grows and contracts, allowing service configuration and adjustments based on accurate, up-to-date usage. AWS costs are tracked automatically, offering true cost-efficiency management.
In addition, TVaaS incorporates business analytics, with specific reports that provide data about viewers' watching habits. The TVaaS Operation Center is available to support customers with atypical requests for customized information and reports. Since we closely monitor the services and essential data, we have profound insights that can enrich the offering that our customers provide to their users.
What security measures do you use to protect the TvaaS Operation Center?
Monitoring for security issues is enabled by VO's multi-DRM. These content protection services are fully integrated and protect content from ingestion through delivery. In addition, we offer content protection technologies, such as VO's Anti-Piracy Services, that are able to detect hacking attempts, based partially on location-based usage data.
What is your platform's capacity?
Our customers are continuously adding new subscribers to the system and it's been smooth sailing. After all, at VO we have many years' experience running our Security Operation Center, with millions of end-users who have been using our content protection services for up to 20 years.
As we are constantly monitoring capacity, we can easily identify the need for increased capacity, and apply the network resources that are required to autoscale.
What do your customers say about the Operation Center?
So far the feedback has been positive; customers really appreciate our quick response time and our ability to detect hacking attempts. A real benefit is the reports that itemize the cloud costs which enable them to closely monitor expenses.
What else is planned for the Operation Center?
We see ourselves as an integral part of VO's TV platform, data and content protection solutions. We assist with customizations, looking for ways to help our customers provide the optimal service to their end users. We follow the DevOps methodology and work in tandem with Development teams to support fast turnaround time if any customizations are required. In parallel we have automated most processes so that deployment, testing and monitoring require the least possible manual intervention.
We align ourselves with our customers' business objectives and requirements, constantly initiating new processes and technologies, and fine-tuning our services. We will be adding more reports shortly and are continuously updating our monitoring capabilities and setting new, tougher KPIs to better serve our customers.