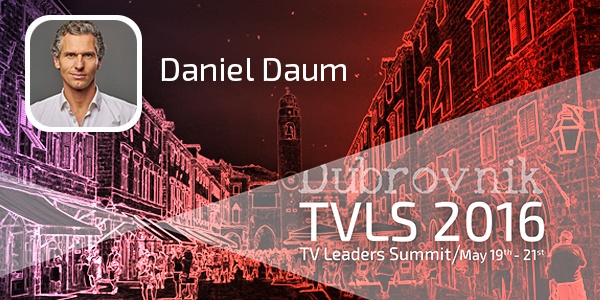 Daniel Daum is Managing Director of Prisma Media TV-Entertainment (a Bertelsmann company) reaching 26m people in France through print and digital. The TV and Content Guide, Tele-Loisirs.fr, is one of the top 5 digital media brands in France with more than 70m monthly visits and around 300m viewed videos / year. Its app is now being rolled out internationally to Austria, Spain, Belgium, and will be launching soon in Africa.
He is speaking in the Interactive TVLS 2016 Session: OTT and the Rise of the Empowered Consumer.
What are you most looking forward to about TVLS 2016?
What will be the new user experience from a technological point of view (TV, Total Video, long and short format recommendation-based guides) and what new formats coming from all kind of sources with a focus on mobile usage.
How would you say consumer behaviour has changed over recent years?
Consumer behaviour is just about to start to change. Whereas TV channels have been formerly the important audience squares, TV formats with a strong user relationship will become key tomorrow. 'Content is king'. Facebook is going to change mobile video usage and its monetisation based on data.
Are these changes truly global or are there regional variations?
It depends largely on technological conditions. High speed internet access with TV internet and a strong mobile usage are conditions for non-linear TV consumption. Big TV events in Entertainment (such as 'The Voice'), Sports (Soccer) or TV Series ('Game of Thrones') will change TV consumption worldwide. Facebook will dominate YouTube.
Cord-cutting or cord-shaving: are these threats as significant to established players as the industry has made out?
Yes! Cable is much too expensive for more and more fragmented centres of interest.
Who is winning out there? Who are the dominant players in the market who can call the shots?
Facebook will be strong for all kinds of short and entertaining content based on friend recommendations. And high quality content producers with very sticky content which people want to see as soon as possible and easy to see. Cloud-based OTT will win the game from a channel perspective.
So, how do you first attract and then retain consumers?
We as a TV Guide and Video producer have the following focus: making sure the viewer does not miss any TV event from their favourite shows by giving the best information and services before, during, and after the TV shows in question.
How will the empowered consumer evolve from here? What services will operators have to launch to keep up?
The art of programming is steering between free and entertaining or service-oriented content, and premium paid content. It is not about technology but about rights management and customer relationships. Technology must not be a barrier but easy to use.