3D printing is at an inflection point that could see its use and Industry 4.0 scale rapidly over the next few years if it follows the same data security standards path as Pay-TV implemented 20 years ago.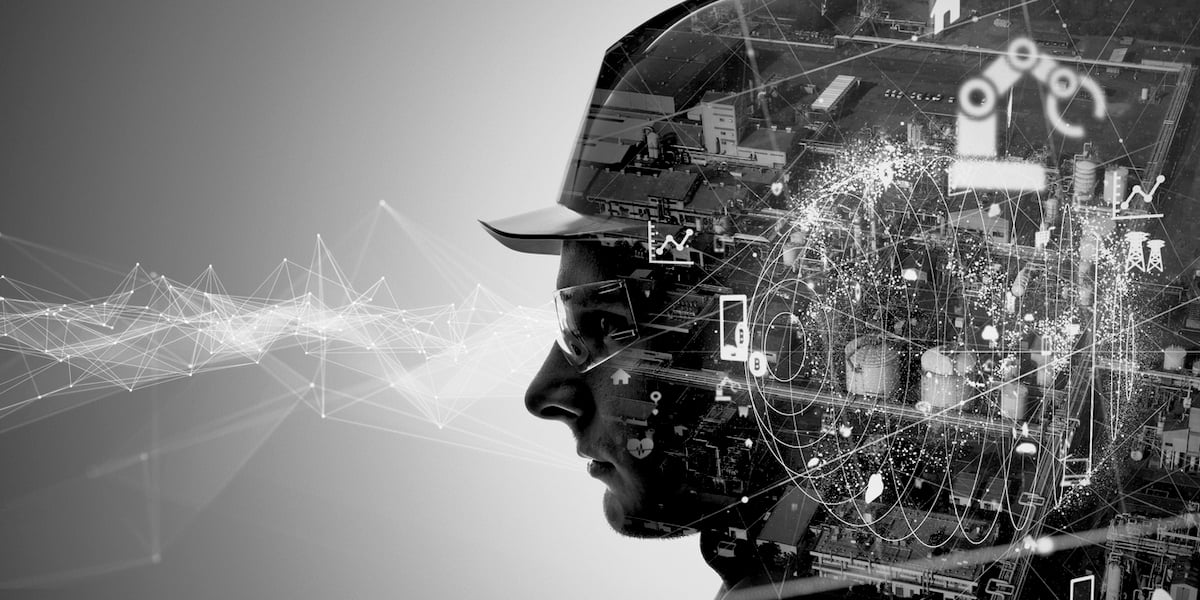 At first glance, it may not look like 3D printing/Additive Manufacturing (3DP/AM) and Pay-TV have much in common. If anything, they are a mirror image; one is about the manufacture of physical objects from data, the other uses physical objects such as cameras to make digital ones (ie data).
However, the key is that the business models of both of them depend on the secure storage and transmission of data and the enforcement of related 'usage rights'. And if that data stream is intercepted by bad actors in any way — video pirates, for example, in the case of television, theft of sensitive manufacturing parameters in the case of 3D printing — then that business model is under threat.
There are interesting parallels between the experience that the Pay-TV has lived through over the past two decades and the one that AM is going through at this moment. And, as solving the security problems of Pay-TV was a major factor in leading to ramped up business investment and immense growth, so we can use its experience to look ahead and see some of the problems and solutions that the rapidly developing new digital manufacturing stack may experience in the near future.
Covid-19 and opportunity
One of the many ways that the Covid-19 pandemic has helped reshape the world lies in our growing understanding of the way that AM dramatically speeds up the production process. Take the sudden worldwide demand for Personal Protective Equipment (PPE) as stocks ran low much quicker than anyone could have envisaged before the pandemic.
The traditional supply chain was taking 16-24 weeks from order to delivery as it stepped through the process of PO, manufacturing and sub-manufacturing, assembly, international freight transport, distribution, and finally delivery.
According to HP figures presented in a recent webinar we participated in hosted by TCT Magazine the digital supply chain took 1-2 weeks to deliver the same equipment. By using Additive Manufacturing and other Industry 4.0 techniques, the speed of production of PPE equipment was rapidly increased. And, because this is not a centralized manufacturing model, the items could be made much closer to the end user, dramatically shortening the distribution and delivery process.
Weeks instead of months; that is one of the key advantages of AM. It is a compelling one at any time, and even more so when the goods are required so urgently. But one of the key aspects of a decentralized production process is that the data that describes the object, the CAD (Computer-Aided Design) or CAM (Computer-Aided Manufacturing) files, are transmitted in ways that did not happen before. This makes them, and the IP behind them, susceptible to hacking and piracy. Suddenly the value and criticality of digital assets is front and center of the industry.
Consider this fact: between 2018 and 2020, the total value of 3D printed parts increased by up to 300% while the number of parts printed did not increase at a similar rate according to 3D Hubs figures. The industry is on the cusp of serious expansion. And this is where the lessons learned regarding content security by the Pay-TV sector become relevant.
Pay-TV and the importance of standards
Pay-TV was one of the first digital supply chains and has grown impressively over the past two decades to become a roughly $250bn a year market. One of the keys to its success has been safeguarding its assets, ie the content that viewers are paying to access. It does this via encrypting the signal using a variety of steadily evolving technologies — such as Conditional Access or Multi-DRM — which have become increasingly sophisticated over the years as the battle against content piracy continues.
This is an important battle too. It is estimated that video piracy will cost the global Pay-TV industry $12.5 billion by 2020.
What is interesting is that there is a strong correlation between successful content security standards being developed and revenue growth in Pay-TV. The late 90s introduction of a range of standards-based approaches — DVB SimulCrypt, the CableCARD approach in the US — matches with an upward revenue trajectory.
The reason for this is simple; it reassured investors that their investment was safe. Of course, there are always risks associated with business, but removing (or at least limiting) the threat of piracy via an industry-wide standards approach was an important part of attracting investment, enabling economies of scale, and driving business innovation.
In the years following that the IPTV and SVOD sectors were established, further driving revenue with investors happy to pump billions into the sector confident that illegal activity was not going to be a disincentive to expansion.
The following slide shows the Pay-TV revenue curve on the right, with the current situation with AM on the left.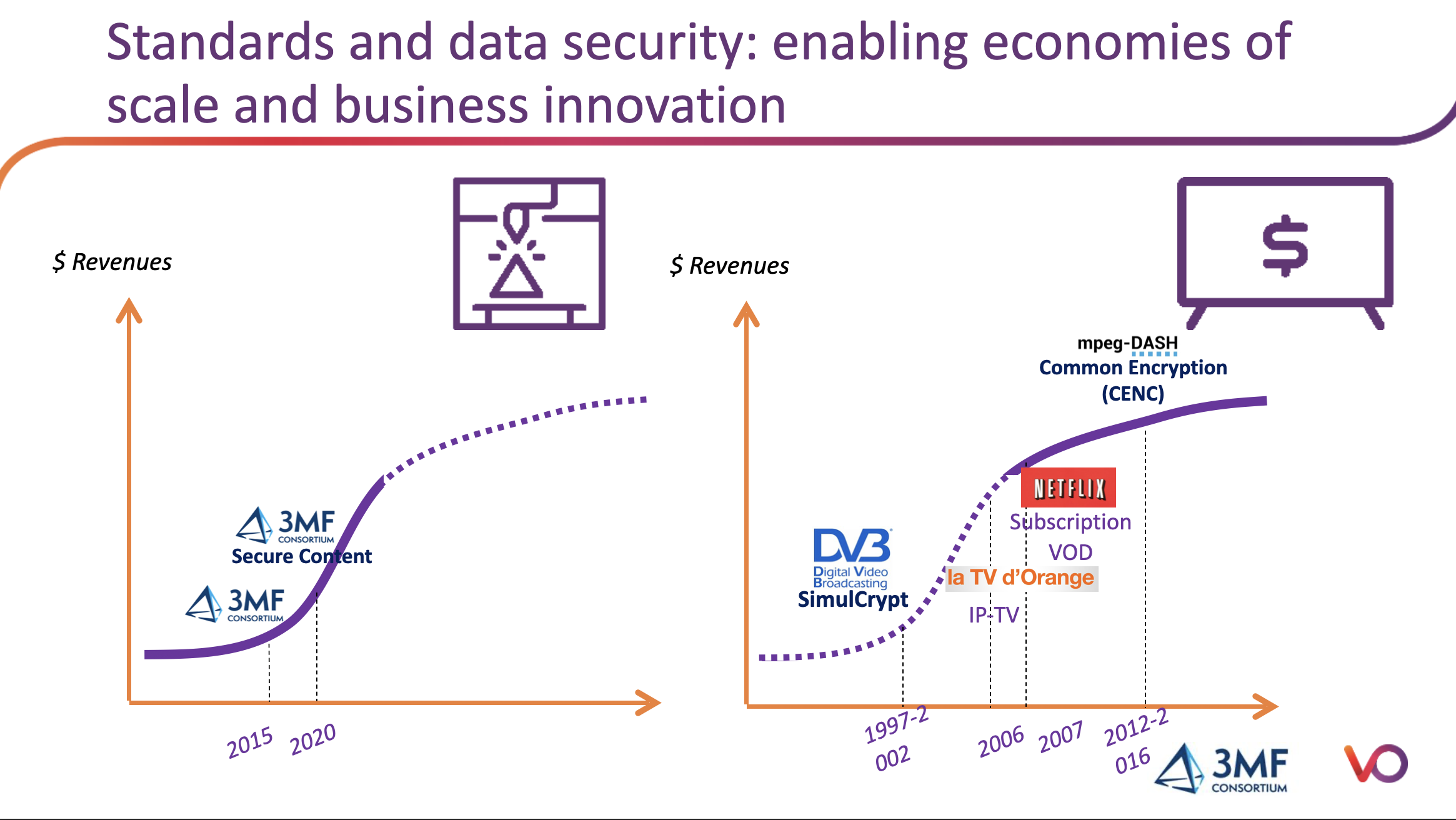 3MF, standards, and

anti-piracy measures
One of the things this helps illustrate is the importance of industry bodies and the importance of standards. We joined the 3MF Consortium earlier this year and see its Secure Content specification, which we helped to write, as being crucial to the continued development of the industry.
As previously mentioned, recently we participated in a webinar hosted by TCT Magazine and including fellow 3MF Consortium members HP and Autodesk on the essential role of data security and standards as we transition from the current, closed, development ecosystem to a future of digitally distributed 3DP / additive manufacturing.
It is a genuinely fascinating 45 minutes, but perhaps the key takeaway here is contained in a slide shared by Scott White, Senior Software Architect for 3D Printing Software and Solutions at HP. This stated that:
"Manufacturing content integrity, confidentiality, and rights management are key enablers of Additive Manufacturing scale, flexibility, and disruption of traditional, highly centralized manufacturing paradigms."
As AM looks to scale, and as external pressures seek it to as well, so dismantling some of the roadblocks that stand in its way is going to be a crucial task. We need to be able to secure the integrity of the data, we need to be able to ensure IP protection, we need to secure production control along the entire chain, and we need to implement standardized formats and interfaces.
It's not just about standards though; the lesson from Pay-TV history is that robust anti-piracy measures are also important factors in establishing and maintaining growth. The Secure Content specification is a first step along a lengthy road that will in all probability need stronger security measures as the industry matures and as the entire digital manufacturing stack ramps up and Industry 4.0 paradigms are increasingly realised. These include, but are not limited to, anti-piracy strategies from the video experience including:
Standardized formats / interfaces that work in conjunction with proprietary Key Management Systems
The establishment of Secure Data Pathways (often hardware based)

Data traceability / watermarking
And ultimately the integration of operations tech (OT) security with more traditional information tech (IT) security
Couple this activity with a standards-based approach and there is a good chance that the distributed Industry 4.0 manufacturing pipelines can be established without any of the attendant fears that illegal activity might erode the return on all the investment it will require.
3D printing is still an embryonic technology, especially at scale, though it is forecast to grow at 24% a year for the next five years. It is also only part of an increasingly exciting new industrial revolution. But while the interconnected digital workflows in the manufacturing processes are new, there are distinct parallels to other industries such as Pay-TV and the roadmap that they followed is a useful one to help plot the desired and secure course over the next few years.