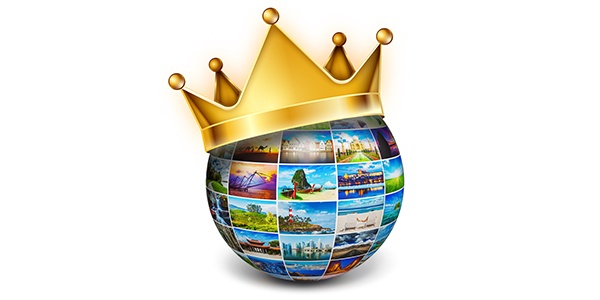 In January 1996, Bill Gates wrote an essay which was published on the Microsoft website, titled "Content is King". Although the original phrase is attributed to Sumner Redstone, Chairman of the Board of National Amusements, Gates' following words are a good jumping off point for an examination of how things have changed in the two decades since he wrote them:
Content is where I expect much of the real money will be made on the Internet, just as it was in broadcasting.

The television revolution that began half a century ago spawned a number of industries, including the manufacturing of TV sets, but the long-term winners were those who used the medium to deliver information and entertainment."
Reflecting on Gates' words, one might confidently say that content is still king. That as long as you produce, write, script or film a good story, one which will engage the audience — inform or entertain them – the audience is on your side.

A great panel on the importance of content from DLD 2016
But looking in detail at the TV Everywhere revolution and the way it has evolved and current trends in the market, there is a new strategy in play: "context is king".
First, let's zoom in on the market trends. Cord cutting / cord shaving is a reality in the wake of the expansion of OTT solutions, as well as the hybrid services launched by traditional TV vendors.
A 2015 survey from emarketer suggests, indeed, that adults in the US will spend an average of 5 hours, 31 minutes watching video each day in 2015. The key though is in the detail: TV viewing has actually declined over that period, from 4:35 to 4:15 hours, while time spent on connected devices has almost quadrupled from 21 minutes per day to 76.
So, delivering entertainment and information anytime, anywhere is the way to go.
But what decisions should be made when planning a multi device service? And what does context have to do with this?
Pretty much everything: the most successful content service providers will be those who provide the best contextual user experience in the multiscreen era.
Contextual UX is where systems and devices begin to learn and adapt to our needs, and, what's more, successful operators must see the contextual UX as a journey: the consumer's voyage through content and across devices – from content discovery, consumption, and rating to experience sharing.
First, we must keep a close eye on what devices consumers are using – their mobile devices during the day, and a 4K TV in the evening? What about when they travel? Key here is the ability to transfer content consumption seamlessly from one device to the other.
Then, we have to understand when consumers view content and what are their preferences. Content discovery platforms (like COMPASS) help viewers navigate through the endless video libraries and find the relevant content. This relevance is offered through different algorithms, each trying to imitate the contextual choices humans make. On top of that, the audience wants an immersive experience: one that will offer them additional information about the topic explored in the film, the actors' cinematography etc. Since a satisfied viewer will stay longer, and buy more video this aspect is also a key goal for operators.
---
Want to learn how 'yes' gained 13% of their VOD orders thanks to a content discovery platform?
---
The last part of this contextual triangle is being able to share this content. Social media is the prism through which we can understand how context is becoming more and more important in TV experience. Nielsen Social studied 113 programme seasons, from premiere through finale, from September 2014-May 2015, analyzing the total number of new episodes within each programme's season that individual authors Tweeted about. The study delivered three key insights: new social TV authors regularly join programme conversation; loyal authors are valuable for more than just their social allegiance; big programme moments inspire more fans to jump into the conversation.
Howard Homonoff's excellent article on Forbes, Context is King: World Cup's Lessons for the Media Business, analysed the success of the 2014 FIFA World Cup with a skeptical US viewership (football, after all, being only the fifth most popular sport in the country). "The World Cup is the world's greatest sports party and millions of us have felt compelled to be a part of it, no matter how much we may struggle with some of the content", he wrote, adding: "It's not just what we do (our content), it's how we do what we do and how we are perceived by the world around us (our context)".
When shaping the content experience of the future, it's worth keeping that World Cup's success in the US in mind. It's also perhaps worth pointing out that the same emarketer survey that detected a move away from TV to device also highlighted the rather significant point that overall video viewing in the US was up a total of 35 minutes per day from 4 hours 56 minutes in 2011.
We must also consider the growing audience expectation for an end-to-end, agile and relevant journey.
It is finding the right solutions for those expectations that will shape the new "context is king" strategy and ultimately decide who rules the television kingdoms.