After a couple of quiet years, interest in VR is growing rapidly once more. Why? And where will it lead us?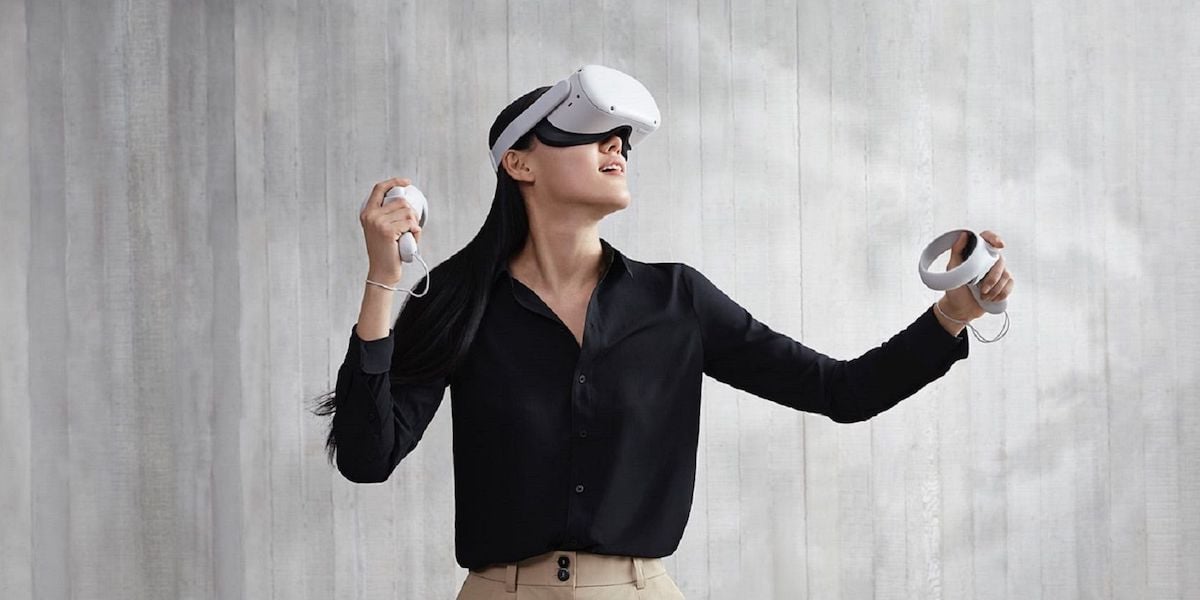 It is safe to say that Virtual Reality (VR) has not been the mass market success many people expected it to be four years ago. 2016 was the peak of the modern era in VR development, with billions of dollars of venture capital investment, the appearance of the first consumer sets, and broadcasters making detailed plans for VR content and the channels to deliver on them.
The image of Facebook CEO, Mark Zuckerberg, walking past ranks of oblivious journalists all wearing VR goggles is one of the defining ones of the era.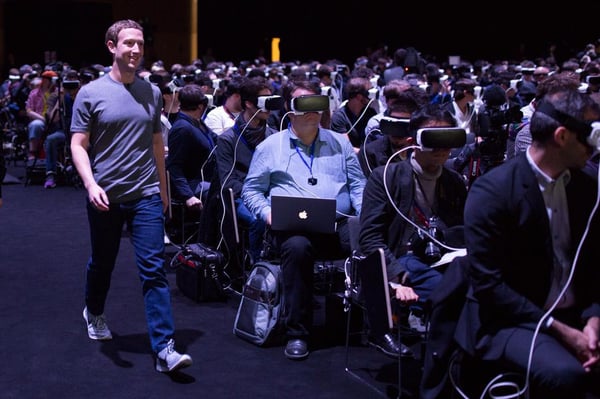 People though should perhaps also have paid equal attention to what he said a few days later in an interview with German newspaper Die welt am Sonntag.
"I honestly don't know how long it will take to build this ecosystem. It could be 5 years, it could be 10 years, it could be 15 or 20. My guess is that it will be at least 10."
Why did VR fail to really take off in 2016 and the years since? There are several reasons. In short, expectations were sky high, the initial headsets were disappointingly costly and undeniably cumbersome when they appeared on the market, and the technology was not perhaps as capable of delivering truly immersive experiences as it sold itself to be.
That was then, however, and VR in 2020 and moving forward seems to be in much better shape for several reasons.
VR in 2020 and beyond
First of all, it's worth pointing out that R&D in VR hasn't stopped. At VO, we've remained active in the field, for instance, working as members of the VRTogether consortium and also conducting our own research. Indeed, we have developed technology which allows for the delivery of VR and 8K video over secure 5G networks, something which can dramatically raise the quality bar and deepen the sense of immersion for the end user.
More on the importance of that in a bit, but first a quick look at the numbers.
Nielsen offshoot Superdata estimates that after a flat period, VR headset sales are on the uptick again. The following graph shows its stats and projections for what is known as the XR sector — eXtended Reality, a grouping that lumps together VR, Augmented Reality (AR), and Mixed Reality (MR). VR headsets sales will almost double between 2020 and 2023.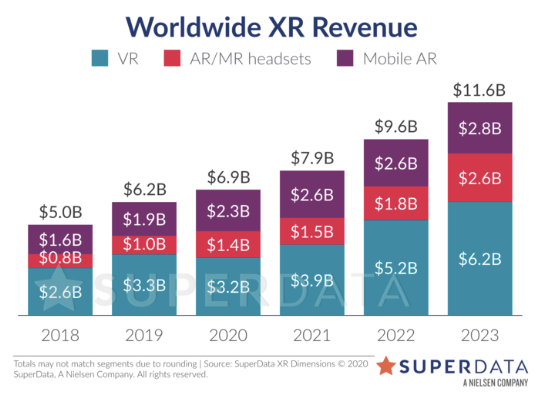 Strategy & Analytics' report Short and Long Term Impacts of COVID-19 on the AR and VR Market is usefully summarised by TV Technology here and takes projections a few years further on. By then it estimates that XR hardware sales will have increased dramatically from now through to 2025 with annual revenues by then of $28 billion.
And finally, as reported in Variety, market analyst firm CCS Insight predicts sales of 69 million unit sales of consumer headsets in 2024 alone, up an astonishing 60 million from this year's total sales.
Why everyone is talking about VR
There are several reasons why VR is suddenly at the forefront of many discussions once more.
First, and this is no really surprise, the ongoing Covid-19 pandemic is a major factor. Lockdown orders and social distancing have fundamentally changed the way that people have to work, with working from home and interacting via video conference suddenly the norm in many office-based industries. There are increasing signs that this might lead to a far more blended office-based/home-based future of work. 82% of more than 4300 office workers questioned in five major European countries who have worked from home during the pandemic would like to continue remote working.
Dissatisfaction with the limitations of video conferencing creates an opportunity for VR explored in articles such as the Wall St Journal's You Can Go Back to the Office—You Just Need a Virtual-Reality Headset, which looks at the high-profile companies already using the technology such as Pfizer, Mattel, and Accenture, and the already existing business-oriented software platforms that can be used with a headset. As it says: "Think Zoom but with holograms and real virtual backgrounds." The freemium business model currently in operation is similar too.
Secondly, the technology of the new wave of consumer headsets is a leap beyond the initial waves and at a lower price. For example, the Oculus Rift was $599 when it launched in 2016, whereas the Facebook-owned company is launching the Oculus Quest 2 (pictured at the top of this piece) on 13 October for $299. The original Rift provided a 1080x1200 resolution per eye with a 90Hz refresh rate; the Oculus 2 provides 1832x1920 with the same refresh rate to come soon after launch. Both weigh close to the 500g mark.
The Quest 2 is a self-contained VR headset with four built-in cameras to let people move around in VR, and it ships with two Oculus Touch motion controllers as well as limited controller-free hand tracking. It can be tethered to a gaming PC with a USB-C cable to play more graphically intensive titles that might need a PC's GPU, but that's no longer essential.
Perhaps the key difference over the initial headsets is that (in many use cases at least) it operates untethered. Currently this is thanks to WiFi, but looking ahead 5G provides exactly the sort of data speed that will be required to drive VR headsets without tethering. Indeed there is plenty of speculation that telcos will try and leverage VR as a differentiator for their incipient 5G services.
Thirdly, it is exactly the likes of Facebook that are involved with pushing VR. There are start-ups aplenty in the field, but the big tech companies have remained extremely active even when VR was not making the headlines it was a few years ago. Apple is long rumoured to be working on some sort of AR/VR project and, while nothing is likely to emerge until at least 2021, as with many Apple launches it has the potential to significantly boost the market.
Software development has also continued. There are more titles and applications out there than there ever were before, running the full gamut from entertainment and gaming to business-oriented applications. There is more to do with a headset in 2020 than there was in 2016, and a much greater variety of differing applications. Facebook's own Horizon, dubbed by many as its own attempt at creating OASIS, the fictional software from 'Ready Player One', is described by The Verge as follows:
"The app (service? social network? gamespace?) is, in Facebook's own words, 'an ever-expanding universe of virtual experiences designed and built by the entire community'. That means you can hang out and chat with people in Horizon using custom VR avatars, or play games and activities built with the app's internal tools. In that respect Horizon is similar to Roblox, which has gained huge popularity by letting users build their own experiences."
And finally, all this activity has contributed to increasing immersion and a better experience. Lightweight, untethered headsets with better pixel resolution per eye mean that users can spend longer in the virtual world and it feels more realistic to them while they are there. These are important attributes, especially given that for virtual spaces to work comfortably as work environments, their use for long periods of time is going to be a real advantage. And with software such as the Unity real-time 3D development platform and Epic's Unreal Engine, which hits v5 next year, the virtual experience will only get richer for all types of environment.
"I think it's going to create a really interesting march towards photorealism ... and as you see devices improve their resolution and other system parameters it's going to be very interesting," said Epic's Tim Sweeney.
Where does VR go next?
If 2020 is the year that everyone remembered about VR, 2021 could be the year that everyone starts using it again. For business usage in a post pandemic world it makes a lot of sense, and it can even now be considered a mature technology, despite the rapid pace of improvement, with a comprehensive software library to tap into. The presence in homes of machines with truly next gen graphics capabilities, such as the forthcoming PlayStation 5 and Xbox Series X, will only enhance what it is capable of too.
So, where is broadcast in this picture? Currently it is, for the moment, playing a waiting game, and it is even perhaps the case that the near future of VR will have little to do with it. One evolving scenario suggests that broadcast will let other use cases put the heavy lifting in and get the headsets into consumers houses before then deciding to tailor content to fit, but that is only one of several options that could play out. Post Covid, there are a lot of different strategic plays that could be made.
Mark Zuckerberg, who knows a thing or two about evolving technology, is betting on five years to a decade for VR's full deployment, and it is only 4 years since he said those words, after all. The next few years could be very interesting for the format.