Industry insight: 2020 subscribers' growth sets new record while Disney+ raises the bar for content production to new heights and ViacomCBS moves lock, stock, and barrel into the cloud.
2020 growth in subscribers sets new record
[Rapid TV News, Strategy Analytics, Parks Associates]
The latest edition of Strategy Analytics' ongoing report on the state of the global SVOD market, the Global VOD Service Competitor Review, has revealed that growth in Q3 2020 set new records.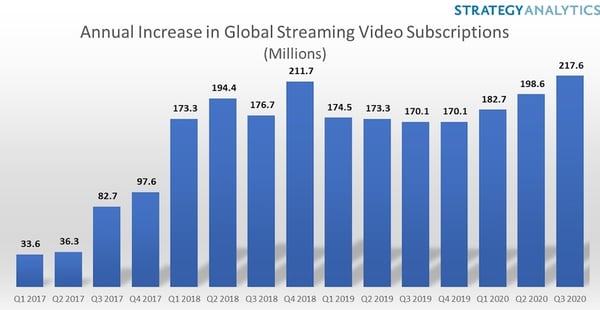 The rolling annual increase reached 217.6 subs in that period, the highest ever figure and beating the previous record of 211.7 million which was set in Q4 2018.
Interestingly growth fell over each quarter in 2019 but was driven by the twin engines of the Coronavirus pandemic and the rollout of Disney+ (and more about that in the next story) 2020 saw an impressive bounceback.
Global SVOD subscriptions reached nearly 770m in Q3 2020, up 39% YoY, among SVOD services tracked, according to the analyst. Disney (16.2m), Tencent Video (6.0m), and Amazon Prime Video (5.24m) combined together to account for nearly 54% of new SVOD subscribers. Combined Disney services alone (Disney+, Hulu, ESPN+) accounted for 44% of new subscribers.
"Until early 2020 it looked like the SVOD growth curve was heading towards a plateau, but the annual growth rate has actually been accelerating during the past twelve months," commented Michael Goodman, director, TV and Media Strategies, in Rapid TV News. "Netflix of course remains the clear leader, but its share of subscriptions has been falling steadily as new entrants arrive. Disney's rapid growth has helped it reach the #2 position in subscriptions, and with its various D2C services it has already reached an annual revenue run rate of $5.8 billion."
Changes in two other factors affecting the market — service stacking and churn — are well worth mentioning here too, both of which seem to have evolved as 2020 has continued according to different research out of the US.
First off, US streamers now use seven services, including SVOD and free streaming video services, up from five in April 2020, says research from The NPD Group. The free services, primarily driven by AVOD, are a significant part of the picture, used by 47% of viewers in October as opposed to 39% in April.
The figures for churn meanwhile have headed in almost exactly the other direction according to Parks Associates. The overall annual churn rate for OTT services (those subscribers who have cancelled a service as a percentage of the current subscriber base) dropped from 46% in 3Q 2019 to 38% in 3Q 2020. As a subset of subscription-based OTT services, vMVPD churn experienced an even more dramatic drop, from 84% in 2019 to 49% in 2020.
"Parks Associates finds the key challengers to the Big 3 (Netflix, Amazon Prime Video, and Hulu) are experiencing churn rates considerably lower than the overall average for all OTT services," comments Parks. "Disney+'s churn rate is at 13%, and HBO Max, Apple TV+, and Peacock have churn rates at around 20%."
Disney+ announcements an 'earth-shaking' development in the streaming wars
[CNN]
Talking of Disney, the announcements it made during its Investor's Day on 10 December raised an incredibly high bar even higher.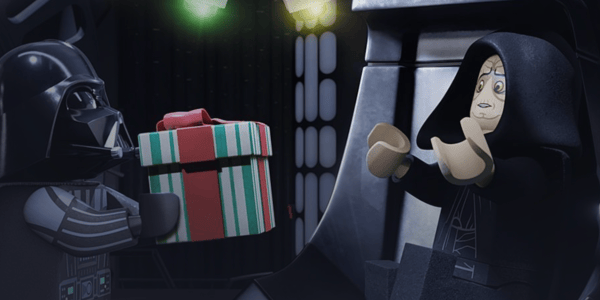 CNN puts it into context.
"In the first ten days of December, Discovery unveiled its streaming service; Warner Bros. said that its entire 2021 slate of films will be released on HBO Max and in theaters at the same time; and Disney announced 100 new projects, with most of them heading straight to streaming services. Three years from now, we'll probably still be talking about the content and the consequences."
Disney's announcement of an astonishing amount of premium content — 10 new Star Wars shows, the same again for Marvel, and a whole lot more — gave the distinct impression that the House of Mouse viewed the rollout of Disney+ so far as a soft launch.
But then it also raised its subscriber projections to match the content spend (estimated at around $8bn to $9bn a year for Disney+ alone by the time we get to 2024). During its Investor Day in April 2019, it estimated it would have 60 to 90 million subscribers by the end of 2024. It has now revised those numbers upwards to between 230 million to 260 million.
Add in Hulu and ESPN+ and Disney reckons it will have 300 to 350 million globally.
"The single most effective way to grow our subscriber base is with great content," said the man overseeing the content creation pipeline, former CEO Bob Iger. "And as we increase our output, the emphasis will always be on quality, not volume. Quality holds its value. And that has been our mantra for as long as we've been telling stories."
Indeed, so dominant were the announcements of new shows and titles that news that the service's monthly fee in the US (and presumably other territories) would be going up by $1 in March to $7.99 went largely unremarked. Content, it seems, is not only king still; but also a great way to bury bad news.
CBS migrates entire broadcast footprint to
AWS cloud
We have long been advocates of moving TV services into the cloud. Solutions such as our TVaaS are really changing the game when it comes to minimising costs and risks, and gaining agility, the ability to scale, and a lot more — all under OPEX expenditure.
ViacomCBS's decision to migrate the operations for its entire broadcast footprint to Amazon Web Services falls under the category of a next-level event though. 425 linear television channels and 40 global data and media centers are going to move over to AWS, with the company planning that its cloud-based hub will help it launch new channels faster, assemble live content to optimize delivery over any distribution channel, and add image and video analysis to applications and automate workflows via services such as AWS Rekognition.
Talk to anyone in the broadcast space, and there are an increasing number of vendors out there trying to persuade broadcasters to move elements of their workflow to the cloud. No one yet, however, certainly no one already as large and as established as ViacomCBS, has gone all in in this manner, and their progress will be something that the entire industry will be watching very carefully.