Industry insight: A new report assesses how the networks coped with the Covid spikes in demand; Discovery goes D2C; and family viewing is one of AVOD's big drivers.
Nokia identifies 2020 internet trends [Nokia Deepfield]
Nokia Deepfield has released its latest Network Intelligence Report, which examines internet service provider network traffic and consumption trends in 2020.
Unsurprisingly, as Covid-19 lockdown measures were implemented in the March-April period, consumer and business behavioural changes transformed the internet's shape and how people use it virtually overnight. As the report says, many networks experienced a year's worth of traffic growth (which Nokia pegs at 30-50%) in just a few weeks.
"By September, traffic had stabilized at 20-30% above pre-pandemic levels, with further seasonal growth to come," it says. "From February to September, there was a 30% increase in video subscribers, a 23% increase in VPN end-points in the US, and a 40-50% increase in DDoS traffic."
The report draws some interesting conclusions from this.
The networks were prepared. The networks held up during the biggest demand peaks and have continued to do so, though there is no room for complacency
Content delivery chains are evolving. Demand for streaming video, low-latency cloud gaming and video conferencing, and fast access to cloud applications and services, all placed unprecedented pressure on the internet service delivery chain. Just as Content Delivery Networks (CDNs) grew in the past decade, it

'

s expected the same will happen with edge/far edge cloud in the next decade – bringing content and compute closer to end users.
Residential broadband networks have become critical infrastructure.

Security has never been more important. During the pandemic, DDoS (distributed denial-of-service — a type of website attack that causes a site to collapse under meaningless requests from multiple sources) traffic increased between 40-50%. As the report then notes, broadband connectivity is now largely an essential service and protecting network infrastructure and services has become critical.
Discovery goes direct to consumer
Discovery has unveiled plans to launch its first D2C offering, Discovery+, on January 4 next year. The service will be in two tiers; a $4.99 version running on a hybrid AVOD model and a $6.99 version running without any ads.
The new channel will combine programming from across the broadcaster's various brands, including HGTV, Food Network, TLC, Animal Planet and OWN. It will also include programming from A&E Networks channels A+E, History and Lifetime. The company says the offering will give subscribers access to more than 55,000 episodes of over 2,500 shows.
The plan is for it to launch in 25 countries within its first year, including the US, Nordics, the Netherlands, Italy and Spain. The service has already begun to roll out to Sky subscribers in the UK and Ireland through a partnership with Sky, while for the US market it is teaming up with Verizon to offer a year's subscription for free to some of the telecom giant's customers.
CEO David Zaslav promises that the service will set itself apart in the crowded streaming market by focusing on unscripted programming. "With Discovery+, we are seizing the global opportunity to be the world's definitive product for unscripted storytelling, providing households and mobile consumers a distinct, clear and differentiated offering across valuable and enduring lifestyle, and real life verticals.
In addition to its library of past and current shows, Discovery+ promises to debut new unscripted originals every week. The company is eying a US market of around 70 million homes. It already has around 5 million subscribers worldwide to its existing subscription products and, of course, in Europe, Discovery+ is also positioned as the streaming home to the Olympic Games.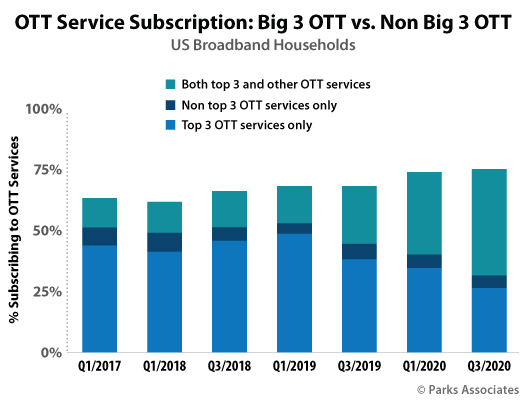 The latest report from Parks Associates reveals that more and more customers in the US are subscribing to more and more OTT services. And what will cause more than one OTT exec working for the Big Three (Netflix, Amazon Prime, and Hulu) sleepless nights is that the services they are choosing from is widening.
Here are the numbers. 61% of US broadband households subscribe to two or more OTT services as of Q3 2020, up from 48% the previous year. Forty-five percent subscribe to three or more, up from 27%, and 31% subscribe to four or more, up from 14%.
"The term 'streaming wars' has been used for the past several years to describe the battle between high-profile SVOD services to capture revenue and viewership among US video consumers," said Steve Nason, Research Director, Parks Associates. "So far the main battle has been among the Big 3: Netflix, Amazon Prime Video, and Hulu, with other services primarily acting as complements. Now other services from major players (Disney+, HBO Max, Peacock, and Apple TV+, plus an expanded CBS All Access are all namechecked by Parks elsewhere) are trying to become a core video service in US households, which represents the first real threat to the hierarchy established by the Big 3."
AVOD benefits from family viewing [Rapid TV News]
Once upon a time, not so very long ago, family viewing was considered the default, especially when it came to primetime TV. Households with multiple televisions in multiple rooms were comparatively rare and, even when they started to grow in number, the gravitational attraction of the family TV set in the lounge was too great to resist.
The degree in which things have changed can be gauged from the title of a new study, Making Screen Time Family Time. And while things are not boomeranging back to the old pre-digital days, it does seem that 'co-viewing' as it is being termed is an increasingly proactive activity, rather than something that happens (or not) by default.
Some of this is down to the presence of viewing platforms popular with a younger demographic, such as YouTube, becoming increasingly available in app-based ecosystems on connected TVs. Elsewhere, AVOD services are an increasingly important source of content for co-viewing consumption.
"The data also confirmed the increasing popularity of ad-supported video-on-demand (AVOD) and the importance of connected TVs for delivering it," writes Rapid TV News. "Over 90% of parents noted that AVOD was an important source of entertainment for their children, and 62% stated that connected TVs were the preferred device for co-viewing."