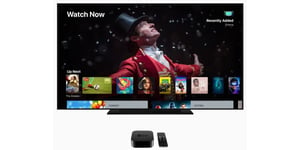 Industry News: After the success of Android in the set-top box market, new updates to Apple TV indicate it is after replacing the STB all together.
Meanwhile, Mary Meeker has released her Internet Trends report for 2018 and Amazon has signed its highest profile sports rights deal yet.
Apple TV Muscles in on STB Market
As Broadband TV News reports, Charter Communications in the UD is the latest in a list of pay-TV providers including Canal+ in France, AT&T's DirecTV Now in the US, and Salt in Switzerland, that all have begun offering their customers Apple TV 4K with their services.
The news came as Apple closed off what has become known as the developer conference season with its own Worldwide Developers Conference. The main focus was on the various different iterations of its operating systems, and while the forthcoming iOS12 and macOS Mojave (v10.14 in the old styling) grabbed the headlines, tvOS12 also had some significant updates.
Top of the list as far as users are concerned will be support for Dolby Atmos, which will also be added for free to any movies that have an Atmos mix in user's libraries. 'Zero sign-in' enables Apple TV to automatically detect your broadband networked and then automatically signs the viewer in to all the apps their subscription package entitles them to (Charter will be the first service to support this later this year). And elsewhere Autofill is extended from iOS, the Apple remote is added to Control Center, and there are deeper levels of integration with Apple HomeKit and, by extension, third party smart home systems from the likes of Control4, Crestron and Savant.
All of which makes things very interesting. As we've written before, Android TV is becoming a steadily more attractive proposition in the STB market, but this looks a serious shot across its bows. Not only can operators hitch up to the Apple bandwagon, and still have their own unique UI, but there is also a distinct difference between the Apple and Google philosphies at work here.
As Broadband TV News concludes: "In the coming months, we will also see a battle with operator Android TV solutions, which some operators are embracing. The big question here is – do you want Google looking over your shoulder with every move you make? Apple makes its money by selling expensive devices, not by selling your online (and TV watching) behavior to any party that wants to reach consumers with targeted advertising."
Mary Meeker's Internet Trends for 2018
Slide decks are not the normal sort of thing to make the internet particularly excited, but when they're produced by Kleiner Perkins Caufield & Byers partner Mary Meeker, everyone tends to sit up and pay attention. This year's presentation was no exception, with the 294 slides from the deck pored and picked over incessantly.
Here's a summary of some of the key takeaways taken from Recode (which also includes the entire 294 slide deck presentation for those that really want to dig down into the detail and AdWeek.
Smartphone unit shipments failed to grow for the first time

People are spending more time online. US adults spent 5.9 hours per day on digital media in 2017, up from 5.6 hours the year before. 3.3 of those hours were spent on mobile

Voice-controlled products, such as smart speakers, are growing hugely as "we've hit technology liftoff with word accuracy." The Amazon Echo's installed base in the U.S. grew from 20 million in the third quarter of 2017 to more than 30 million in the fourth quarter.

Mobile video in China is taking off to a huge degree, up 22% year on year

Big data gathering, sharing and optimization is ramping up at what Meeker called a "torrid pace," going from 12 zetabytes in 2015 to an anticipated 47 zetabytes in 2020 and 163 zetabytes in 2025.
Amazon Wins English Premier League Rights Package
As the BBC points out skilfully in its analysis of the news that Amazon has snagged one of the final rights packages of the English Premier league, Amazon and Christmas are, by now, a familiar pairing.
What's new though is the fact that from 2019 Amazon will have the exclusive rights to show all 10 of the League's Boxing Day fixtures (the day after Christmas Day and a public holiday in Britain and some former births Empire countries), as well as another 10 matches from a December midweek fixture list.
It's not a huge amount of games, but for a company that's essentially in the retail business, the Christmas timing could be highly significant. As the BBC says:
"Their rationale is simple. People will sign up for a free 30-day trial to watch the December games and that will bring a huge surge of new customers around the busiest time of year. Some will watch the games for free and not maintain their subscriptions after that first month, but Amazon are happy to take that hit and bank on the fact plenty will like what they see and stick around."
Exactly how much Amazon paid for its 60 matches over three years has not been disclosed, though BT paid £90m for a similar, 20 game package. And it has to be remembered that the Premier League created two packages of 20 games with the specific aim of targeting the FAANG companies, essentially the new SVOD and special players of Facebook, Amazon, Apple, Netflix and Google. That only one FAANG player snapped up only one of the packages, and several months after the others were announced at that, indicates that demand has perhaps been weaker than anticipated.
Whether it will be in three years time for the next negotiations is, of course another matter entirely.
Main pic: Broadband TV News