The future of AVOD is looking rosy after the Covid-19 pandemic, while Google gets serious about Android TV again and HBO Max has a troubled entry into the streaming wars.
Global AVOD expenditure expected to double
Signs are starting to emerge that the AVOD sector might not only largely escape the worst effects of the Covid-related downturn in global advertising, but return to rapid growth all the stronger for it
A new report from Digital TV Research published at the start of June, Global AVOD Forecasts, almost oozes positivity about all things AVOD and suggests that 2020 is really just a bump in the road, and a relatively minor one at that. It suggests that AVOD expenditure across 138 leading markets (ie pretty much everywhere) is set to more than double between 2019 and 2025 to reach an impressive $53 billion.

The most impressive growth in the Digital TV figures looks set to be in the USA which will also increase its market share from 33% to 45%. Globally, in the short term AVOD growth will slow but not fall during the advertising slow-down of 2020, and is then expected to rise swiftly again as the world eases out of lockdown.
"Online advertising is the least affected medium as it is one of the youngest and fastest growing, comments Simon Murray, Principal Analyst at Digital TV Research. "Online viewing has increased substantially during the lockdown to boost AVOD."
Google's new Android TV dongle?
[Ars Technica, XDA Developers]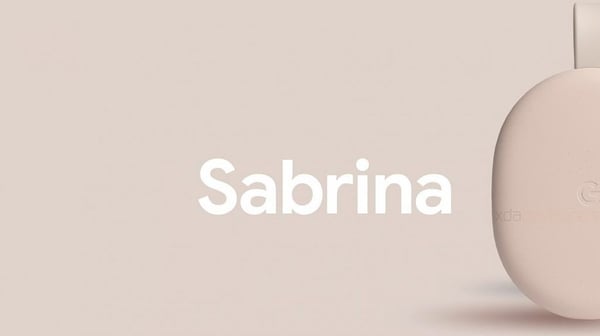 Last week images of what is rumoured to be Google's upcoming replacement for the increasingly venerable Chromecast started to emerge. Codenamed Sabrina, it looks like the company may even be following up the success of Android TV in the STB market and releasing the first dedicated Android TV device since the Nexus way back in 2014.
The Chromecast is, of course, even older, albeit by only a year. Released in 2013 it was designed for the budget end of the market, hence its lack of standalone UI and remote. It retailed for $35; the Nexus, when it launched represented a more premium experience in the $100 bracket. As a sign of how far we've come and how much cheaper the technology is in 2020, Amazon's 4K Fire TV stick runs Android TV and comes with a remote for $50.
Sabrina looks to be in the same sort of mould and is rumoured to be pitched at the same sort of pricepoint. Its differentiator could be the ability to run marquee video games via Google Stadia support, as well as tighter integration with YouTube. As more than one commentator has pointed out in recent days, Google absolutely owns online video with YouTube but has yet to really leverage that into having the same level of impact in the television space.
We could even see the resurrection of the Google TV brand as a result, killed off in 2013 to be replaced by Android TV (we did a deep dive into all this a few years ago, check out Android TV Devices: How the Android STB Grew Up for more) or possibly even an integration into the Google Nest smart home line-up. And with the company also making a concerted push into the connected TV advertising market too, it looks like Google is chasing the market hard.
Streaming wars: Updates from the front line
[Parks Associates, Fierce Video, Cnet, The Verge]
Some data from the first six months of two of the main new services and a rather bumpy introduction for one of the newest contenders.
First off, Parks Associates has some interesting figures on the traction that Disney+ and Apple TV+ are finding in the market. To no one's great surprise it looks like Disney+ has got off to a flyer, reaching 25% adoption amongst US broadband households in six months. Apple TV+, equally to no great consternation, has performed slightly less well and only managed to gain a foothold in just under 10% of the same. There is no data on how much of that figure is being driven by the free giveaway that comes with many new Apple products either.
Both still lag a way behind the main incumbents of Netflix, Amazon Prime Video, and Hulu, but have already overtaken CBS All Access, HBO Now, and Showtime (see chart below).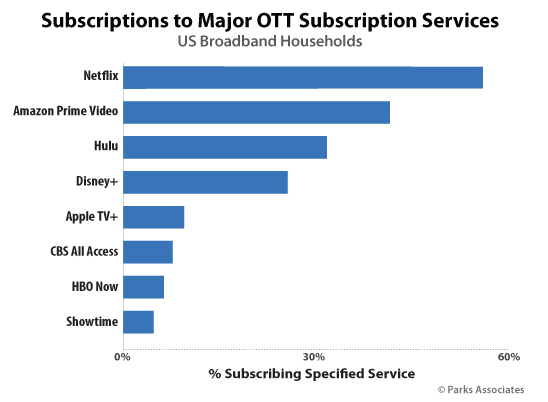 The latest entrant to be added to the figures is WarnerMedia's HBO Max. It's come in at the high end of the market, both in terms of fee ($14.99 monthly) and content (all of HBO with a large library of licensed series and films — including Friends and the entire Studio Ghibli library — along with original content). However, it's also had a fairly messy introduction.
Amazon, Roku and Comcast weren't included in its distribution deals on launch day, though it did eventually deliver what Fierce Video calls a 'zero hour' distribution agreement with Comcast.
Part of the difficulty lies in the transition of customers from HBO Now, the company's existing standalone streaming service, to the new HBO Max which adds additional content. Depending on the route consumers have taken to subscribe to Now, they are either upgraded for free to Max or locked out of it entirely.
Roku hopes to add it once a deal is worked out, but Amazon is being more aggressive. Amazon points out that it has 5 million streamers already accessing HBO Now through its Prime Video Channels service that are being denied the new service. "We believe that if you're paying for HBO, you're entitled to the new programming through the method you're already using. That's just good customer service and that's a priority for us," it said in a statement.
(There's a good analysis of some of the manoeuvring behind the scenes on the Amazon/HBO Now impasse here.)
Amazon and Roku between them have 80 million active users, which represents a large gap in the market, and one that you feel should probably be filled sooner rather than later.
There's also an impressive row brewing about net neutrality after it emerged that HBO Max and WarnerMedia owner, telecoms giant AT&T, was planning on excluding HBO Max from any data caps.
As The Verge put it: "According to an AT&T executive familiar with the matter, HBO Max is using AT&T's "sponsored data" system, which technically allows any company to pay to excuse its services from data caps. But since AT&T owns HBO Max, it's just paying itself: the data fee shows up on the HBO Max books as an expense and on the AT&T Mobility books as revenue. For AT&T as a whole, it zeroes out. Compare that to a competitor like Netflix, which could theoretically pay AT&T for sponsored data, but it would be a pure cost."
AT&T now has until 25 June to explain all this to a very interested group of Senators who are already making noises about it stifling competition as a result and are looking to do something about it.