Four of our top Executives on how VO is coping with Covid-19, keeping in contact with our customers, and how it is changing the future of work.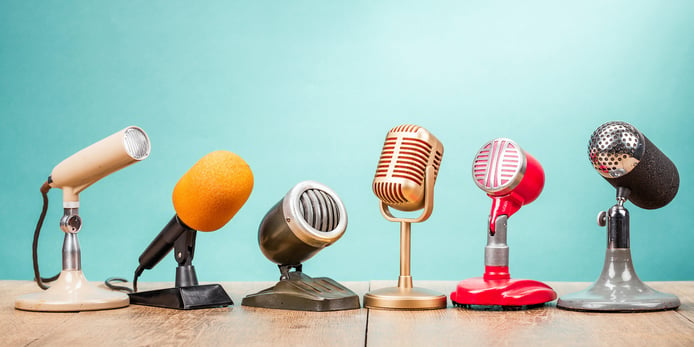 It is a time of great and rapid change in the industry, and the ongoing situation with Covid-19 is only making that more obvious. In some instances it has thrown an accelerant on changes that were already underway, such as the move to remote workflows in post production and live events. In other areas it has put the brakes on to a startling degree, with production halted around the world and only tentatively starting to pick up again now under strict controls.
In all this though, people are still watching television — and more of it than ever! — companies still need their services maintained to high SLAs, and the video pirates are still active and content needs protecting. In other words, while business is not exactly continuing as normal, far from it, it is continuing.
We spoke to four of our top Executives, the people in charge of VO's solutions in different sectors of the industry, to find out what the impacts of Covid-19 have been in different areas and how VO is rising to the challenge.
Rony Gihan - Executive VP, Customer Delivery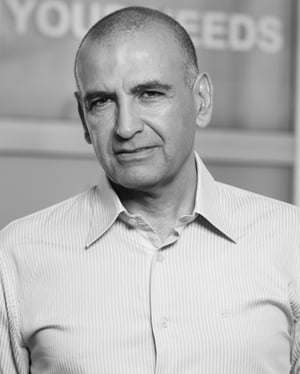 Rony Gihan is our EVP, Customer Delivery, and as such faced some immediate challenges once the lockdowns started rolling out in Europe and beyond. VO's Operation Centres maintain round the clock monitoring of our services and it was important to ensure business continuity could be maintained as staff and customers started to work from home.

"Working to ensure we could provide 24/7, Level 1 support from home was a challenge," he says. "Not only were we continuing our usual support services, but we were also requested to keep working on activities such as integration and validation with our partners remotely; something we were used to doing side by side at customer facilities."
Network issues had to be overcome, especially when it came to connecting into customers' backend networks from the VO teams' homes, but the fact that these were sorted out successfully and business continues leads Gihan to see it as part of the new normal.
"We will see more and more services running from home," he says. "E-commerce and teleworking will challenge the necessity for office space."
He sees other implications too, notably an increasing digitisation of many aspects of everyday life and big boost for 5G
"As people see that high quality connectivity is a basic necessity during confinement every operator will look now to go into 5G," he says.
Arnaud Alvarez, Executive VP, Global Sales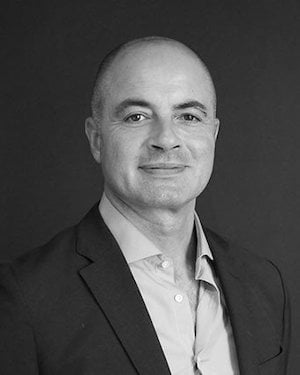 "Our challenge is not just our challenge, but the challenge for all of our customers, prospects or partners," says Arnaud Alvarez, VO's Executive VP, Global Sales about the Covid-19 pandemic. "Consequently, the entire industry's first challenge was to re-invent or invent a new way of working, keeping in mind we are all committed to maintain the same level of business continuity. This was our first communication to our customers when the crisis started."
Alvarez concedes that VO is in a lucky position compared to many in the industry in that its core business is software and thus is not directly impacted by the many hardware issues — components shortage, goods transportation and more — that have been a supply chain problem for many other companies.
For sales, video conferencing has become as prevalent a tool as it has elsewhere in the industry.
"By nature a sales person is not supposed to stay at home so we had to quickly digest this new way of working and reinvent from scratch how to manage customer relationships, business prospects and qualification, and so on. Digital communication tools and video conferencing apps will never replace a human interaction, and there is no doubt that we are currently all missing the ability to create intimacy and/or maintain it for existing customers.
"This is why we have regular (daily) contacts between our team, and also with our contacts from the industry, partners, prospects and customers on a regular basis," he continues. "This is definitively one of the keys to being stronger when this crisis is over."
What is heartening to hear is that business for VO has not ground to a halt at all, but has continued, even accelerated, during the pandemic.
"We are replying to many RFx and still identifying new leads," comments Alvarez. "It seems our industry is still looking to proceed with vendor selection and expecting we'll then run at full speed to execute and deliver if selected."
For the future he sees remote working as becoming an established part of business practice, with many companies seeing it as part of the new normal. Though he cautions that there might have to be a rebuilding of relationships as part of that process.
"Rebuilding trust will be our first challenge and our responsibility as an individual, a manager, a leader, whatever our role in our personal or professional life," he says. "By keeping this in mind we'll have to be more customer focused than ever to take on this trust challenge and make it our top priority."
Philippe Lasry, Executive VP, Solutions Marketing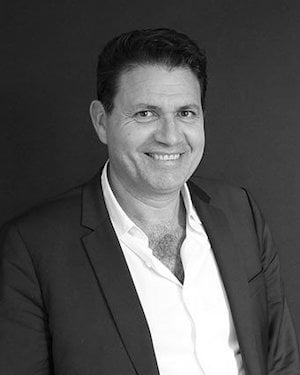 "The video entertainment industry cannot be treated as a whole," says Philippe Lasry, VO's Executive VP, Solutions Marketing. "Covid-19 is a disaster for sport and the theatre industry, whereas it has boosted OTT providers to their highest levels to date. If we look at France, Netflix is ranked in the top 3 brands (with Amazon and La Poste). And this increase of video consumption is not only beneficial to OTT vendors but also to traditional Live TV, with a 37% increase in live consumption, mostly driven by news channels."
He makes a couple of other important points. First that while spelling trouble for the traditional advertising industry, there are clear opportunities for Targeted Advertising as whole populations take refuge in video consumption. Second, that Pay-TV is clearly losing ground against the agile and 'de-materialized' OTT player models.
"A clear conclusion for me is that this puts the concept of the 'Super Aggregator' as a must have feature for Pay-TV operators," he says. "The demand is huge and there will be benefit for technology providers which can bring solutions to bear on this User Experience challenge."
Lasry says that VO has met the challenges that the Covid-19 situation has created with a great deal of success. To begin with, the company has a diverse range of customers that are involved in different areas of the video business, which has helped VO absorb some of the impacts of the crisis
"We also have a very efficient set of fully managed services," he says. "The excellence of our cloud-based content and anti-piracy offerings — and more! — allow our customers to fully enjoy their services in turn, while a culture of multiple sites across an international environment, with the VO teams given plenty of autonomy within that structure, has mean we've been able to operate with almost no loss of efficiency so far.
"There are also opportunities in the current situation such as Targeted TV Advertising, enabling Super Aggregators, anti-piracy watermarking, in which VO has already massively invested. This gives VO customers and employees the knowledge and trust that VO understands the market and always keeps one step ahead."
Returning to normal life is going to take steps of a different kind. Lasry reckons it will be a long journey, and that one of the things that will emerge in the new normal is a sensitivity to the use of personal data (including very sensitive health data).
"I expect that end users will be more and more demanding on how the personal data and stored and processed and this fully gives credit to VO's strategy to protect and be compliant with all legal frameworks such as the GDPR," he says.
But the main thing that he expects will happen will be the unwelcome return of an old foe. Indeed, judging from the high level of activity that VO has maintained at its Anti Piracy Center throughout the crisis, it's doubtful it ever really went away at all.
"Moreover, when sport events start to come back on screen, there will be a tough fight on video piracy.
"This situation will swiftly need services such as our Anti-Piracy Center and its watermarking technology," he says. "Luckily, VO is ready to meet that challenge head on and serve its customers and prospects at its very best."
Cédric Hardouin, Executive VP, R&D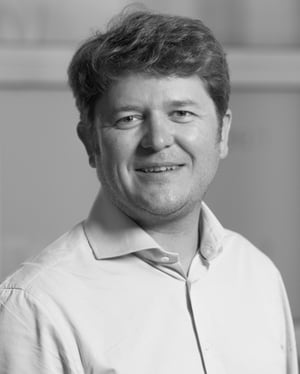 VO has an extremely active R&D department, which is headed up by Cédric Hardouin, and was quickly able to respond when the lockdown orders started coming through..
"Our very first focus was securing the continuity of our customer activities, firstly supporting their run, but also the on-going and coming projects," he says.
"The good piece of news is that most of the R&D activities can be done from home; we have only one main exception with some activities related to our security products which have to be done only in our secure environment in the office. We have had to solve three main challenges along the way: how to share all the devices that we have in our zoo of mobiles devices, TV sets, STB, etc.? What to do at home with two or three TV sets? It can quickly congest your small flat in Paris! And last, but not least, we have also needed some specific IP configurations for accessing customer networks."
Other than that, Hardouin says that with teams spread over eight different locations, VO's R&D effort is very used to remote communications. Software development, for instance, is all undertaken with a distributed source code management system. That means that even if a developer cannot connect for a period, he can go on developing.
"Even if moving to a full virtual co-working is a change of magnitude, there was no need for any change in our mindset," he says. "Moreover, we were lucky because 99% of our workforce has access to high speed bandwidth at home. All in all it's had very little impact, and, if impacts there are, they are usually related to the fact that people have to manage their kids at home too!"
Hardouin is one of the growing number of people recognising that there has been a shift in working practises and that remote working is set to become an increasingly accepted part of the business environment long after the pandemic lockdown orders have ceased. He also sees come challenges ahead though.
"Take the on-boarding of newcomers," he says. "It has been quite easy to move everybody to homeworking with very low impact on our velocity because people know each other. But what about a new employee? How do we create the intimacy with his or her new colleagues? This is what we have to be prepared for."
He looks to the accelerating rollout of technologies, such as the widescale deployment of 5G and Gigabit fibre networks too help in these matters, to ensure the sort of high-speed communication that such distributed models of work will need for success. And he also sounds a note of caution regarding their use, and an appropriate one too considering VO's rich heritage in content security.
"All those employees connected from home all together lead to a big threat in term of cyber attack," he comments, "and that has received special attention from us from Day One.