The ongoing and rapidly moving situation with the coronavirus outbreak is having a huge impact on the broadcast industry. It might be changing it permanently in some ways too.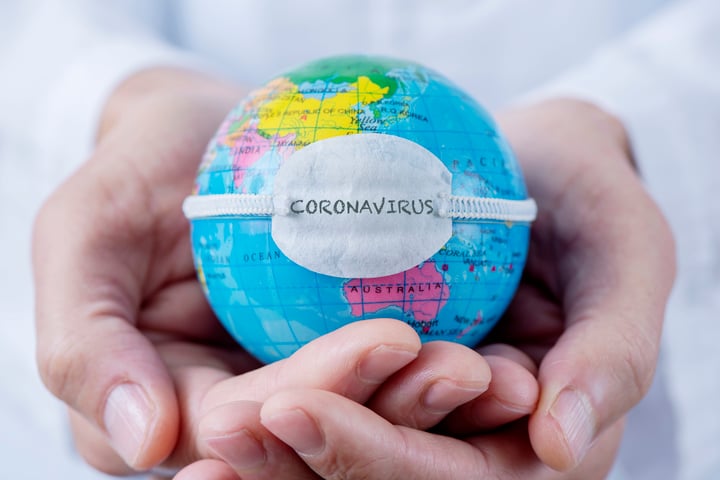 This is not the easiest of blog posts to write. Not only is the impact of the coronavirus outbreak a devastating one around the world, particularly for the people infected and their families, but it is a fast moving story as well. Almost as soon as you type the words the status of the outbreak changes. There have been few times when the relentless cycle of 24-hour news has been so completely dominated by one event.
So, we will post this and update it often, and confine it as much as possible to the impacts it is having on the broadcast industry.
As of 07.00 GMT, Sunday 29 March [newest first]:
Enders Analysis forecasts BT and Sky in the UK alone could lose £1bn in revenues due to cancelled sports

Strategy Analytics predicts SVOD subscriptions 5% up on previous

forecasts and

949 million paid subscriptions globally by the end of 2020 (47 million up).

Nielsen has predicted a 60% surge in online streaming

The EC has given EU operators permission to throttle back online traffic

Formula 1 replaces postponed Grand Prix races with eSports versions

NAB unveils a virtual show to take place in April and plans to ramp up NAB Show New York in October

Netflix is reducing the bitrates of its streams across Europe for a 30-day period in a bid to reduce its traffic by 25%. YouTube and Amazon have now done the same

Canal+ has offered free premium access during the coronavirus lockdown. However, French media regulator CSA subsequently received complaints from commercial channels and has told it to go encrypted again on March 31, 15 days earlier than initially planned.
Sky Sports is allowing customers to pause their subscriptions until the sporting calendar fires up again.
The first reports are coming in of infrastructure struggling to cope with extra demand. Spanish telcos report a 40% surge in traffic.

NAB 2020 has been cancelled. An organiser's statement (11 March) says they are "currently considering a number of potential alternatives to create the best possible experience for our community."

CABSAT and Broadcast Asia have both been postponed till the autumn.

Numerous smaller events have either cancelled or are pivoting online

Production has shut down around the globe. There has been a consequent worrying impact on a largely freelance workforce and insurance companies refusing to provide cover and broadcasters & operators declining to meet costs (paywall).
Business continuity or disaster recovery?
The tradeshow sector has, of course, been particularly badly hit. Ever since MWC2020 decided that it could no longer go ahead given the withdrawal of multiple major exhibitors in early February, eyes have been on the major shows that follow it. There is a complex dance behind the scenes here, as exhibitors and exhibitions try to avoid cancellation charges and penalties, and factor in refund periods for associated travel and accommodation costs.
The impact on the shows and the venues and cities that host them may well be dramatic. Around 100,000 people attend NAB every year and their absence would have a definite impact, even on the wider Las Vegas economy.
It is interesting to see how some of the shows are adapting, however. CABSAT and Broadcast Asia have postponed, and NAB is probably looking at doing the same. There is a problem of fixture congestion in the autumn though. The current tradeshow calendar is already fairly full across a 12 month period; trying to cram everything into a couple of months in the autumn will be problematic, not least for the big shows that already occupy that space such as IBC.
The Connected TV World Summit, due to take place on 18 March, showcases another approach. It has scaled down its event to a single day (though even this may be overtaken by events), promised a further two-day summit in the autumn that will be free to attend to the original ticket-holders (who can also defer to 2021 if they wish) and added additional live streaming facilities for registered attendees with on demand, edited catch-up later on.
[Update 12/03, 17.30 - Connected TV World Summit has been switched to a virtual and digital event only.]
There is a lot of this sort of thing starting to go on at a corporate level. AJA, the first big withdrawal from NAB, is moving all its planned events to web-based video conferences and others are following suit as the industry tries to work out how to engage with its customers in a primarily virtual manner. Teleconferencing specialist Zoom added 1.99 million users in 2019; so far estimates are that in the first quarter of 2020 alone it has already surpassed that and managed to add another 2.22 million.
"Just as the industry was forced overnight into digital from LTO in the aftermath of the Tohoku Earthquake in Japan in 2011 this could be that moment when people are forced to test remote production," says Chuck Parker, chairman and CEO, Sohonet, in IBC365.
The article's an interesting one, and details an acceleration of an industry-wide pivot to remote working which was already underway due to the increasing cost effectiveness of distributed workflows in post production, remote production for live events, and more. There is speculation that the coronavirus outbreak could work as an inflection point and that the investments being made in remote working now will permanently shift the axis from face to face to the virtual. Increasing environmental concerns about the necessity of business travel may well give this further impetus.
What this means for tradeshows is a matter of speculation. The insistence has always been that this is an industry that needs face to face contact and physical meetings; that the networking opportunities that tradeshows bring are an essential lubricant for the wheels of broadcast industry commerce. We will probably find out later this year if that is truly the case.
In this the industry is showing impressive resilience. Disaster recovery has always been part of any broadcaster or operator setup, with backup playout centres ready to spin up and take over almost seamlessly in case of a problem with the main feed, and multiple redundant links deemed essential for live transmission. 'Disaster recovery' as a phrase has fallen out of fashion somewhat and been replaced by the less alarming sounding 'business continuity'. And faced with one of the biggest external challenges to it for a very long time, the industry is trying to maintain that business continuity to the best of its ability.
Coronavirus, the broadcast industry, and changing consumer behaviour
This is again a section of this post that will probably alter quite rapidly. But a mid-February report from QuestMobile highlighted some very interesting new behaviour patterns in China as the coronavirus outbreak approached its peak there. Whether these will map onto populations in other countries as the outbreak progresses is, of course, unknown and the Chinese experience may yet prove different from anywhere else. But here are the main pointers:
An increase in mobile gaming from 113 average minutes at Chinese New Year (CNY) 2019 to 159 minutes at CNY 2020

News engagement up from 80 to 91 minutes in the same period

150 million new daily active users for short video platforms
This is all expected. Ride hailing apps fall, food delivery apps rise, more people consume more video. So, is this to be a boom time for OTT and television in general?
In the short term the answer is yes. More people staying at home will watch more video content, though there is a strong possibility that they will tend to choose information over escapism and the biggest beneficiaries here will be the news outlets. Plus networks are likely to be challenged with the increasing demand for bandwidth for both work and leisure purposes. Nevertheless, with the ability to quickly spin up cloud-based TV channel and launch new services there is a window of opportunity to provide services to people self-isolating or living and working under lockdown protocols.
Broadcast in the UK ran an interesting piece titled Senior execs predict that audiences could shift away from linear [paywall] which, in summary, points out that as the supply of new programming dries up and the autumn schedules in particular become dominated by repeats, viewers will be more attracted than ever to the content-rich deep catalogues of the major SVOD providers.
The longer term impacts are less certain. The financial consequences of an extended coronavirus outbreak on the economy do not make for comfortable reading and they could have a negative impact on both consumer spending and advertiser confidence.
However, Nielsen has done some interesting research on what it calls Six Consumer Behavior Thresholds Of Covid-19 Concern (see chart below) which looks at the way consumer spending patterns react to the news cycle and is an attempt to forecast supply chain management problems that might occur.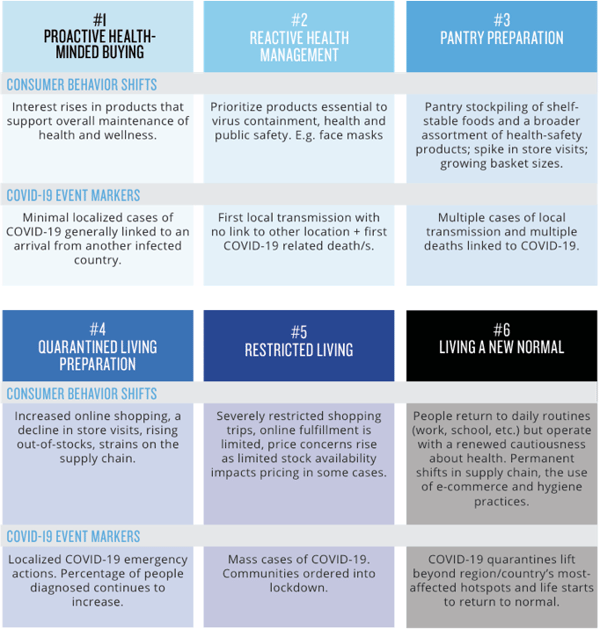 Source: Nielsen
As it says, China is the only country so far to have progressed through the different stages and have a large population at Level 6, with Italy probably the next in line. Optimistically it calls Level 6 'Living a New Normal' and says that crisis-buying patterns adopted during the outbreak will speed permanent behaviour change after it is over.
For the broadcast industry more video conferencing, webinars, and new remote distributed workflows would be a small price to pay for a return to the growth that has underpinned the expansion of OTT in recent years.
Main image: 2019 Novel Coronavirus (2019-nCoV), Centers for Disease Control, January 2020.