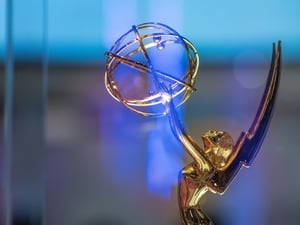 There is a growing school of thought that the Golden Age of Television brought about by the rise of streaming and OTT is nearing an end. But for operators it doesn't have to be like that.
Many industry figures pointed out that we are living through a Golden Age of Television. Essentially they boil down to the fact that we are spending more money making more television for more people than ever before. And, crucially, the quality of what is being made is becoming better all the time.
Critical and commercial success is a difficult feat to pull off, but there have been many in recent years. 'House of Cards' transformed Netflix overnight from a company that posted out DVDs to the SVOD leviathan we know today, while simultaneously introducing the concept of binge-watching new series to the world. HBO's 'Game of Thrones' has redefined what we mean by event TV while raising the quality bar to feature film level and, arguably, beyond. 'Mad Men', 'Breaking Bad', 'The Handmaid's Tale', 'Westworld', 'Stranger Things'… Each has had an impact on the shows around them and that come after them.
But, while for viewers it may have been a Golden Age, for operators it has been a challenging one. The best are competing by using TV business analytics to maximize the efficiency of their catalogue and surface the right content to their viewers at the right time, and transitioning to the cloud to reduce costs and allow for frictionless innovation. And there may be more storm clouds brewing too. If the consensus is that we have just witnessed a Golden Age, more and more people are mentioning it in exactly those terms: in the past tense.
What are the implications? First, let's take a look at some of the reasons why FX CEO John Landgraf told the Television Critics Association summer press tour back in August that: "The golden age of television has become the gilded age of television."
From Golden to Gilded: Four Factors Pointing to the End
There is a lot going on here, all of which is combining to create a mythical perfect storm putting pressure on the OTT market, but let's start our list with Landgraf. He was the first to coin the phrase about reaching 'peak TV' several years ago. As it turns out, we've not there yet.
1. Too Much Content
When we first wrote about this subject in February 2017 (Have We Really Reached Peak TV) the estimation was that during the course of 2017 the US market would top out at 500+ scripted shows made in a single year. As it is, as the graph below shows, we pulled up just short of that at 487.
Will that figure be broken this year? As of August, Landgraf says that 319 series had premiered on linear and streaming television, up 5% on the same time as the previous year . And noting that the macro-scale acquisitions we have seen so far this year (and more of that in a bit) are all geared towards content streaming, he doesn't see growth tailing off anytime soon.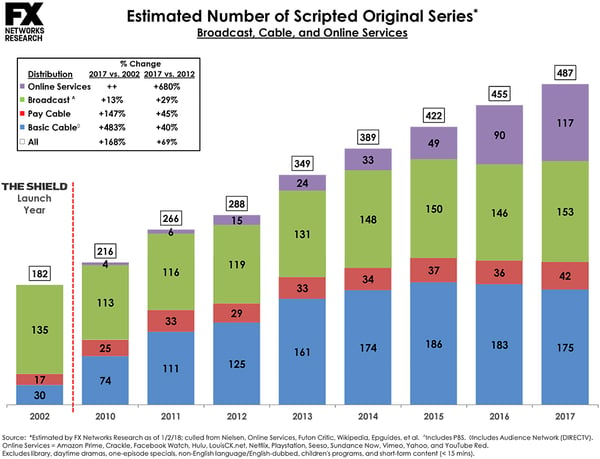 As Variety reported: Speaking of "an epic battle between very large companies that are going to be competing in the streaming business" against Amazon and Netflix, he said that the volume of original scripted programming on TV will continue to increase "as long as that battle is red hot and as long as those companies are scaling up."
2. Narrative Exhaustion
So, where's the problem? It's twofold. Time and again, survey after survey is revealing that viewer frustration at being able to find something to watch is mounting. In a post we wrote earlier this year highlighting the importance of efficient content discovery, we mentioned two statistics from a recent PwC survey.
55% of consumers find themselves looking for something new to watch every week

62% struggle to find something to watch
This has been known about for some time, and is why we see so much interest in our own content discovery and personalization solutions. But it is being made worse by another growing factor, and that is narrative exhaustion.
The phrase was coined by screenwriter Paul Schrader back in 2009 and the rise in total content since has only made it worse. As Landgraf put it in his August speech, everything "feels vaguely familiar."
The problem is that there is a general sacrifice of quality for quantity. It's a difficult one to calculate, especially as more and more resources are being pumped into the marquee shows, but talk to anyone in the business of making television and they can point to the rarely visited hinterlands of the huge SVOD catalogues and find any number of programs that would likely have been culled at some stage by a traditional route. Netflix alone will have around 1,000 originals in total on the service by the end of 2018, with 470 of them coming to the screen between May and December this year. They can't all be critical and commercial successes.
3. The Ever-Expanding Bottom Line
This all costs too. According to Variety, the final series of Game of Thrones, due to screen next year, has cost $15 million per episode. Other notable large budgets include Netflix' The Crown ($10m per episode), Starz' 'America Gods' ($8m) and Amazon somehow managed to pay $5m per half hour of The Tick. Even Stranger Things, whose breakthrough first season was considered a sleeper hit, had $6m an episode lavished on it to get that '80s Spielbergesque look.
Given these sort of figures, it's no wonder Netflix has been looking at debt markets to continue to finance its growing slate, taking on $2bn in new debt by offering unsecured bank notes last month. Its publicly stated content budget — original productions and licensed content — already stood at $8bn for the year.
As The Guardian reported: However, Netflix's liabilities now dwarf its annual revenues, which reached $11.6bn in the nine months ending in September….The firm reported $11.8bn in total debt obligations at the end of September, plus another $18.6bn in payments for content, bringing its total long-term liabilities to well over $30bn. Ampere Analysis, meanwhile forecasts that the combined Netflix and Amazon spend will pass $20bn by 2023.
The cancellation of high-profile expensive shows such as Sense8 proves that even for Netflix there are performance criteria that have to be met, and more shows are facing the axe too (though admittedly, Netflix has, to date only cancelled 26 shows in total).
4. Next Stage: Content Silos
So, we are in a situation of over-supply and rising costs. Often that leads to consolidation, but the market for OTT content is not a homogenous one and what is looking increasingly likely as the companies evolve their strategies is actually an increasingly diversified offering.
Rather counter-intuitively, this is being brought about in part by some of the high-profile media mergers of recent months — the AT&T/Time Warner merger, Disney taking control of 21st Century Fox — which are coalescing plans for companies to move aggressively into the streaming space with their own offerings rather than licensing content.
Disney is the highest-profile new entrant due into the market in 2019, but the new WarnerMedia has also announced plans for its own service. And as The Verge puts it, this has significant ramifications for viewers as studios pull back licensed content and silo it into paid subscriptions.
"Right now," it writes, "a single Netflix subscription will get you Marvel movies and DC shows alongside in-house originals — but soon, both of those may leave for parent-company subscriptions at Disney and Time Warner respectively. It's a kind of streaming Cold War, as each company tries to leverage its own franchises into a standalone subscription bundle."
The Post Golden Age Television Industry
How that new landscape will shake out is, as yet unknown. However, there are clues. With the rise of the skinny bundles having pulled the rug from under the increasingly bloated looking Pay-TV offers in the US market in particular and contract lock-ins becoming a thing of the past, we could see an era of turbo-churn as subscribers sign up to a service to watch a show and drop it soon after. It's a behavior that is already being indicated by the rising levels of churn, and one that may become more pronounced as the market expands.
As has already been stated, when we talk about a Golden Age of television the tendency is to relate that to the viewer. Certainly for the existing linear broadcast market the past handful of years have been more defined by turbulence and uncertainty than they have by profit and abundance. However, we argue quite strongly that for agile operators prepared to embrace the latest innovations in the industry to date in the shape of TV business analytics, cloud TV, content recommendation et al, it has also been a time of almost unmatched opportunity.
The fact is that there have always been significant gaps in the market. The temptation is always to assume that Netflix is the only game in town: it generates the lion's share of the hype and is producing an unprecedented level of content. However, as the graph below from Ovum shows, it has never been the only game in town.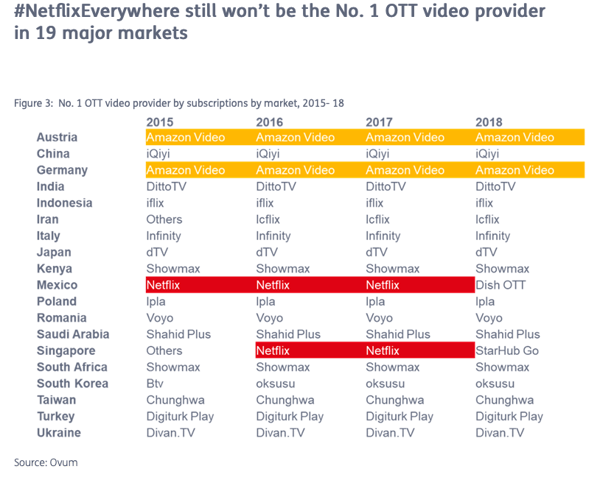 As the analyst puts it: Despite the hype, Netflix still won't have won a majority of OTT video subscribers in at least 19 countries by the end of 2018. Its rivals share no single strategy in common, with various offerings from pay-TV operators, broadcasters, and local start-ups beating the US-based OTT video giant to the top spot. Key success factors will include first-mover advantage, exclusive local content, live programming, and more affordable pricing, especially in developing markets that differ greatly from the US.
2019 might well see the OTT industry transition from golden status to gilded, but a contraction of some sorts is probably overdue after a long period of largely unchecked expansion. But for those with the right systems and technologies in place and product offerings that can evolve quickly to meet changing consumer demands, the opportunity shines as bright as ever.