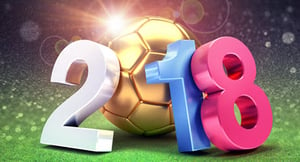 If there is any lingering doubt that the piracy of video content on the web has moved from the download model as exemplified by BitTorrent and similar technologies, to one where live streaming dominates, the current tournament underway in Russia will put that to rest. It seems that sports immediacy is valued by the pirates as much as anyone else, and there are a huge amount of illegal resources being thrown at the tournament.
VO's new series of reports provide a detailed analysis of the illegal streaming of matches from the summer's football tournament in Russia, highlighting the scale of the newest TV sports piracy problem and its global nature. You can read the first in the series now.
LeakID and Illegal Streaming
LeakID is a specialist anti-piracy company that was formed in 2007. As part of ensuring that our 360° security services remain at the cutting edge of the fight against content piracy in all forms, VO has formed an exclusive partnership with it to use its tools that track, fight, and crucially dereference links for illegal streaming sites.
The company's CEO is Hervé Lemaire, and he provides a good example of how it all operates.
"Several weeks ago, we noticed a pirated movie online before the theater window had opened. So we immediately informed the customer and dereferenced 8000 links on Google in three days.
This shows how important it is to react quickly."
When it comes to analyzing football games, Lemaire says that the LinkID tool detects an average of 400 to 800 unique links in addition to those detected by a YouTube fingerprint or Facebook.
"If we get initial sources with a fingerprint, this figure can go up to 2500 to 3000 links, and for more important events like Champions League events it can represent more than several thousand," he says.
"Our tool also sends several takedown notices during an event for each detected link to all impacted stakeholders; to the live hoster, the domain platform, and to all impacted ISPs.
We start searching one day before the event, on the day of the event, and continuously during the live event; this may represent a few thousand notices per event. The tool records all of this, providing evidence to support legal cases."
Given the rights costs that are involved in premium sports coverage, the explosion of illegal streaming is a serious issue. In the UK alone, telco BT is spending over $500 million a season on Champions League rights over the next three years. Widen that figure out, first to Europe and the rest of the world, and you can begin to understand the scale of the problem.
It's one that is evolving constantly too.
"None of the current well-known anti-piracy tool suppliers has taken into account the importance of Google deindexing," says Lemaire. "On top of that, social networks are not sufficiently protected. Facebook and Periscope have not really addressed sports events protection programs. Most of the IPTV playlists are open for all, and this is also true for the majority of the Kodi plugin."
Indeed, it is shocking to see exactly how many of the illegal streaming links circulating to events such as live football matches are being run through Facebook, Lemaire estimates that this can account for anywhere between 30 to 40% of the total. YouTube, meanwhile, adds another 20%.
"By closing down 100% of those links, we clean a significant portion of the piracy landscape," he says.
The LinkID tool uses a number of different methods to find illegal streaming links, search for keywords in all local languages, hunt for access to pay sites or forums, and more. The company has also established what he refers to as 'solid partnerships' with Google, YouTube, and Facebook, giving it the ability to remove illegal links within minutes.
"We also believe it is important to establish transparency with our customers by publishing data in real-time and to discuss improvements and implement action plans," he concludes.
Fighting Illegal Streaming
The VO report contains the full interview with Hervé Lemaire, as well as more details regarding the way the LinkID tool operates. It also contains detailed piracy stats for five matches from the tournament's first week to illustrate the scale of the problem and an examination of the technologies involved in the illegal streaming industry.
Future reports planned throughout the tournament will continue with analysis and will interview a major ISP and a content owner regarding their views on how to mount the fight against illegal streaming. We will look at evolving tendencies in intellectual property infringement, which widens the argument to include the huge challenge in dealing with counterfeit media as well. The reports are being put together by the expert VO team of Christine Maury Panis, EVP General Counsel, and Security; Renaud Presty, Director of Security; and Kevin LeJannic, Product Manager, Security.
They are a timely read as well. It is estimated that in France, of the 1.6 million viewers for the high-profile 2017 Champions League PSG/FC Barcelona match, 332,000 of them watched illegally. That is 21% of all viewers.
That though was in 2017. By the end of the tournament in Russia, we will have a far better idea of the threat that illegal streaming of football matches, and other content, presents to broadcasters and operators in 2018.