Sports and TV have long-standing relationship. Many of TV's most popular programs are live broadcasts of sporting events, especially football.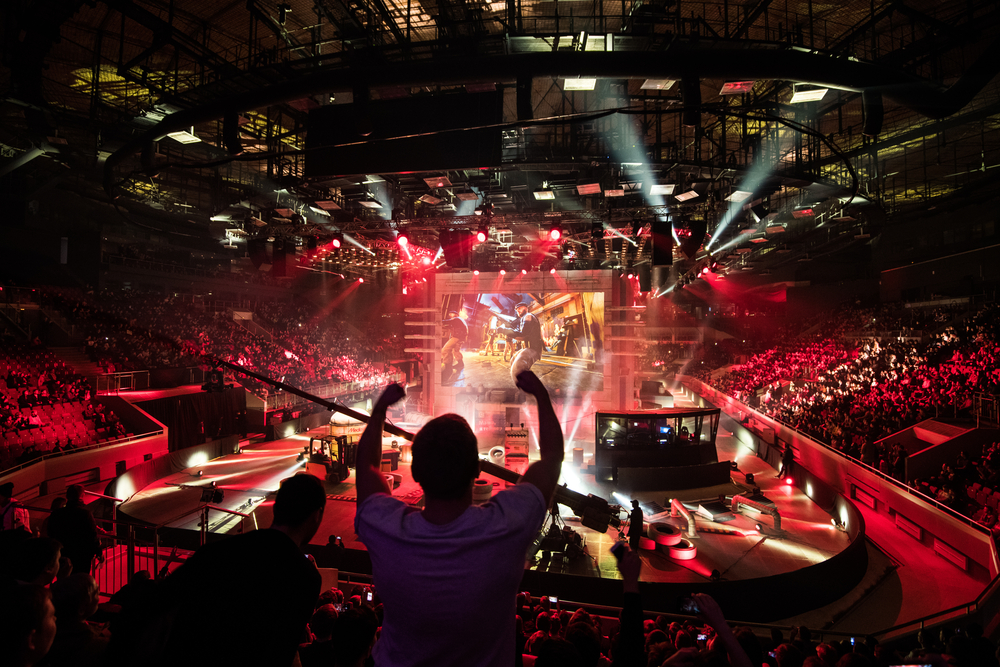 The most-watched global sports events include the World Football Cup with 3.5-billion viewers, through the Tour de France with 2.6-billion and the Olympic Games at 2-billion.
In the USA, the NFL makes over $8 billion a year between TV and sponsorship deals, a contributing factor to its status as the world's most profitable sports league. However, all is not rosy for the NFL and its TV contracts, as awareness of Chronic Traumatic Encephalopathy (CTE) is leading to decreased participation in the sport, and parents don't want their children to watch football on TV either.
TV networks are also looking for new ways to monetize sports since the traditional long ad-breaks are frustrating the fans. As younger generations of ad-intolerant viewers are migrating to on-demand streaming of sports events, networks are looking for more creative ways to handle the breaks in game-play and monetize sports events as TV ratings fall.
Let the games begin
Other factors are eating into TV revenues, especially for millennials and Gen Z. One cause is online gaming and esports, with North America and Asia leading the pack. Newzoo estimates that global esports market revenue will reach $1.79 billion by 2022, at the pace of 22.3% CAGR, while also entertaining the possibility that the potential acceleration of a number of factors (rights, franchise growth, new content formats etc) could lead to even greater growth to $3.2 billion. Talk of esports becoming an Olympic sport are still at the discussion stage for Paris 2024, but they will be a medal event at the 2022 Asian games (57% of enthusiasts are from the APAC region according to Newzoo).
There is potential for a further boost to esports this year as well. Many of the standout esports titles such as League of Legends or Dota 2 were designed for the format itself rather than the mass market. They are complex titles with complex controls and not easy to pick up and play; they also cost money to purchase. This intriguing new development leverages an already popular game into the esports arena and thus delivers an engaged and impressively sized audience.
The most popular game for about 10 of the past 12 months is Fortnite, with players averaging 6‑10 hours per week. Much of its success is due to its cross-platform capability and the free‑to‑play business model (for the base tier), and of course, the meme-friendly 'dance moves'. Other factors include how the game evolves with at least one new major feature a week, and how its creator, Epic Games, continuously integrates user feedback into its short release cycles.
With an increasing amount of professional Fortnite players (see Influencers and esports streaming platforms below) a number of large scale tournaments have been held already. But there is a random element to Fortnite's gameplay that means that the best player doesn't always win, which is why attention is starting to shift to Respawn Entertainment's Apex Legends.
A very similar Battle Royale game (i.e. last player standing), it has been designed from the ground up to work as a domestic title and in esports tournaments, with both a high-skill ceiling cap and low threshold for beginners. The result has been some stellar figures that eclipse even Fortnite's early growth as the following chart shows. And yes, that is 50 million players in four weeks with was no prior announcement or marketing.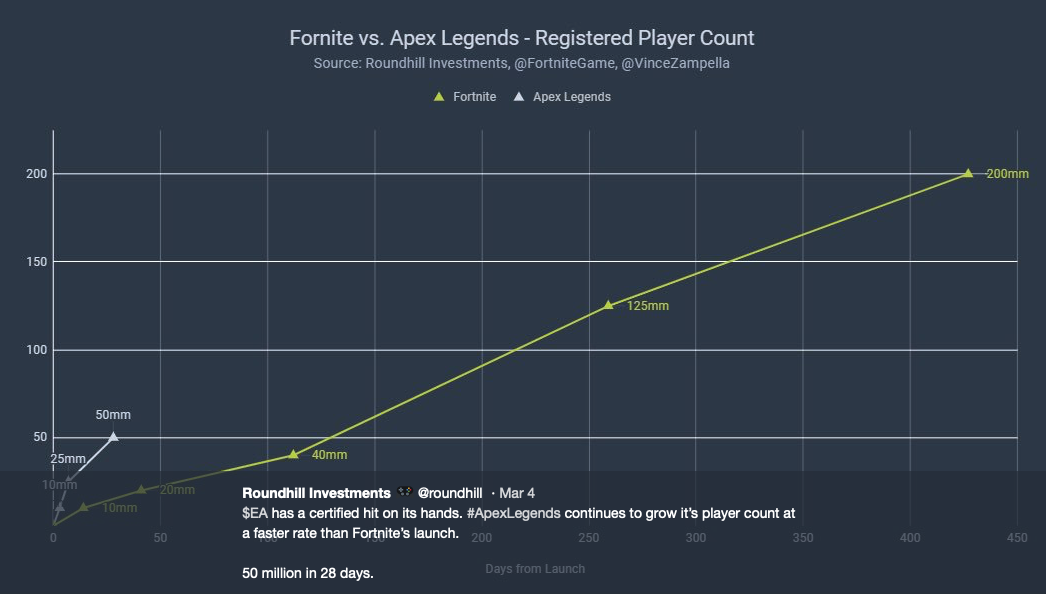 Whether that growth is sustainable or not is something that we will see over the course of the next year, but one crucial point is that these titles are more than just games, they are potentially platforms in their own right. Fortnite's success, for example, goes beyond just individual competition and is showing signs of becoming a nascent social network. An audience of over ten million watched a Marshmello virtual performance in-game event, though admittedly. For millennials who are used to watching more than one thing at a time, having a concert within a game comes rather naturally.
Esports and the TV industry
According to Mark Cuban, American businessman and investor, the appeal in watching esports is that it's entertaining, educational and aspirational. With global esports audiences projected to grow to 600 million consumers in 2023, up 79% from 2017, the entertainment value is quite evident. Eight days after release, the first Twitch Rivals: Apex Legends Challenge event was held on the Amazon-streaming platform Twitch, and netted a peak viewership of 670,000 viewers.
As for the educational aspects, for a generation that learns from video and is unlikely to read a user manual, watching the pros is a natural way to improve. With so many permutations of how a game can play out, gamers can learn much by watching the masters. Typically games tweak the rules every 90-100 days, and watching the masters shows how to play with the updated rules.
Influencers and esports streaming platforms
As gamers learn from the masters, a new 'league' of influencers has arisen. Since esports as yet do not receive much coverage in the media, players look to influencers for info and updates. The influencers are very much part of the cultural community and continually create content for their fans on the streaming platforms. Their impact is such that the top stars are now earning in the seven-figures.
Brands have begun to endorse the influencers and it's still early enough that they don't have to spend anything close to what they would spend on traditional sports. Coca-Cola, Adidas and the NFL are already advertising in both traditional and esports to extend their appeal. Coke even launched a global EA Sports FIFA 18 tournament, eCOPA Coca-Cola that follows Alex Hunter, a fictional soccer player and his virtual career, including his endorsement of Coke Zero. Samsung's Note 9 has been promoted by uber-gamer Tyler "Ninja" Blevins, whose Ninja YouTube channel has almost 22 million subscribers. Ninja's state-of-the-art streaming studio in his basement where plays about 12 hours per day, was built with the support of Red Bull. It's nice to know that Ninja is also well-known for his philanthropy.
The major leagues are also investing in esports. The National Basketball Association (NBA) already streams its esports league, and Twitch has an agreement to broadcast some of its development league games. Major League Soccer (MLS) launched its esports league, called eMLS, last year and is now partnering with Twitch, to broaden its appeal with traditional soccer fans and attract more fans from the video-game community.
The aspirational component that Cuban describes arises from the fact that esports act in many ways as a leveler, since unlike most sports, other than requiring quick reaction time and top eye-hand coordination, there are few barriers to enter the game. Most sports require certain physical characteristics – tall basketball players being a classic example. However, with esports, anyone across the globe with a decent internet connection can play and compete, from tiny to giant, male or female, all in the same game.
Connectivity is definitely an issue, and is one of the main reasons that tournaments take place in arena's rather than having players log in from home. If latency is an inconvenience to watching live sports, it is death — and often literally in-game death — to esports. In fact, League of Legends developer Riot Games actually built its own dedicated backbone, Riot Direct.
Streaming services have already jumped on the esports bandwagon, and have millions of followers on their Fortnite channels. In addition to the Fortnite website, Amazon's Twitch includes live streaming and YouTube boasts many channels dedicated to the game. In addition to streaming, a huge audience for VOD highlights and replays is still present, as gamers analyze moves and games.
How does all this affect the way that TV is consumed? Are people looking for something different when they watch TV than when they play a video game? TV can be seen as a relaxing activity, as evidenced by the 'couch potato' moniker, and many people are happy to have this form of entertainment remain essentially passive. Others, as we have recently described, see the TV future incorporating interactivity. Whether esports change the face of TV, or whether TV remains for the most part passive entertainment, remains to be seen.