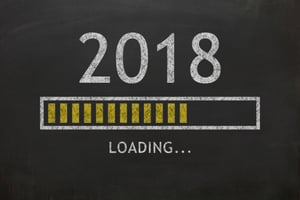 From AI & VR to the power of FAANG and the impact of microservice architectures and privacy legislation: what 2018 has in store for the OTT sector and beyond.2017 was in many ways a landmark year for the industry of television as a whole. Few things of real surprise took place, though the sudden appearance of AI almost everywhere at IBC in Amsterdam seems to have caught some people on the hop. But a lot of the technological and business trends that have dominated the industry over the past couple of years intensified to a quite remarkable degree.
We'll be returning to these subjects below in more detail as the new year unfolds, but for now here are our list of 5 things to watch out for in 2018.
1. We Need to Talk About FAANG
The acronym FAANG, covering Facebook, Apple, Amazon, Netflix and Google and by default extending to Hulu and any of the other major players in the online space, was suddenly everywhere by the end of the year. Equally, so were the companies themselves and the distorting effect they are having on the global industry of television is only intensifying as their budgets increase in turn.
How the traditional broadcast organizations decide to deal with FAANG's impact will be one of the most important parts of 2018. Investigating their own OTT solutions has long been part of that process, and efforts on that front will probably intensify, with greater attention paid to providing the services consumers demand on the one hand and then to data analytics to understand their success or failure on the other. But there are also signs of increased collaboration amongst broadcasters. This is starting off in content production and heading all the way up to M&A activity, which is able to provide both increased diversity and the scale and the global presence required to compete head to head.
Read how FAANG productions could raise content costs for everyone here.
As CBS Chairman and CEO, Les Moonves put it recently, "Disney is six times as big as we are. Comcast is six times as big as we are. Netflix's market cap is huge. Now Amazon, the number one company in the world, is producing content. We are sort of like an old-fashioned production company, we are a small guy.
"It's a jump ball we're never going to win. We have to continue to develop our own projects ourselves … like we did with 'Star Trek' on our over-the-top service. That's how we're going to compete."
Despite their perceived dominance, however, there is a potential wrinkle ahead for the FAANG companies. While their stocks have all out-performed the market in 2017, Morgan Stanley has raised a couple of yellow flags for 2018. "Our fundamental analysts covering the FAANG stocks remain bullish on their secular growth ability, disruptive capacity, and product cycles," it wrote. "We also think that the group may be less well insulated from cyclical pressures than many investors appreciate, as for all their disruptive potential, fundamentally end markets for these stocks are tied to the cycle via advertising and consumer spending."
2. VR: Slow but Steady
It's probably fair to say that VR has underperformed in the consumer marketplace, especially when measured against some of the sky-high expectations of a couple of years ago. However, that's not to say that it's died a stereo 3D-like death in obscurity somewhere: the technology is getting better all the time, investment levels remain high, and consumer demand is slowly ramping up.
Games are probably the core area of interest at the moment. Sony has now sold over 2 million of its PSVR mid-range headsets in just over a year and is rapidly carving itself out a 50% niche in the marketplace. Headset shipments as a whole topped 1 million for the first time in Q3 2017 too, with PSVR taking the top slot with 490,000 units, Oculus Rift (210,000) and HTC Vive (160,000) comprising the top three.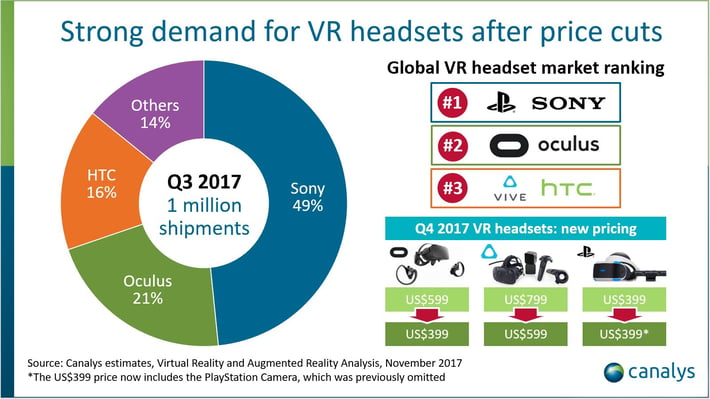 Have a look at our Virtual Reality Timeline charting all the major events in VR to date.
Investment in the field remains strong too. Digi-Capital's latest figures for 2017 suggested that the inflow of money into VR and AR had reached a record-equaling $2.5bn for the calendar year before the end of November, with plenty of indications that it would go on to break it. And all in all, a billion dollars was invested in the last quarter, with AR in the form of Magic Leap once more managing to snag half of that for itself.
Will 2018 be the year VR truly hits the mass-market? It is too early to tell, but the next generation of untethered HMDs featuring better display technology that are currently in development, will go a long way to improving the immersive experience. And once Magic Leap breaks cover it has the potential to really shake things up.
3. The Rise of the Machines
In 2015, Google started using AI extensively for image processing and translation. In 2017 it pronounced that Moore's Law was being left behind and that the future lay at what it said was the intersection of 'AI + software + hardware'. Television, as a whole, seems to agree, and there are an ever-increasing number of projects harnessing artificial intelligence and machine learning throughout the industry as a result.
What is intriguing is the sheer number of places throughout the industry it can make a substantive difference too. Data analytics is an obvious one, but solutions either already released or imminent cover automated shot selection and metadata tagging for sports events, context-based subtitle generation, automated ad-break insertion and ad detection, image capture and more.
Voice control and command of digital assistants is a subset of this and one that is gaining increasing traction with consumers. Standalone units such as Google Home, Alexa and Amazon Echo, Apple's Siri and more are rapidly making voice control a base specification for many products and certainly one that needs to be built into any developing broadcast ecosystem.
As we wrote when we first covered the subject, all of the aspects of television production that tend to follow specific processes and set workflows — and there are a lot of them — are ripe for the new AI-driven automation.
It will be fascinating to watch just how quickly the field progresses throughout the year.
4. The Impact of Privacy Legislation
The steady rise of AI though does face at least one notable challenge in the form of the European General Data Protection Regulation (GDPR) due to be rolled out on May 25th.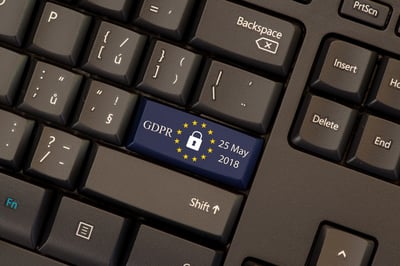 Article 22 of the legislation states that: "The data subject shall have the right not to be subject to a decision based solely on automated processing, including profiling, which produces legal effects concerning him or her or similarly significantly affects him or her."
The implication is that broadcasters not only might have to gain consent to collect and process the personal data from customers. They will also have to explicitly share information with them, regarding the logic processes involved and the consequences that might unfold as a result. And, once we get into the field of Deep Learning, these parameters aren't necessarily knowns at the start.
But the implications of the GDPR extend well beyond the field of AI, though the legislation is so complex — and the use of consumer data so widespread — that some of the full ramifications won't be known until test cases start to make their way through the courts. You can find out more about what the GDPR means for TV Service Providers here, but it's no exaggeration to say that adapting and accommodating the new rules may well be the defining event of the year for anyone that does business with European consumers.
5. The Move to Microservices
Amongst a backdrop of other significant trends that we'll speak more on in 2018 — dynamic ad insertion and Android TV STBs amongst them— an excellent post-IBC Videonet article highlighted the growth of microservices software architectures in the industry.
When applied to various components of video processing and broadcast workflows such as transcoding, subtitle insertion, metadata, playout and more, they represent a potential game-changer.
Essentially, they are a variation on SOA architectures that see an application deployed as a suite of small, independent and modular services that are linked together via lightweight protocols. You can almost think of them as being part of a turbo-charged cloud, with the cloud's inherent advantages of agility, elasticity and cost-effectiveness all boosted by their extreme modularity.
With software virtualization gaining momentum this leads to a very pertinent choice: virtualize existing software with no changes or rearchitect it to be cloud-native and modular along the microservices model as part of the same process.
"The migration to a microservices-based software architecture… could prove to be an inflection point for this industry," wrote Videonet. "Charlie Vogt, (now ex-) CEO at Imagine Communications, told a press conference very bluntly that vendors who do not make this transition successfully will be endangered, resulting in a vendor shake-out."
2018: A Year of Change
One subject we have not touched on here is 4K HDR, not because it isn't going to happen, but because its slow progress into mass market acceptance penetration is now assured. We will see more 8K as the year progresses too, but it is unknown as yet precisely how this will fare above and beyond Japanese broadcaster NHK's plans for the 2020 Tokyo Olympics.
There are plenty of other topics whose impact we will discover only as the year unfolds: OLED screens, Kodi boxes, sports rights costs, the impact of skinny bundles, continuing arguments about net neutrality, and more. We will learn a lot about them at the first major tradeshows of the year, CES and Mobile World Congress. Follow the links to book a meeting with us there, either in Las Vegas or Barcelona, where we'll happily talk more about the way the industry is continually evolving and how we can help you take advantage of the very latest developments coming down the pipeline.