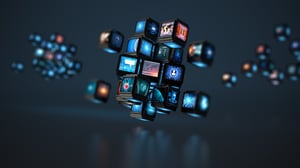 With IBC over for another year, it's worth taking stock of the TV landscape around us and looking in detail at how the industry is adapting to the new realities of multiscreen TV.
Multiscreen TV is one of those phrases that seems to have slightly fallen by the wayside in recent times. In many ways it has become almost redundant. When it was first used, television was confined to the television set itself, however many may have been dotted around a house. As video content broke out of those confines to computers, smartphones and tablets, multiscreen was the way we described the new ecology of watching content on whatever platform was most convenient at the time.

Creating those experiences, making them seamless, and adapting to the way they have changed consumer behaviour and the way people interact with content has been one of the biggest challenges the industry has faced over the past handful of years. But in doing so, we have almost lost the world 'multiscreen' itself. It is now just what television is and it takes an effort of will to remember when television was tethered to a single point and timeshift was supplied by a VCR on magnetic tape. Multiscreen has almost been too successful for its own good.

Every so often it is worth digging out the phrase again. It helps to remind us that it is the consumer experience that is so often at the root of all the change that has shaken the industry in recent years. And with the dust just settling on another busy — and enjoyably more diverse — IBC, it's worth perhaps backing up, taking the long view, and seeing where we are.

To do that, we're going to rewind to our TV Leaders' Summit held in Paris just before the summer, and look at some of the highlights from a presentation by industry analyst Paulo Pascatore that charted the newly emerging landscape of the multiscreen TV industry.

As Paolo put it himself at the start of his presentation: "I've been covering the industry for more than twenty years now and it's absolutely phenomenal trying to keep up with the pace of change."
Telcos Become OTT Video Providers
Over the course of 45 minutes, Paolo delivered an insightful, interesting, and very entertaining analysis of the market that has developed over the past few years. And with plenty of comments regarding some of the huge amount of M&A activity that has unfolded during 2018, not to mention the deals yet to be completed, there was the real sense of that development accelerating in the future as well.
The key takeaway from looking at the telco section of the market lies in the importance of rolling out multiplay services and bundling them effectively for the consumer. With the emergence of new markets — think smart homes, wearables, the connected car and so on — the focus will move from triple-play and quad-play to sextuple- and even septuple-play.
Telcos are already very well positioned in the market for expansion here as they already have a billing relationship with the customer and a strong retail and market presence. And, following Comcast's interest in Sky, there could be an increased M&A activity from companies looking to expand beyond the saturated US market and into a European market perfectly positioned for growth with low pay-TV penetration and fibre rollout at a tipping point.
"If you're a pure play provider, wherever you are you will struggle to compete in a market where differentiation is important. Connectivity is important, but how low can you go in price?" asked Paolo rhetorically.
OTT Video Market Detail
There has been a wide introduction of new services over the past couple of years and this shows no sign of a slowdown. Driven largely by competition with Netflix, which now has over 130 million global subscribers, differentiation is important as it is a difficult company to compete with head on.
Disney will give it a go though, and the launch of the Disney OTT service next year is going to be one of the most significant events in the industry since Netflix and Amazon's global expansions a couple of years ago. Indeed, several new direct-to-consumer offerings are in the pipeline from major media companies, including one from Discovery, but Disney is definitely the main player.
(When will this launch? 2019 at some point. But as Walt Disney Company chairman and CEO, Bob Iger, said in an earnings call in August, there's no hurry. "We don't see the need to rush because the market will pass us by, simply because the only place people are going to be able to get Disney, Pixar, Marvel, Star Wars original product is going to be on this app. And so, we believe whenever we launch, it will be attractive.")
Differentiation is going to be the key here and there are several things going on in the market at the moment.
A shift from premium licensed content to own originals

An acknowledgement that sports right are not the only game in town

The rise of technology differentiators such as 4K, HDR, Dolby Atmos
One of the problems, however, is that while there is a huge amount of choice in the market there is also a huge amount of service fragmentation as well. This is leading to consumer fatigue, as the willingness to sign up for five different service, for example, with five different billing relationships is being further tested by the lack of universal search across them.
Hence one of Paolo's main predictions in this space: the return of the big bundle, only this time it's being delivered by IP. We are already starting to see movement in this area. In the UK for instance, Sky will have integrated the Netflix app into its Sky Q STB by November, while BT TV next year will feature Amazon, Netflix and Sky services.
Paolo's other predictions for the OTT Video Market included:
Yet more M&A activity

The rise of voice having an impact on EPG design and functionality

TV Soundbars to include the STB function and the end of the standalone STB
Multiscreen TV, FAANG, eSports, Voice and more
Elsewhere in the emerging multiscreen TV landscape, Paolo noted the rise of eSports. There is a lot of investment in the field at the moment, much of which can probably be termed speculative as companies jockey for position. But while it is tempting to dismiss it as a fad, there are both serious numbers and serious names involved, with large 'real world' sports properties such as the FIA and FIFA looking to develop eSports events.
IoT, represents a huge area of opportunity, as does Smart TV, though this is currently a very fragmented market and it is the platform ecosystem players that will lead the way here. Amazon was an early leader, Google is well positioned, Samsung is making efforts in the area, and you can never discount Apple.
Voice is a big area, and Paolo had some specific predictions there:
By 2022 a third of all households will have a smart home device. In all probability this will be supply driven and purchased as part of the usual upgrade cycle. There is a good chance many devices will remain isolated and initially at least not hooked up to a wider smart home ecosystem.

2022 voice overtakes typing as the main search input method. This was disputed by the audience.

Smart speakers start to feature integrated WiFi chips to form hybrid smart speaker/home WiFi networks.
It was perhaps his predictions for the FAANG group of companies, the tech giants encompassing Facebook, Amazon, Apple, Netflix, and Google, that were the most arresting. They also illustrate well how the competition for viewers is moving far beyond the original television space.
Facebook launches PPV transactions for selected events.

Apple launches SVOD and makes tentative moves to sports rights in key territories.

Netflix becomes a takeover target. The rationale for this is it is not growing fast enough given its stratospheric cost investment in content, which is currently $8bn a year and liable to rise yet further. Apple was a candidate, but now seems to be pursuing its own path. AliBaba is a contender, (though Trump's trade war with China could torpedo that) while Google could perhaps seek to end its unsuccessful experiments in the area of paid content by acquiring the company.
While any talk of Netflix's future is highly speculative, the fact that such a disruptive company can still be thought of as a target and needing to look at its business model carefully highlights how broadcasters and operators are going to have to deploy the latest technologies such as TV business analytics to compete in the new landscape.
"We are moving towards a world where the industry will be dominated by a handful of players because of scale," concludes Paolo. "Margins are being squeezed everywhere."