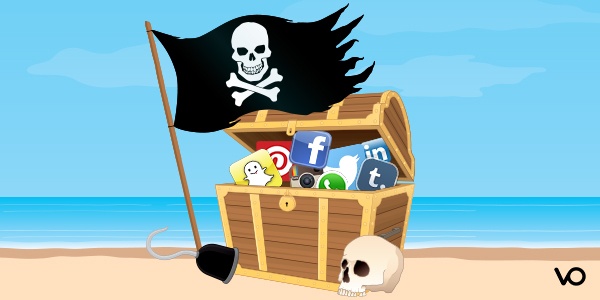 One of the main problems that broadcasters and service operators face in the current climate is that shifts in piracy over the past handful of years have seen it move from a post event process to a live one; from BitTorrent to Periscope and Meerkat.
Live illegal streaming of content over the Internet is becoming a growing issue, especially during major sporting events which find themselves being not only the biggest expense to broadcasters in this era of spiralling rights costs, but also inevitably one of the biggest targets.
Last year, during the world's largest football competition in Brazil, more than 20 million people watched a football match via illegal live-streaming over the Internet. Earlier this year the Mayweather vs Pacquiao fight saw the establishment of micro-piracy via micro-broadcast apps such as Periscope in the global consciousness, with at one point more than 10,000 people watching a single Spanish stream of the bout.
There are several reasons why live streaming is becoming a growing problem. On the one hand, faster broadband connectivity is leading to better picture quality; on the other hand video is now available on a multiplicity of platforms and second screens. And finally social media is acting as an accelerant: allowing consumers to talk about what they're watching in real time, sharing content with friends, and sometimes — wittingly and unwittingly — broadening the reach of link farms through these networks as they go.
Due to their realtime nature and the way they've been constructed via 'hashtags' and 'likes' to spread information quickly in spreading patterns, social media networks have a significant impact on content consumption and redistribution. Often those clicking on links might not even realize they're heading to a pirate site, especially given the increasing quality of pirated streams and sophistication of UI design — not to mention the presence of legitimate advertising.
During the world cup in Brazil, we tracked in detail the piracy of live television content as the tournament continued, gaining some invaluable insight into the role social media plays in helping consumers discover and consume pirated content.
It's not just consumers passing around links either, they are finding them via social networks too. While traditional Google searches are typically not very effective for identifying link farms (as only the most popular websites appear in the top results), many Facebook and Twitter pages can easily be identified as a source of pirated content in a Google search. Indeed, Facebook was the fifth most popular link farm during the event.
The still-active pages are typically using Facebook itself as a link farm and include an application inside their pages that embeds a streaming player. Consumers usually only need to "like" the page in order to watch the content stream. Direct links to the P2P service can also be found. On Twitter we observed that typically one account promotes a single link farm.
In other words, social networks facilitate a more effective and complete finding of multiple links for major sporting events compared with using conventional search engines. Once consumers know which Facebook pages to visit, they bookmark these pages and visit them directly, cutting search engines out of the process.
All this means that an effective strategy for tracking, fighting, and proving piracy has had to evolve well beyond the simple demands of a takedown notice. Operators need an anti-piracy solution that provides insight into the content being pirated and records the type/genre of programming, the timing, the duration, the location, the audience, the usage and much more.
Our Eye on Piracy does just that. By deploying an anti-piracy platform with global marketing intelligence and monitoring, operators can determine where piracy is occurring, the amount of piracy that is taking place, and who is actually watching the illegal broadcasts, all in real time. Such a solution can be used to embed crawling capabilities in social networks like Facebook and Twitter to anticipate trends in viewers' habits and usage in consuming illegal content.
It also includes active solutions to fight and prevent piracy, such as issuing cease and desist orders or using technology to prevent rebroadcasting, especially during live transmissions. These types of solutions are invaluable for combating social media violations: during the first ten days of the big tournament in question we sent 150 takedown notices to Twitter and Facebook pages, with 51% of illegal links to games on the latter removed as a result.
Lastly, any anti-piracy solution needs to include legal support, helping content service providers and content owners gather detailed evidence about pirate organisations that can be used in court.
Of course, content service providers and owners can't tackle this issue alone, they need the active participation of the social media networks in question to help identify and isolate link farms and illegal websites. But deploying an intelligent anti-piracy solution is the first step in the process and a vital one if we are to ensure that content can continue to be safeguarded as piracy evolves rapidly to exploit the weaknesses and the networks around it.