Industry insights: IBC is looking to ramp up enthusiasm for its show in December, LATAM SVOD viewing will almost double over the next five years, and looking at post-pandemic viewing patterns.

IBC positive after NAB cancellation
[IBC]
As you will no doubt be more than aware by now, this year's NAB Show, which was due to start in Las Vegas on October 9, was cancelled with around three weeks to go before the event. Plenty of arguments have broken out since, with some vendors in particular unhappy about details of refund and the timing of the announcement. Indeed, many had shipped their booths and equipment to the US just days beforehand.
NAB meanwhile has simultaneously pointed to the surge in the Delta variant as being behind the cancellation and 23-27 April next year as the date for trying again in the Vegas heat. Whether the situation will have changed enormously between now and then (currently only 55% of the US population is fully vaccinated) is, of course, the $64,000 question.
And that is a question that IBC is attempting to answer even sooner. Looking to settle a nervous industry, IBC released a statement soon after the NAB announcement welcoming the easing of Dutch Covid restrictions. The RAI actually kicks off its post-pandemic events program this week and the Netherlands government has said it will no longer enforce social distancing rules of 1.5 metres or mandate mask wearing in inside areas. Instead it will follow the strategy of mandating either proof of vaccine or negative Covid-19 test for access to certain venues, the RAI included.
The show's latest Covid protocols are here and IBC points out that around 70% of the IBC audience will already have easy access to the event, being part of the EU Covid travel block. The removal of the international travel quarantine rules means that almost 100% of its usual audience can attend.
"We've had lots of really positive responses from our exhibitors and the industry to this news," commented IBC chief executive, Michael Crimp. "With over 650 exhibitors confirmed, we are busy finalising an action-packed programme of features and free content; all of which will make IBC2021 an event not to miss. Registration is open and we are seeing that hotel and flight bookings are on the up."
VO is, of course, going to be there, and we ran a poll on LinkedIn to see who else amongst our industry colleagues thinks they will be as well. The results were, as you can see, split: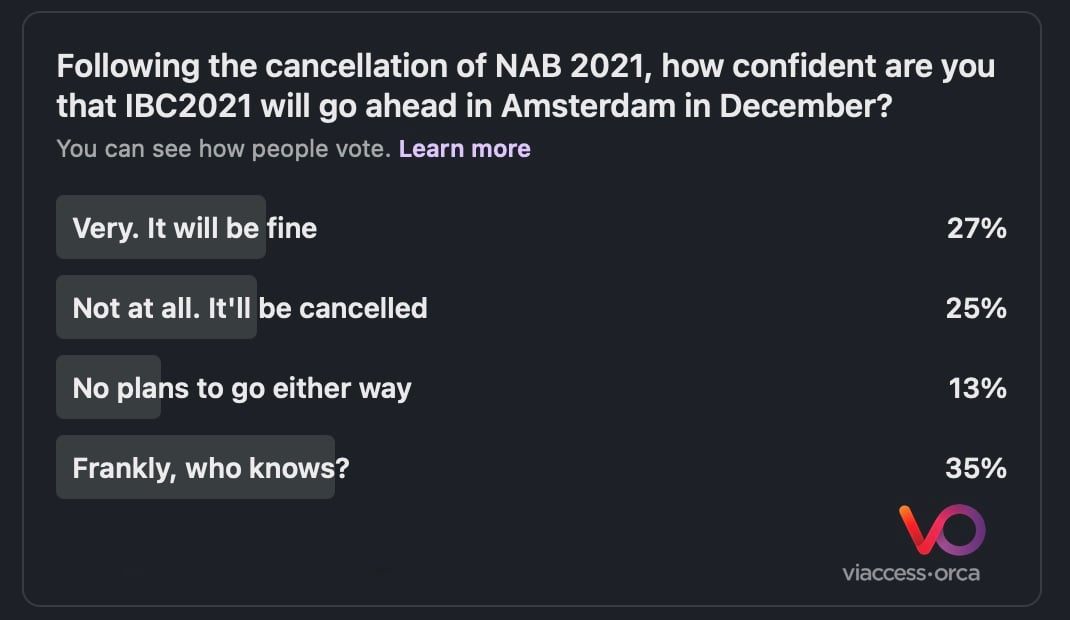 So, see you in Amsterdam in December. Hopefully…
LATAM SVOD market set for rapid expansion
We were still waiting for analyst Digital TV Research to report their predictions for a couple of regions a couple of weeks ago, and the figures for LATAM have now come in. They're impressively positive as well, the region as a whole forecast to have 131 million customers by 2026, up from the 76 million predicted for the end of this year.
This is all despite having several struggling economies in the region. Brazil is projected to remain the market leader with 49 million subscriptions by 2026, while Mexico will bring in another 32 million.
Unsurprisingly, the big US providers dominate the streaming landscape. Netflix, Amazon Prime Video, Disney+, Apple TV+, and HBO are, between them, set to account for 91% of all SVOD subs by the end of the forecast period.
Netflix will continue to lead the market with 48.38 million subs, though its share is in decline with new entrants such as Disney+ (32.51 million) having a significant impact. Highest-performing local provider will be Claro Video, which is forecast have 3.88 million subs across LATAM by 2026.
Changing post-pandemic viewing habits
Some highly interesting insights from the US market courtesy of consumer research platform Attest, which, has just released its third annual US Media Consumption Report. Here are some of the key takeaways:
The percentage of people engaging in five-hour+ bingeing sessions on streaming platforms is down from 25.9% in 2020 to just 12.4% in 2021
The proportion of Americans who watch streaming TV content on a daily basis (82.8%) has overtaken those who watch live TV (81%)
As an aside, and an important note for advertisers, even more people interact with social media - 86%. Platforms rank YouTube, Facebook, and TikTok in that order
96% of gen Z use social media every day. The next cohort is the Boomers at 87%
News viewing has collapsed. 31.8% regularly watch news programming now compared to 46.3% in 2020
Favourite genres are Comedy, Drama, and Crime in that order (51.1%, 49.8%, and 42.3%)
There is an increase in the number of consumers who now say they watch no live TV, 19% versus last year's 14%
There are probably few real surprises here, and we would expect these changes to be emulated across most markets to a greater or lesser degree. It looks like we're definitely at the end of the pandemic-fuelled, lockdown-accelerated binge viewing spike that led to such a demand for content over the past 18 months. Audiences are simultaneously looking for more escapist content once more when they are watching television, and watching less television overall.
However, it should be noted that this could, of course, all change very quickly during what may be a tricky winter ahead.