The challenges of streaming live sports are changing rapidly as the market matures. Ahead of IBC2022, we talked to two of our experts about how they are being met.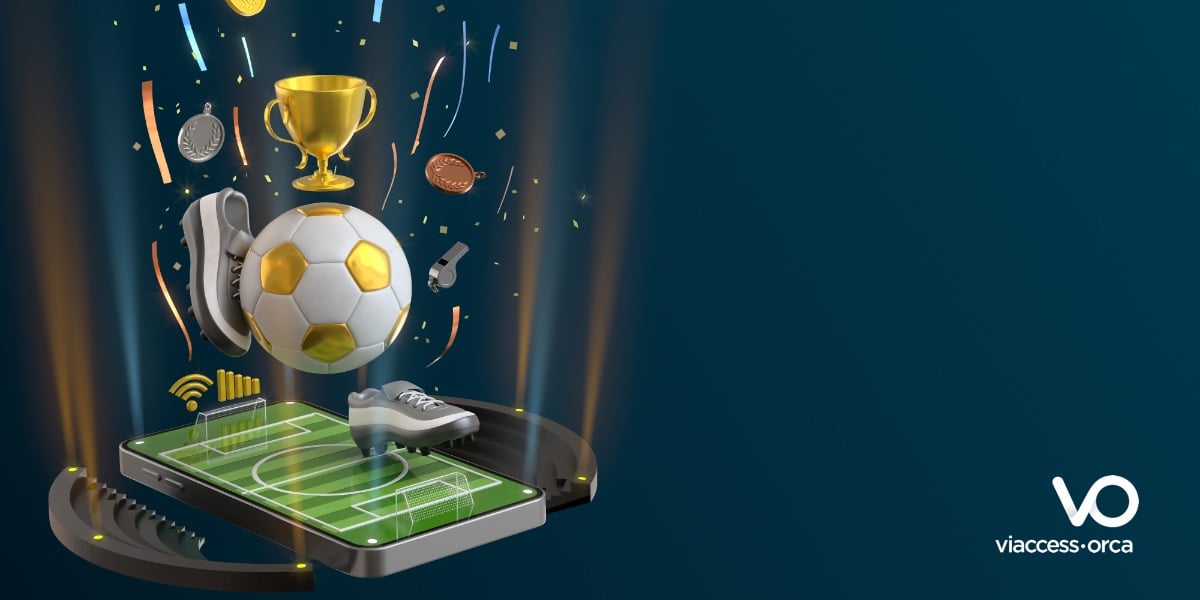 Streaming is changing the way that sports is both broadcast and consumed. Once almost solely the preserve of free-to-air or pay-TV companies, streaming services are increasingly chasing the large audiences that sports can attract. Amazon has been active in snapping up sports rights and is helping keep rights inflation positive, while from the viewers' angle 39%, of sports fans now tune into social media live streams to watch their favourite teams and sporting events. Meanwhile sports properties such as Formula One are establishing increasingly direct connections to the consumer, either streaming their own events or, where rights are already in place, adding ancillary services such as live data visualisations.
It's a complex picture. So we spoke to two of our leading execs about the market, Benoit Brieussel, VP of Front-End Products & Global Services, and Mathieu Harel, Product Director of Watermarking, to find out what drives the live streaming of sport, both now and into the future.
Q: Live sports via streaming services is still comparatively new in the industry. Where is the demand currently coming from? Is it being driven by the service providers or the leagues and federations?
Benoit Brieussel: It's a general trend to reach more and more subscribers with higher value content and with OTT you put more interactivity and more functionality in the hands of the fans. You can also add additional capabilities that can be customized, such as by region or type of service. So, from a telco/broadcaster point of view with its own streaming service, they can add more categories instead of relying always on redistribution. Demand is mostly being driven by telcos and broadcasters looking to differentiate and maximise the value of their rights, but increasingly the leagues are looking to directly address their audience. Leagues such as Spain's La Liga also can see the interest in trying to directly reach customer.
Mathieu Harel: It started with the NBA in the US and we see more and more leagues in Europe are looking at this. Younger people are not consuming sports the way previous generations did. They want a shorter game, they want highlights, and if NBA has a direct access to fans, they can create communities, they can better engage with their supporters. And I think that the appeal is in that and, of course, improving revenues on that content. So I would say that it's both leagues and broadcasters looking to directly reach customers.
BB: Live streaming also reaches more people on mobile devices. OTT allows people on the move to watch a football match. Traditional broadcast does not.
Q: What are their concerns? In conversations with customers what features are they most looking for in a solution.
BB: Latency is a big challenge. It can still be up to a one minute delay, and combatting that is really important. The scalability to reach millions of viewers is also crucial. Live sport will always bring in a big audience, all at the same time and all on the same delivery networks, and this is also something to manage carefully to prevent issues.
MH: On the security front, using OTT means targeting not so secure devices such as web browsers for instance, where we know you have major security issues. They want to reach as most people as possible, but there are major concerns with the security because one of the latest trends is that hackers are now directly attacking infrastructure to create pirated services without ever hosting the content. It's what we call CDN leeching. Hackers are directly getting the content from a legit service to create a private service, which leads to major losses of revenues for the content owners, and hackers can create really 'good' services without investing any money. So our customers are looking for security services that can help them to detect malicious behaviours on their networks.
Q: The same question, but from an end-user perspective. What is the audience looking for?
BB: The audience is becoming more demanding. They demand quality. They want to be able to follow the ball of a tennis match from racket to racket. And they want more information. They want more data about every aspect of the match, from what the current score means for league position to player biographies. There is a huge amount of data that they want to see during the live match. They also want a social experience. We don't like to be alone when we are watching something. Ideally it's physical presence, but when that can't happen that's where the demand for watch party functions comes in. But the challenge there is to make it easy to use and ensure a good user experience.
MH: If someone created a Spotify for sport content then that would be a killer app, but that's almost what the pirate services have; a whole list of matches and events that people can pick from. One of the pain points that we see when we are fighting against illegal IPTV services is that people don't want to have 2, 3, or 4 subscriptions to watch all their favourite content. They want just one and one cost, and that is what lures them to the pirates who are effectively working as aggregators.
Q: From latency to spikes to dealing with piracy and more, what are the main technical challenges that still need to be worked at?
BB: There are several challenges. One, briefly mentioned already, is to achieve very low latency end to end across the chain. Also, the aggregation of not only many services but also many providers will be technically difficult, while incorporating the increasing amounts of data consumers demand while still keeping the application relatively simple to use will always be a balance. Ensuring the quality of video experience while still being sustainable in the long term is also going to require some modifications.
MH: Reaching more people means sometimes targeting devices with really low level of security. That's still an issue but it's always a trade off for the broadcaster or the leagues; they want to address everybody, so they have to compromise on the security.
Q: What is coming in the future? What features will the rights holders that we're talking to going to want their services to deliver over the next few years?
MH: On the security side, watermarking is really trending these past few years and will keep on trending over the coming years because it's one of the best tools if you want to act quickly on stopping piracy. On legitimate services like YouTube, Facebook and Google you can always act quickly, but elsewhere the reality is that there are a lot of famous pirate sites that have been in existence for nearly a decade now that lawyers are continually trying to shut down and we know that those sites will not disappear — it takes two minutes to create a new domain name and to update your DNS. So the idea is to really tackle the source of the illegal distribution, and you do that with watermarking.
BB: They will want to offer an increasing number of features across devices. If you look at the TV it will be mostly showing the match, if you look at the web it will be all about merchandising and fan engagement. What they are looking for is extending the match, to boost engagement before the match and afterward so that fans keep interacting with the service. That needs richer applications that reach across devices to deliver a single service.
MH: The content that works is crazy. In the NBA some of the content that is the most popular is Steve Curry from the Golden State Warriors just doing his warm ups, shooting from different areas on the court. That is what fan engagement can do; take content and take it viral. It's no longer the game itself, it's the events leading up to it and after it finishes as well.
Streaming live sports: after the whistle blows
Sports is now no longer over after 90 minutes, 53 laps, 26.2 miles, or three sets. Viewers want to be engaged before and after the event with increasing amounts of content, and rights holders want to know that that content is secure and can be monetised without threat of piracy.
There is more sport and more data being streamed all the time and audiences are showing no sign of fatigue. On the contrary, the opportunities opening up in women's sports, niche sports, and lower tier divisions are attracting increasing interest. Securely conveying this growing number of events to the waiting viewers at low latency, while making sure that audiences can take advantage of the latest features they demand, is a challenge that will keep many organisations busy over the next few years.