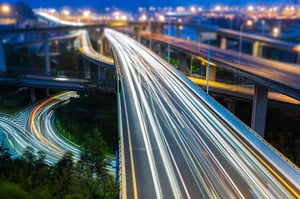 Industry News: After a long battle it looks like net neutrality will finally be ended in the US on June 11th.
While the industry works out the implications of that, adding vMVPDs gains into cord cutting figures shows an impressive slowdown in acceleration, and Apple could be about to make a significant change in its TV policy.
The FCC kills net neutrality on June 11th
After a long and bloody battle, and dramatic swings of fortune on both sides, it seems the election of President Trump was the deciding factor and net neutrality as a concept officially ends next month.
The ruling, Restoring Internet Freedom, was published on May 11 in the Federal Register and is due to come into effect 30 days later.
As The Verge writes, "The FCC has chosen to replace its popular net neutrality rules with next to nothing." The rules that were put into place to stop internet service providers from setting up the much-derided concept of fast and slow lanes and prioritising one form of content over another have been torn up. ISPs can now throttle and block as they will, the only proviso being that all this behaviour has to be declared as a matter of public record.
At least this is an improvement on the situation that existed before the whole argument blew up under the Obama administration, with many users simply having the suspicion that their bandwidth was being squeezed. But for proponents of net neutrality it's a bitter pill to have to swallow and for anyone in the business of providing OTT services it is another layer of uncertainty to be added to the business.
Current head of the FCC, Ajit Jai, hopes the extra money that will be raised by ISPs will help them fund a roll out of fast broadband across the US. Opponents say it will create a country of internet haves and have nots and set development and innovation back. The rest of the world, where net neutrality has really yet to be debated, watches on with interest.
In a very similar way to the roll out of the GDPR in Europe, we're not going to be able to assess the full implications of this until it is already underway.
vMVPDs slowing cord-cutting acceleration
MoffettNathanson analyst Craig Moffett reckons that the rate of cord cutting in the US market held flat at 3.4% in the first quarter of this year, matching the 3.4% growth rate in Q4. So, while it's still growing, at least from a pay TV perspective it isn't growing any faster.
And if you factor in the growth of vMVPDs to the equation, that growth rate is cut to 0.5%.
FierceCable points to AT&T as an illustration of what is going on, pointing out that the gain of 312,000 subscribers by its DirectTV Now vMVPD more than offsets the losses sustained by DirecTV satellite and U-verse TV. The conclusion is that this is good news for operators of media networks.
"They actually get paid more (a higher per subscriber affiliate fee) as well," FierceCable quotes Moffett. "That's not to say a skinny bundle is a perfect replacement for a fat one—remember, not every network is in every vMVPD bundle—but it's a whole lot easier to face a future where 70% or 80% of all cord cutters are still paying for a streaming video bundle, even if its a skinny one, than to face a future where, say, more than half of all cord cutters are lost entirely to the ecosystem."
Interestingly, both AT&T and Dish Network have been talking to investors recently about how new features, such as cloud DVR, as well as improvements in addressable advertising, will provide new revenue streams for vMVPDs.
More evidence of blended pay-TV & OTT households
Another angle on the same picture shows that more and more households are adding OTT services on top of their existing pay-TV subscriptions. Parks Associates data now suggests that 52% of U.S. broadband households have a subscription to both pay-TV and one or more OTT video services.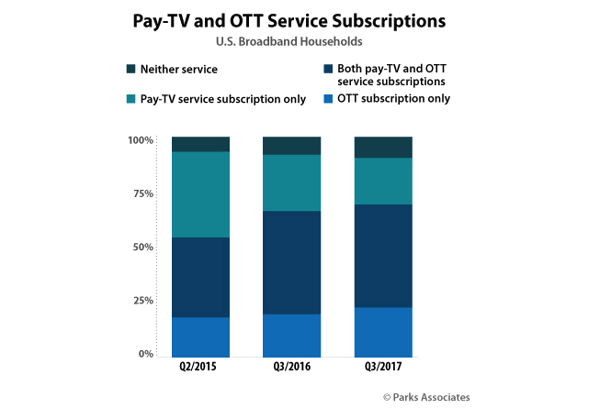 "The nature of competition in video services has changed. Today, it is less about replacing competitors and more about how you complement others in the market," said Brett Sappington, Senior Director of Research, Parks Associates. "Over one-half of U.S. broadband households have a combination of pay TV and at least one OTT service. Consumers are willing to carry multiple video accounts to get the content they want. Often they will select a preferred service with the content that they can't do without and then select other video services that complement the high priority option."
Apple to change the way it sells SVOD?
According to a report in Bloomberg, Apple is planning to start selling subscriptions to a number of video services through its TV app. This centralisation will be a huge improvement for consumers over the current state-of-play, which sees them having to subscribe to SVOD apps individually after first downloading them from the App Store.
"This would simplify the process and bolster Apple's TV app on Apple TV, iPhones and iPads, making it a central place for people to find, watch, and buy content," says Bloomberg. "It would also be another way for Apple to keep boosting its services business, which it expects to generate $50 billion a year in revenue by 2021."
iTunes has, of course, helped establish Cupertino as one of the major sellers of video content, but to date it has yet to really capitalise on on demand viewing and various plans to offer a live TV service, even if only through the Apple TV hardware, have so far come to nothing. Effectively mimicking Amazon's Channels program, which allows Prime customers to add subscriptions for a range of paid content, could be the move that finally lays Steve Jobs' infamous comments regarding TV being a hobby to rest. And for broadcasters, bring promoted on a platform with a user base of over a billion, is a rather powerful argument